This room started out stinky, and quickly morphed to messy…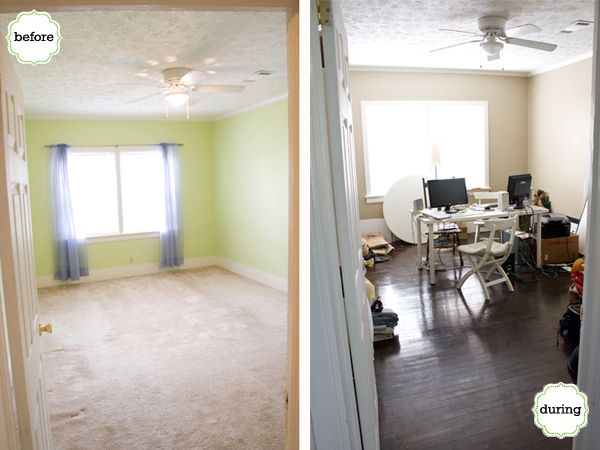 We stained the floor that dark brown color after we ripped out the carpet, but we did a bad job, and craved a lighter look, so we sanded it back again and just used clear Varathane to seal them the second time around…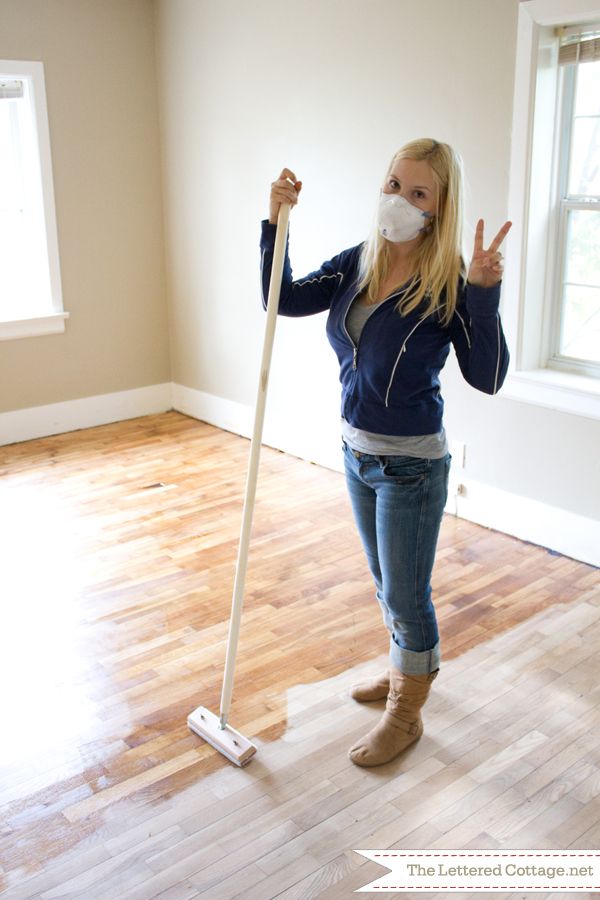 Around that same time, we discovered wood planks inside the closet, and decided to go Tasmanian Devil on the drywall…
Ah, the memories.

Now here we are, five years and LOTS of elbow grease later, and the room is finally DONE!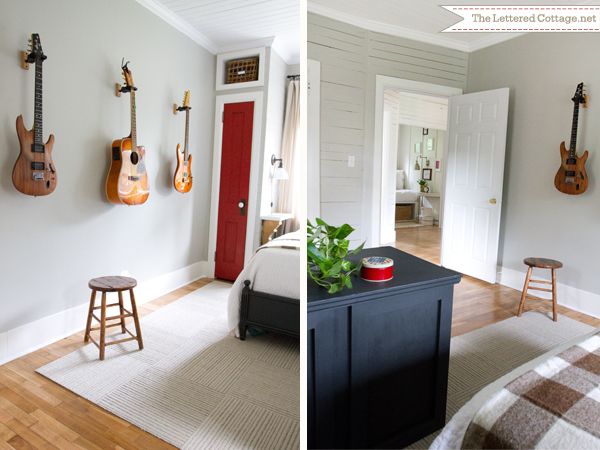 Ok, maybe not completely done. We still want to swap out the door and doorknob on the right in the photo above with something more cottage-y.
(PS- That's the reading room back there in the distance, and this is the only place in our house that you can stand and see one completely finished room from another- ha!) #FixerUpper
Like the title of this blog post says, it'll function as both Kevin's office and our guest bedroom, so we basically just split the room in half and created separate areas for each "room".
We tucked Kev's work area in the most hidden corner of the room, that way, if when he makes a mess, it's not the first thing folks see when they stroll past the door.
(Especially the folks who have offices on the other side of the hall from this one. #HeeHee)
Brian the Carpenter custom built Kev's desk- A) because it was much less expensive to build it than it would've been to buy one this size, and B) because we could decide the exact dimensions.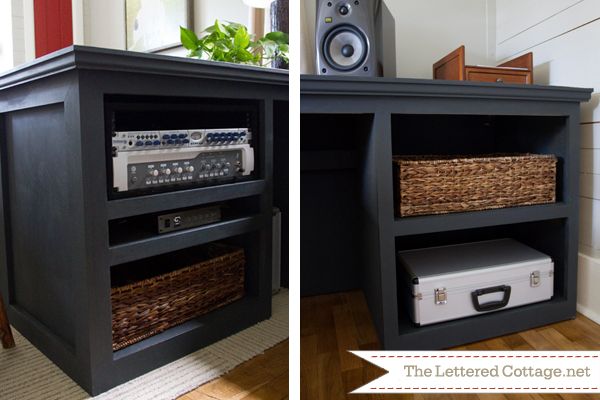 His musical gear fits nice and neat inside the shelves, and he looks forward to finding a keyboard to use on the (currently empty) desktop on the left in the photo above.
It was pretty simple construction, and Brian and I just kind of dreamed it up as we went along. The front and top are wood, and everything else is MDF.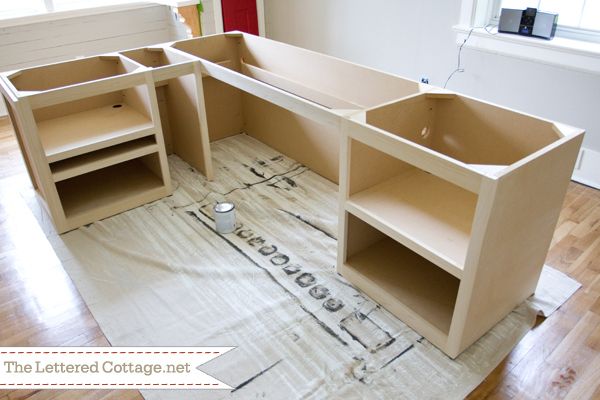 My favorite part are the cord channels smarty pants Brian added to the inside/back walls.
He drilled holes everywhere Kev thought he might use a piece of equipment with a cord attached to it, and instead of having to look at hang-y, messy cords everywhere, they'll all lay inside the channels! #LoveThat
Kev hung his "vision board" on the wall straight in front of his chair, and placed a wooden desk organizer to the right of his computer. It came from a local flea market a few years back, and I picked up the Lettered Cottage-y notebook at Walmart the other day…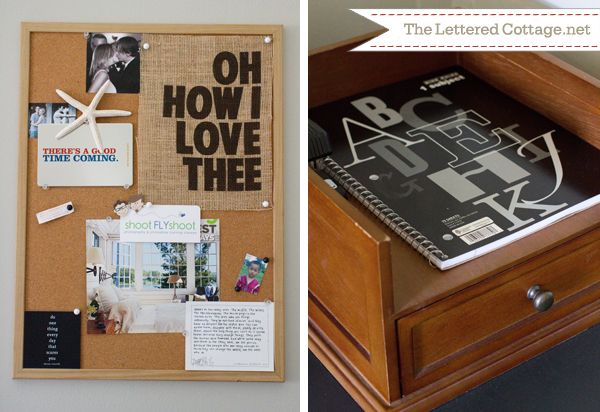 My favorite part of this side of the room is a teeny tiny accessory, mounted to the closet door next to his desk…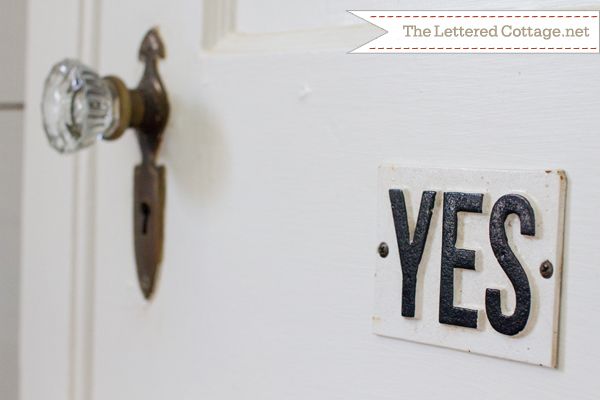 Shortly after I met Kevin, I told him about a story I had heard about how John Lennon met Yoko Ono. It was at one of her art shows. She had set up a ladder that led to a painting, which was hanging on the ceiling. It was a white canvas, suspended by chains, and there was a magnifying glass hanging on the end of it. Lennon said, "I climbed the ladder, looked through the spyglass, and in tiny little letters it said, YES. It so was positive."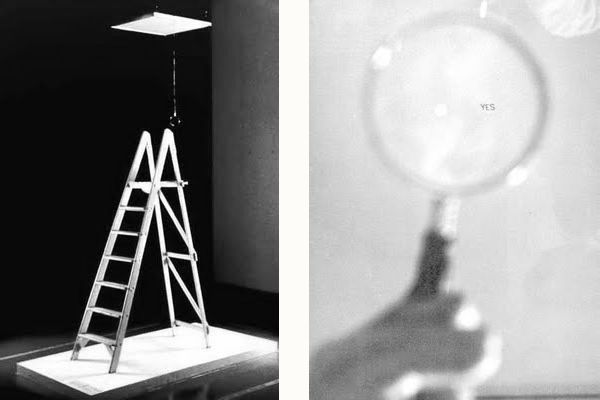 I love passing that kind of positivity onto him, and I hope it helps to remind him that he can do it whenever he needs a little reminder.
He keeps his guitar picks in an old Bingo tin, and because he's a greenery guy, we also popped an easy-to-take-care-of plant on his desk.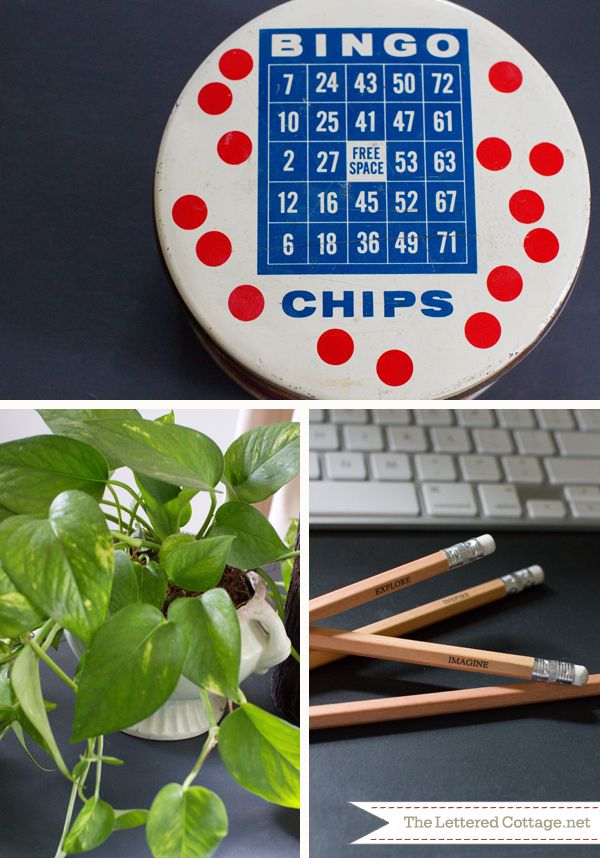 The pencils came from Pottery Barn ions ago, and because he's also a pencil guy, we plopped a bunch of those and a pencil sharpener (that looks like a camera!) on his desktop, too.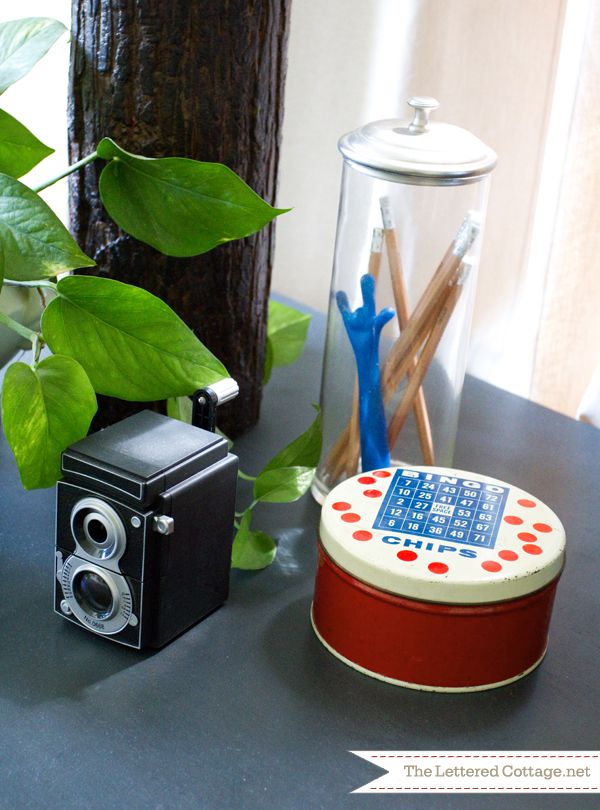 I can't tell you how happy it makes me to see him in there, surrounded by all his gear and guitars…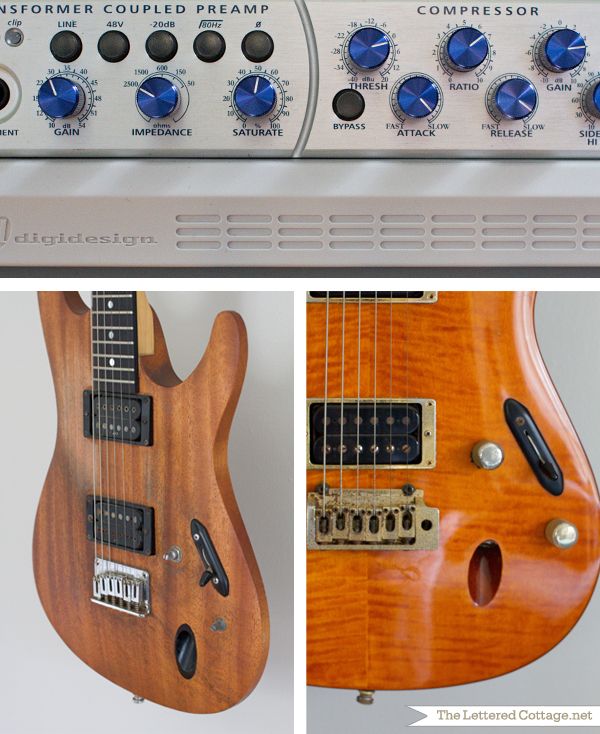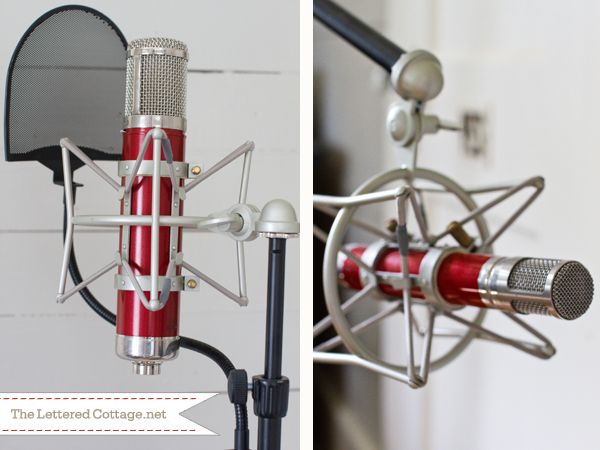 Music is his passion and I'm beyond thrilled that all of his favorite things are finally out of storage, dusted off, and alive and crankin' in his room!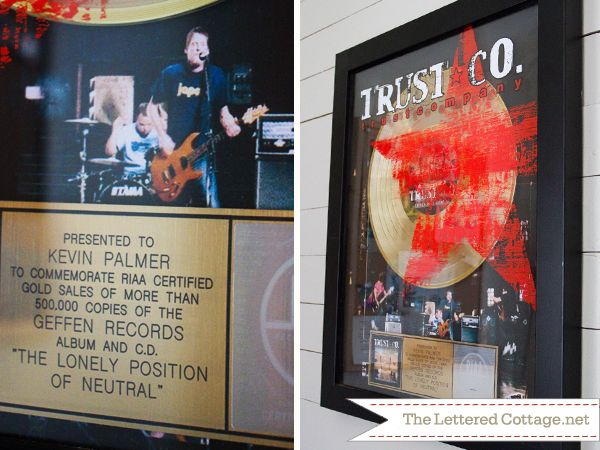 We pulled in a little flea market stool (that was previously in the kitchen) so that when I go in to listen to what he's working on, or need to run something by him, etc. – I've got a sweet little spot to sit for a spell.
Over on the other side of the room, I had fun pulling together a camp-y/cottage-y sleeping space for our guests…
I went with a bunch of different patterns and colors that appealed to both me and my mister's sensibilities.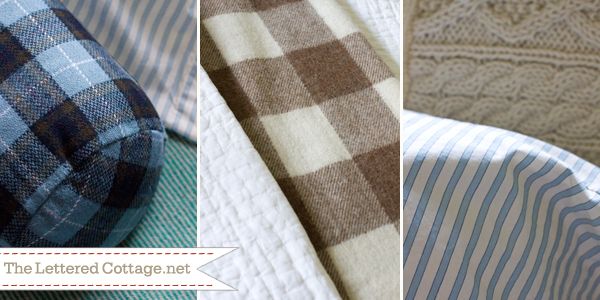 We haven't had an overnight visitor yet, but Kit-Cat l-o-v-e, loves it…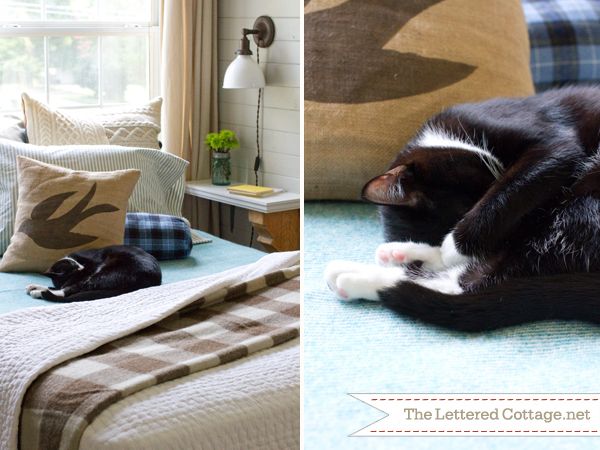 …and that makes us smile every time we see it!
And speaking of smile-makers…I'm cuckoo for the fronts and backs of the euro pillows Kev got me for my birthday last month…
Cable knit on the front, plaid on the back? Yes, please! Canvas on the front, navy blue corduroy on the back? Yes, yes, yes! #Scrumpdillyicious
I've already blogged about the closet doors and bedside tables, and we're still pleased as punch with how those turned out, too…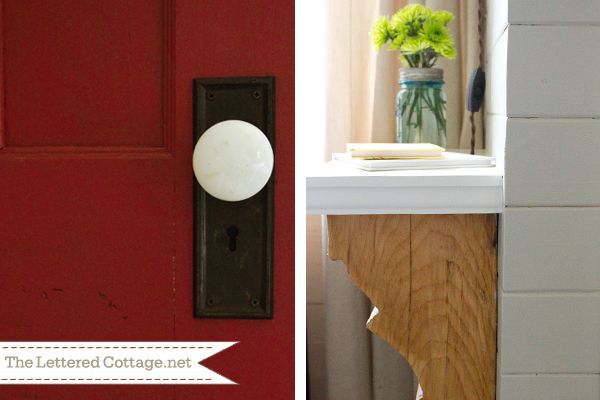 Brian the Carpenter did such a great job bringing our vision to life.
(Brian: We can't thank you enough for being so much fun to work with on this project. We've enjoyed getting to know you and your son, and we feel blessed to call y'all our friends!)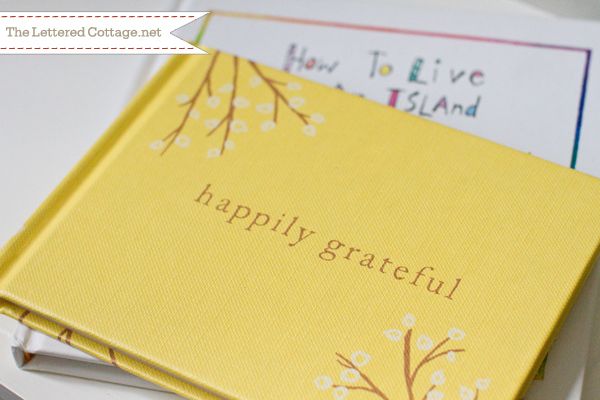 And since this post is all about the finishing touches, I thought I'd include photos of some things in the room I've already blogged about, too. The ceiling light:
The wall sconces:
The window treatments:
(I cut the tabs off and used curtain rings instead!)
Last but not least, here's a quick little video we put together last night…just for fun…
Clearly it was way past my bedtime.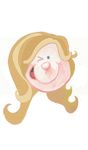 Here's a resource list of everything we used in the room:
wall paint: Roycroft Mist Gray (Sherwin Williams)
ceiling and trim paint: Moonlight White (Benjamin Moore)
closet door paint: We had the red paint matched at Home Depot from Para Paints, "Orchard" paint sample card. (Orchard paint is only available in Canada.) Here's the formula we used:
We brushed on (and immediately wiped off) some Mocha-colored translucent color glaze (from Lowes) after the red paint had dried to tone it down a bit and to bring out the imperfections in the doors.
floor stain: clear, satin Varathane (Lowes)
desk paint: "Graphite" (Annie Sloan)
ceiling and closet planks: Lowes
closet doors and doorknobs: Southern Accents (Cullman, Alabama)
curtains: Lenda (Ikea)
curtain rods: Walmart
curtain rings: Walmart
blinds: Home Depot
wall sconces: Schoolhouse Electric
ceiling light: Barn Light Electric
bedside corbels: Junk Bonanza (Shakopee, Minnesota)
carpet tiles: "Soft Spoken" in Linen (Flor)
bed: used to belong to Kevin's parents
white quilt: Pottery Barn (Pick-Stitch)
blue and white striped blanket: Schoolhouse Electric
brown and white, buffalo check blanket: Schoolhouse Electric
euro pillow #1: Schoolhouse Electric
euro pillow #2: Schoolhouse Electric
bolster pillow: Schoolhouse Electric
burlap pillow: The Nest on Etsy
ticking stripe pillow case: Pottery Barn (discontinued)
stool: J&G Flea Market (Prattville, Alabama)
desk lamp: Target
"Oh How I Love Thee" burlap art: Burlap Art by Elizabeth on Etsy
bingo tin: Etsy
glass pencil container: Pottery Barn (discontinued)
pencils: Pottery Barn (discontinued)
blue "I love you" pen: ?
camera pencil sharpener: My Funky Camera
wood desk organizer: J&G Flea Market (Prattville, Alabama)
"yes" plaque: Casa.com
desk chair: Office Depot
desk baskets: ? (we've had them forever!)
baskets above closet doors: Pottery Barn (discontinued)
dog art: Shop Ten 25
guitar mounts: Sam Ash
It's been a fun room to re-do, and we look forward to tackling another one soon. In the meantime, visit the Our House tab at the top of our blog for more makeover madness!

Wanna read about our home office/guest bedroom redo from the beginning? Here are links to all the posts we published along the way!
5/8/12- Wall Color
5/21/12- Closet Doors
5/23/12- Closet Construction
5/25/12- Closet Construction (2)
5/28/12- Closet Update And Ceiling Construction
5/30/12- Cottage Style Trim
6/20/12- Time To Paint
7/ 16/12- Schoolhouse Electric Wall Sconces
7/18/12- Barn Light Electric Sky Chief Ceiling Light