Since this here blog acts as our virtual scrapbook, and I'm beyooooond excited about the closet project we've got going on at our house right now, I wanted to include a picture of our amaaaaazing new carpenter friend, Brian, in today's post….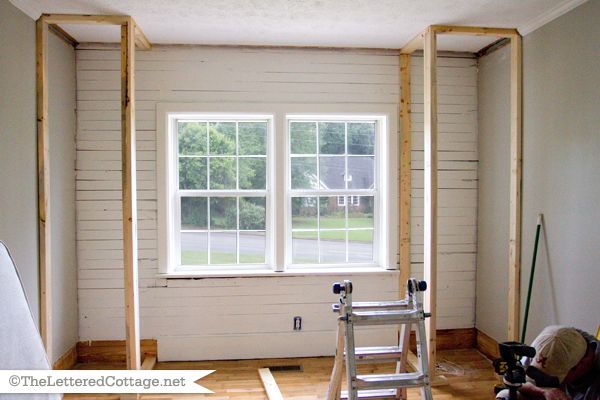 See him ducking down there in the right hand corner of the photo above?
Turns out he's a little camera shy.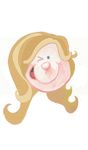 I took that pic on Monday morning, after he got done whipping up the bones of our soon-to-be home office/guest bedroom closets. It's been so fun talking to him about building and renovating, and his nail gun and table saw are like music to my ears!
Today, Brian's going to clad the exterior of each closet with thin, tongue-and-groove wood planks (like we used on the ceiling in our dining room). You can see that he left a little gap (in the crown and base molding) on the front and side of each closet so that the planks would fit, nice and snug, all the way from floor to, up to the ceiling…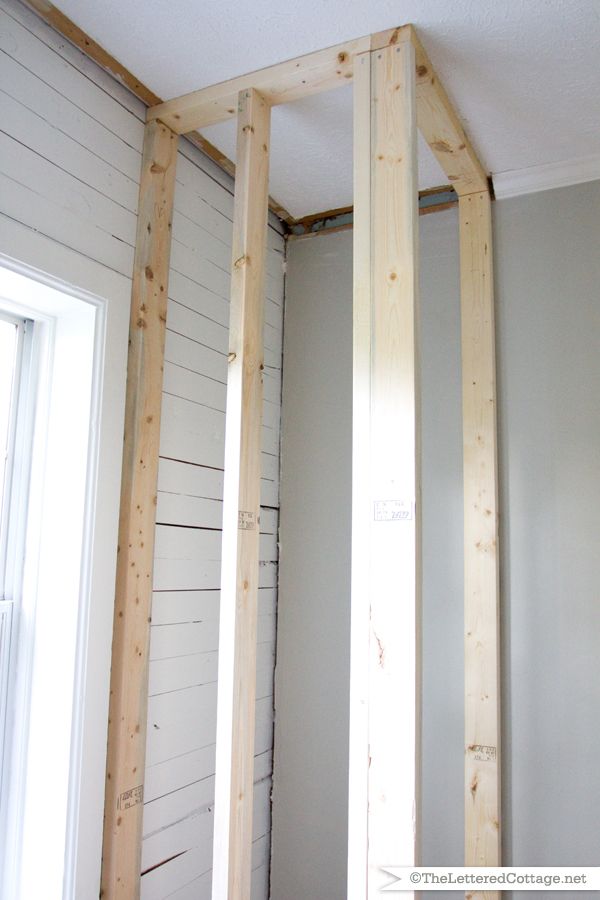 After that, he'll put the doors in place (he had them attached to frames at a local millwork shop) and then he'll line the insides of the basket cubbies (up top) with MDF…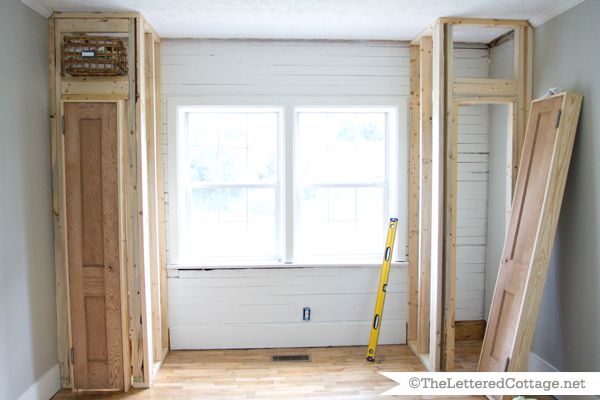 A note about the basket cubbies: Since we decided to look for the doors at an architectural salvage place, we had no idea what we would find, or how tall the doors would actually be. We LOVE the doors we found, but we thought they'd look "short" if we just planked the area above them. Solution: basket cubbies! We picked up those baskets on clearance at Pottery Barn in Birmingham last year, and they've been sitting on the floor in that room ever since. I'm so happy we'll finally have a place for them!
Now if I could just get a picture of Brian. Hmmmm….
Maybe I'll surprise him paparazzi-style tomorrow morning!

PS- If anyone in the Prattville/Montgomery area is looking for a great carpenter- drop me a line. Brian ROCKS. He's super nice, extremely talented & punctual, and his pricing is reasonable, too!