Remember Keith the Fireman?
If not, let me get you up to speed before I share the before & after photos of his finally-finished living room! 😀
We met Keith at church at the very end of 2012. He was playing drums with Centerpoint's worship team, and that was when Kevin auditioned for and was invited to be a part of the team, too. A few months later, in March of 2013, Keith posted this photo and message on his Facebook page:
I was so excited for him!! 😀
He also posted some interior pics that day, and although it looked like the place had great bones & several rooms had already been updated, I felt really inspired to reach out to him about adding some personality into the living room. I didn't know him super well at that point though, so I decided to ask a mutual friend to run it by him for me. (Thanks again, Ashley!) I was so pumped when she reported back that he was totally up for the adventure!
The next time I bumped into him at church, I told him all I would need from him was an extra set of hands (or two) every now and then, and that I'd put together an inspiration photo for him so he could see what I was visualizing for the space. He gave the inspiration photo a thumbs up as soon as I had it finished, and Kevin and I have had so much fun surprising him with every little update over the past year!
Ok, are you ready to see the before and afters? Here we go! 😀
First up, BEFORE: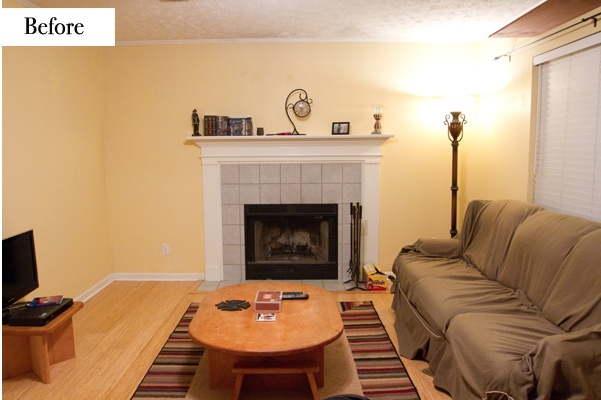 Next, here's the inspiration photo I Photoshopped together for Keith so that he could really see the space I hoped to be able to pull together for him:
And finally, here's a photo of the finished room that Kevin and I snapped yesterday:
We snuck over there and put the finishing touches on everything before Keith and Lauren got home from work. Yep! SURPRISE! The living room isn't the only thing that changed in Keith's life since last year- he also got engaged and married to his girlfriend Lauren! 😀
They are both so sweet, and I loved seeing their faces light up when they walked in yesterday!
Truth be told, I didn't really know exactly how I'd pull everything together when I started this thing, but like all the makeovers we jump into I jump us into (ha!), I had faith that it would all come together in the end. (Thank you for always going with the flow when it comes to my spontaneous decorating schemes, Mr. Palmer! You are SUNSHINE. XO)
Once I had the green light from Keith, I reached out to Skimstone, Airstone and Southern Accents at various points last year. They were all excited to help and ended up giving us the faux concrete for the hearth, and the faux stone & rustic wood around the fireplace, free of charge. Southern Accents also donated the coffee table, which was made from a slice of a fallen tree and a couple of heavy metal parts they were creative enough to put together as a base. (Thanks again for your help with that, Lucy and Garlan!) The carpet tiles were a gift from the folks at Flor, and I just love the way they look in there!
(I left that photo box on the table empty so that they could add their own pics!)
We helped Tommy & Shelley re-do their kitchen last Fall, and they let us take their old-but-solid-and-in-perfect-condition upper kitchen cabinets so that we could turn them into a shallow TV stand for Keith and Lauren in December. The unit is painted with Graphite-colored chalk paint and what a functional piece that turned out to be!
Kevin and I threw in a few things we weren't using/didn't have room for any more, too: a couple of extra bookcases, a table and tablecloth, some lamps, pillows & decor items, and our previously-loved-but-still-super-comfy sofa & chair-and-a-half. (They weren't the right size for the shape of our new living room, but they fit perfectly into Keith & Lauren's- yay!) I gathered up the rest of the decor, pillows, plants and curtains, little by little, over the past year, and stuck firm to a budget of 200 bucks.
Add all that "stuff" together with the manual labor that Brian the Carpenter, Matt the Magnificent, and Keith & Lauren and their family & friends all took part in, and BOOM. It all came together just like I had hoped! It took a while because of everybody's busy schedules, and waiting for things to arrive from the sponsors, and other jobs, and other makeovers, and dry times, and shopping times (some things came from Ikea in Atlanta and we only go there a few times a year), and weddings, and honeymoons, etc, etc, etc…but we did it! 😀
We didn't take any photos looking back at the front door because the wall behind the chair-and-a-half is still completely blank. I'm hoping to help them do something fun over there this year though, and I'll be sure to snap some pics from that angle once we've got it all decked out!
For now, happy weekend and thanks for swinging by today!

PS- If you have any questions or would like to go back and read about each step of this makeover journey, click this link to be redirected to all of the posts I published about it: Keith and Lauren's Living Room Makeover. 😀