Woo hoo! Keith the Fireman's fireplace is DONE! 😀
He finished it up on Saturday, so I scooted over there and snapped some pics of the final product to share with you. You can read about the mantel, hearth, bookcases and barnwood by clicking HERE, but today's post is all about the Airstone faux stone on the front of the fireplace.
We found our Airstone at Lowe's in Montgomery. They don't carry it at the Prattville Lowes, so apparently it's not available at every location. If you're interested in picking some up- you may want to give your local Lowes a call first to see if they have it.
At first, I thought it was going to feel like foam, but it really does feel just like stone. It's even cool to the touch!
Kevin and I helped Keith get started by following Diane's tutorial at In My Own Style. She used the Autumn Mountain-colored stones and it turned out so great!
(You can find Diane's tutorial here: Airstone Fireplace Makeover)
We used Spring Creek-colored stones at Keith's house, and here's a photo of the finished product:
What a difference, huh?
We're almost done with the whole makeover now, so here's another look back at the room when we started…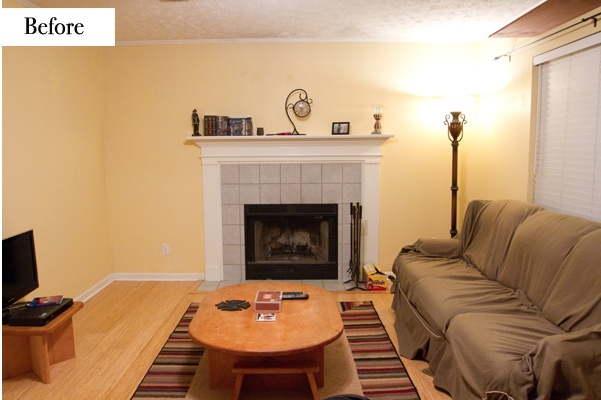 …and the Photoshop drawing I put together as inspiration: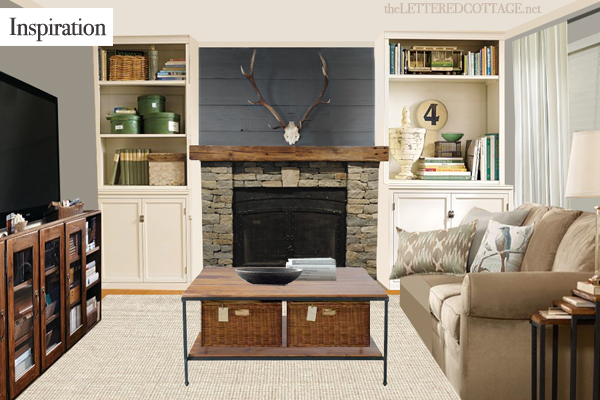 All that's left to do is bring in some new (previously-loved) furniture and put the final finishing decorative touches on the room. After that, I'm looking forward to sharing photos of the room's new look in one final room reveal post. Can't wait to show you (and Keith!) what I've got up my sleeve! 😉

PS- For more pics between posts, join me over on Twitter, Facebook and/or Instagram!