We had a great time hanging out with Keith and his family and friends this past Saturday. They're such inspiring folks to be around!
We only worked on a couple of things, but we sure did have a lot of fun together. First, we stained the old barnwood we got from Southern Accents. We used a color called Amsterdam by Olympic.
That color only comes in a solid stain (vs. a semi-transparent one), so we just dipped our paint brushes in a cup full of water before we applied it to thin it down a little. We tested it on one end of one of our boards first, and to make the drying process go a little faster, we used a blow dryer to see how it would look, all soaked in.
Here's a photo of the finished product:
It dried just beautifully, and it really does look almost exactly like the ones I used in the inspiration photo I put together for Keith: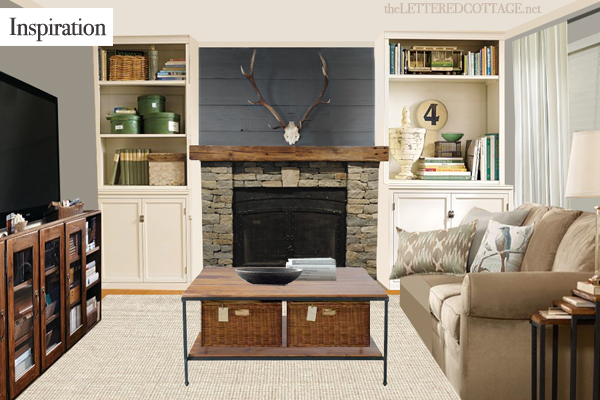 We're looking forward to going back over there tomorrow to secure them to the wall above his mantel. Which, by the way, is lookin' like this right now:
We've had those Billy bookcases for a few years, but we couldn't find a place for them at our new place, and they fit in great at Keith's. They're normally not that tall, but with that extension shelf on top, they're almost the perfect size for those two spots, so we'll only have to do a little trimming out around and above them. Here are a couple of shots that show how tall the bookcases were without the extension shelves on top, and how tall they are with the extension shelves on top:
Kevin and Keith took down the existing crown molding this past weekend (so we could run the barnwood up to the ceiling and trim it and the bookcases out at the same time so they'll look built-in), but we'll probably wrangle some professional help when it comes to putting all of the new trim on because we want to make sure it's done right, and semi-tricky wood-working is definitely not our forte. 🙂
Attaching the barnwood to the wall above the mantel should be a breeze though, and I can't wait to show you updated pics of that as soon as I've got 'em!
After that, we'll move on to covering the existing floor tile in front of the fireplace with a product called Skimstone, which will create the look of a smooth, polished concrete hearth.
Here's an old photo that shows the existing tile that we'll be covering up down there:
Oh- and speaking of "old" things, we also updated Keith's ceiling fan situation since I last blogged about the room, too. The white, brass & glass one came down…
…and one of our wood & oil-rubbed bronze ones went up!
Kevin and I aren't ceiling fan people (we get chilly, and I get vertigo-y), so we were happy to pass one of ours on to someone that'll actually enjoy it!

PS- If you'd like to check out more posts about this makeover, click here: Keith's Living Room Makeover.
…and for more makeover pics between posts, join us over on Twitter, Facebook and/or Instagram!

Get My Free E-book: 15 Common Decorating Mistakes And How You Can Avoid Them
Enter your email to download my free e-book instantly! 🙂