Kevin and I have both been under the weather this past week/weekend, but before the crud really knocked us out, we had a chance to do a little work on Keith the Fireman's fireplace. First Kevin and Keith removed the old mantle and tile…
Scoring with a utility knife, and a couple of hammers did the trick, lickety split!
We had planned to go back over to Keith's this past Thursday to build out the new fireplace, but Kevin had gotten really sick by then, so I met Matt (from Perfectly Imperfect) over there (while Keith was at the fire station) this past Saturday…
…and here's what we came up with: (Caution: low-lighting, cell phone pics ahead!)
(Thanks again for your help, Matt! You rock!)
We were at Keith's for 6 hours total, and we were really just kind of winging things as we went along. We ended up using 2×4's to frame out the boxes on the left and right, and then we clad them (and the little piece of wall directly above the firebox) with cement board. According to the guys at the fire station, cement board should always be used around a working fireplace when you're butting it right up against the fire box like we did. After that, we created another "box" out of 2×4's to act as a mantle beam. We used a nail gun to attach the thin, barn wood planks to it, and voila!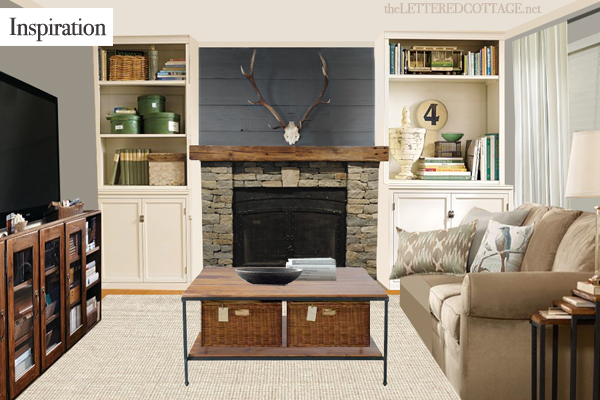 I'm thinking about using a (gray-colored) concrete skim coat product (SkimStone) on top of the tile on the floor, but I haven't had a chance to research it thoroughly yet. After that, we'll attach the AirStone to the cement board, and then we'll start working on the bookcases on either side of the fireplace.
But for now, I'm jumpin' back in bed. I woke up sick and without a voice yesterday, so obviously my body is telling me to take a couple days off!