…and speaking of room makeovers: My across-the-alley (interior designer) neighbor, Cindy, just revealed a master bedroom to her clients and I just HAD to share some photos of the room and their TOTALLY FUN reactions with you here today! Cindy shared their reactions with Kevin and I a couple of weeks ago via text message and we could not stop smiling as we watched and re-watched them! First up though, here are some before and after photos of the room. Before…
…and after!
(Bedside chest: Currey and Company)
(Desk also from Currey and Company)
It's so beautiful with the lights and lamps on, too:
Here are some more photos of some of my favorite little things in the room…
I love the gray & white throw blanket, over-sized basket (complete with back straps) from Southern Homes & Gardens, and concrete wall art from Tuesday Morning…
…and the pretty pillows and half-shade sconces above the headboard (another Tuesday Morning score!):
The pistachio-green armoire came straight from France…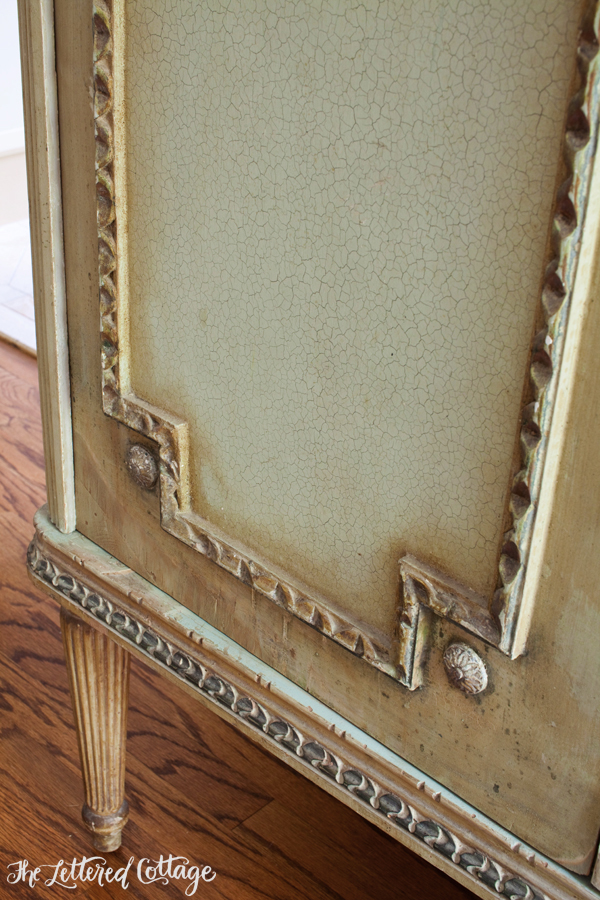 …and the gorgeous chandelier is from Eloquence:
(The iron bed and linen scrim panels were made locally by Gowan Iron and The Rose of Sharon.)
Such a lovely room isn't it? And such a sweet homeowner for letting me barge up into her house with all my camera stuff this week- LOL!
And speaking of the homeowners- here are the videos of their reations when they first saw the redesigned room. Mrs:
…and Mr:
Aren't those great?! I love it!
And speaking of reactions- we revealed the kitchen we just redesigned to our friends Tommy & Shelley this past weekend and it was SO FUN! Kevin's putting the finishes touches on the episode today, and we're sending it off to The Design Network this afternoon. If you'd like to be notified via email whenever it goes live on October 1st, you can sign up for a (free) membership over at TheDesignNetwork.com! 🙂
In other SUPER exciting news- our adoption dossier flew to Haiti yesterday, and is at Three Angels right NOW! The next step is Legalization (which will hopefully only take a few days), and then our next celebration would be getting submitted into IBESR's system. Every adoption process is different in Haiti right now, so there's no telling how long that will take, but we're hoping it can happen before the current submission window closes again for a while, because after that, the next step is to be matched with a little one- SQUEEEEEEEEEEEEEEE! 😀
Happy weekend and thanks for reading today!

PS- For more pics between posts, join me over on Twitter, Facebook and/or Instagram!

Get My Free E-book: 15 Common Decorating Mistakes And How You Can Avoid Them
Enter your email to download my free e-book instantly! 🙂