I'm so excited to finally be able to reveal Tommy's and Shelley's kitchen today! The episode we created for The Design Network posted on their website this morning, so if you'd like to check it out, just click on the banner below:
Tommy and Shelley have been such incredible friends to me and Kevin over the past year, and we are so grateful that we were able to work on a room in their house with them.
They have inspired us SO much personally and professionally, so it was absolutely awesome to be able to spend so much time with them last month. We love their kids, too- and it was really neat for Kevin and I to be there with them for so many hours at a time. It gave us an idea of what it feels like to have kids running around, as we wait to be matched with a little one of our own! Ethan (their youngest) told Shelley that I was his "best friend" at one point, and boy did that make me smile! (I'm sure it had something to do with the fact that I gave him three scoops of ice cream while I was watching him one day- LOL!) Our child will probably be about a year younger than Ethan is now (4), so I felt really blessed to be able to talk with him, and hold him, and listen to him. Felt like a mini "sneak peek" of what's to come! 🙂

This first episode was hosted by yours truly, but this makeover was a total group effort. Me, Kevin, Billy, Suzanne, Tommy, Shelley, Brian, Cade, Lil' Shane…we all got our hands good n' dirty on this one!
Here's a look at the kitchen before we started working:
It functioned fine, but it didn't really *feel* fresh or reflect the family's bright & shiny personalities.
Tommy & Shelley actually put their house on the market earlier this Spring, because it's one bedroom too small for the size of their family. Two months after they listed it, they accepted an offer and started house hunting for another house. They fell head-over-heels in love with the very first house they toured, and they were so excited about the idea of moving there! The people buying their house wanted to close before they would be able to purchase the new house though, so they went ahead and moved all of their things into a storage unit in the next town over.
Then, just two days before their closing date, their buyer's financing fell through. They were no longer going to be able to buy Tommy & Shelley's house, and shortly after that, someone bought the house that Tommy & Shelley had hoped to make an offer on and move into. 🙁

They took a week or so to think about how to proceed. Should they put it back on the market, or do some renovating and turn it into a 4 bedroom?
Re-listing it felt super stressful after what had just happened, so in the end, they decided to renovate! First, they hired a contractor to wall off the breakfast room at the end of their (extra-long) kitchen, and turned that space into a bedroom for Ethan. They moved their table and chairs into the dining nook off their living room, and I can't wait to show you that "new" space in the near future, too.
That's where we came in. Their granite and backsplash were both pretty neutral, and they weren't looking to spend a fortune on a completely new kitchen, so we started by freshening up their cabinets.
They preferred a more streamlined look, and they weren't a huge fan of the tone of them. It leaned a little orange, which felt too warm next to their cool-toned counters and backsplash. We went with Benjamin Moore's Navajo White in semi-gloss (mixed at Sherwin-Williams), and created a shaker style door with one sheet of thin plywood, a pneumatic nail gun and a tub of spackle:
Kevin and I painted (and distressed) all their doors at our house, and we just used a really great primer and two coats of Sherwin-Williams Pro Classic Latex Enamel on everything.
That. Stuff. ROCKS! I'm serious. I wasn't paid to say that. Tommy forked over almost $80 for a gallon of it, but holy smokes! I have never worked with such a forgiving, self-leveling paint in my life! The description on Sherwin-Williams website says, "It delivers a high-performing, non-yellowing finish that withstands even the toughest wear and tear. This formula goes on smooth without brush or roller marks", and man- that is the truth!
The hardware we used on the doors and drawers all came from eBay. That's where I buy all my knobs, pulls and hinges.
We needed 30 knobs, 60 hinges, and 20 pulls and the grand total for all 110 items came in right under $100. That breaks down to like 90 cents per item! I usually type in something like "LOT of oil-rubbed bronze knobs" in the search bar on eBay, and it pulls up a bunch of auctions hosted by folks who are selling hardware in bulk. The seller I bought this stuff from was offering free shipping at that time, so that was awesome, too. 😀
The butcher block countertop area was one of my favorite things to see come together. Before, the upper cabinets continued waaay down into the breakfast area, but the base cabinets were only three feet wide: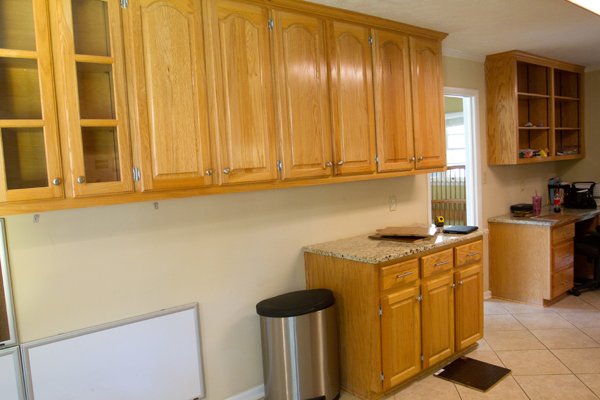 We re-used the glass-doored upper cabinets at Keith the Fireman's house (more about that in a future post), and then re-hung the solid doors on the cabinets above the desk area down at the other end of the room. And although they gained an extra bedroom, they did lose a lot of upper cabinet storage in the process, so we gave them back some new storage on the bottom:
That chunk of cabinets is made up of their three foot wide existing base cabinet, some scrap wood, and a salvaged cabinet Tommy got for free. We topped the whole thing off with a big ol' slab of butcher block from Ikea instead of trying to find (and pay for) granite that matched their existing granite. Now they've got 8 feet of counter space there and the top only cost $169! They sealed it with several coats of food-safe Waterlox, so they'll be able to get tons of use out of that thing. I love the warmth it adds to the room, too!
And how about that great big cut-out on the wall above it? Even though the kitchen technically got smaller square footage-wise, the room actually feels bigger and more open now. They have plans to put a butcher block bar top on the other side of that wall so that folks can sit there and eat, and interact with whoever is in the kitchen. Can't wait to show you how that comes together in the future as well!
The wall accessories were purchased (on clearance) at Pottery Barn Kids, Pottery Barn, Target, and I got the peg rack on Etsy.
The walls are painted Sherwin-William's Comfort Gray, and we used some more primer, Navajo White paint, and oil-rubbed bronze hardware over in the desk area. I decked it out with a few simple accessories that they can feel free to keep there, or use in other parts of the house: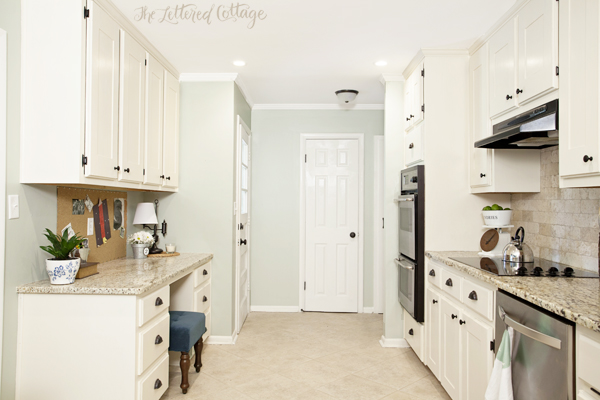 Remember the lamp from this blog post: Brass Lamp Makeover
And the dish towels from this one: DIY Hanging Dish Towels
It was so much fun to surprise Tommy and Shelley with them in their kitchen. Thankfully they hadn't seen them on my blog before the big reveal! 😀 Here are a few more photos of some of things I had fun dotting around the room for them to find:
(Green and burlap picture holder by Heather Parrish)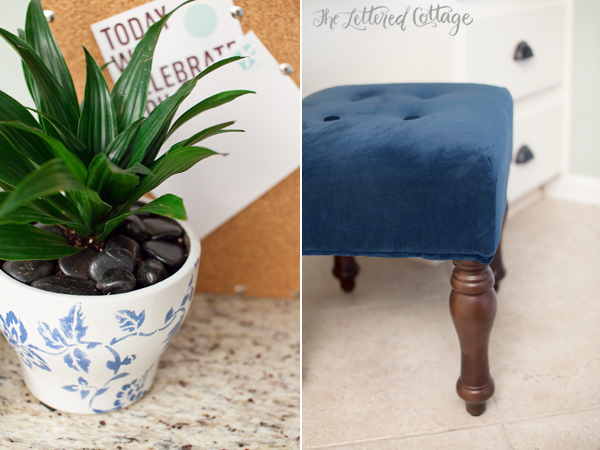 Shelley had mentioned that she didn't have a complete set of dishes anymore, so we picked them up a set of new dinner plates, salad plates, and bowls at Ikea:
Oh how I love a fresh new set of plain white dishes! Especially when they only cost $34.99 for a set of six place settings!
Our next-door-neighbor, Tammy the Caterer, was so sweet to come feed us at the end of our last day "on set". We were all completely plum-tuckered, so she swooped in with her fabulous food at just the right time! Bacon-wrapped green bean bundles, mmmmm!
Anywho- to see the whole makeover in action, click on over to The Design Network. And if you'd like to check out episode #2, it'll post over there on Monday, November 4th! 😀

Get My Free E-book: 15 Common Decorating Mistakes And How You Can Avoid Them
Enter your email to download my free e-book instantly! 🙂