Hi! We made a little more progress over at our friend Keith's place, so I thought I'd share a little bit about that here today. If you're just tuning in, here's Keith's "before" photo…
…and here's the inspiration picture I put together for him a while back…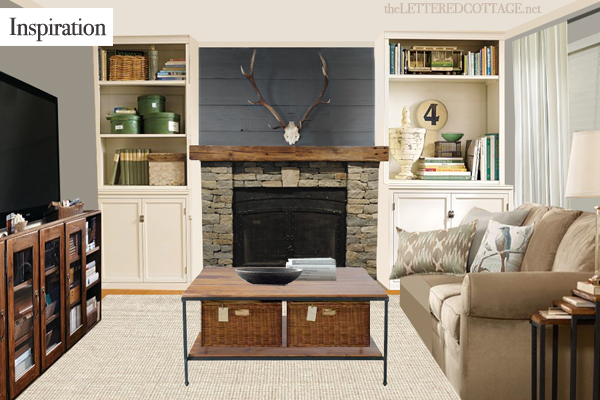 …and here's where we're at right now:
We've still got one barnwood plank to attach (right above the mantel), but in a nutshell, Kevin and Keith used our nail gun to secure each board to the studs behind the drywall there.
I told you that we stained the wood with watered-down Amsterdam-colored stain the other day, but I also wanted to mention that we decided to give them even more dimension by brushing on a quick coat of Behr's "Atlantic" colored semi-transparent stain the day the guys tacked them up:
Now they really look almost just like the ones in my inspiration photo! 🙂
I look forward to sharing another update as soon as we've got that last board up and all the bookcase trim and crown molding in place! 😀

PS- To check out all of my Keith-related posts, click here: Keith's Living Room Makeover.
…and for more makeover pics between posts, join us over on Twitter, Facebook and/or Instagram!