The whole kitchen/laundry room floor redo ordeal started with Kev and his friend Jason busting up the old (unevenly laid) tile and (badly stained) grout that held it all in place…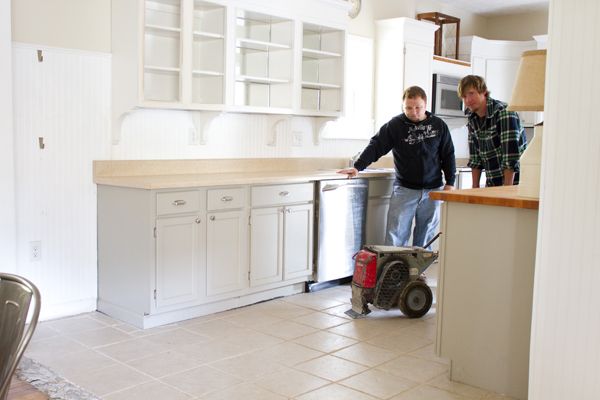 It was a super dirty job…
…but they did eventually manage to git r' dun.
And like Kev mentioned in a previous post, the machine they rented worked great, but the tile won't come up unless you break up the edges of it with a hammer first. The same thing goes for when you're breaking it up using one of these, attached to a reciprocating saw…
If you try to just break it up like this…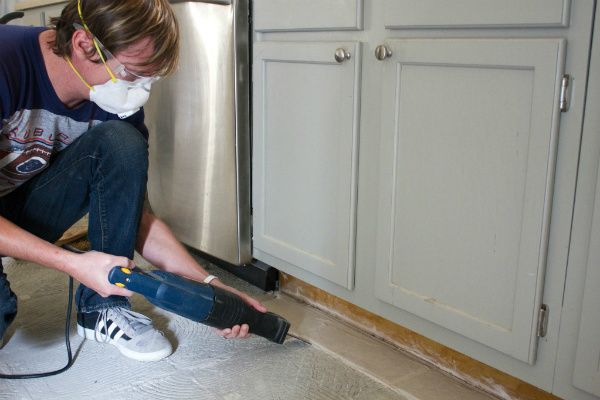 …that saw will fight you like the dickens. But if you break up the edge of the tile with a hammer first, it'll come out fairly easily with the Spyder scraper attachment. (Thank you True Value!)
After the tile mess was cleaned up, the guys had to figure out how to remove the thin-set that was previously holding the tile in place…
They ended up renting a big grinding machine.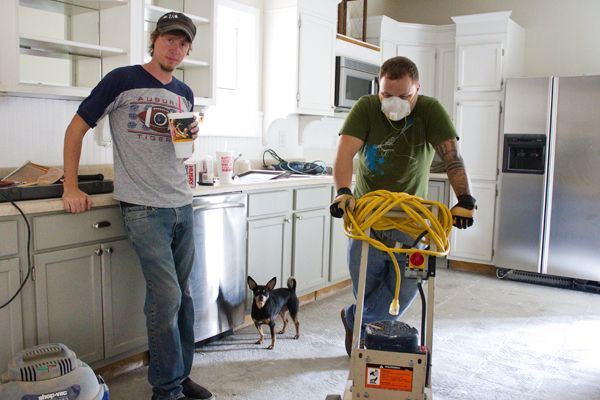 Basically, you wedge three stones into the bottom of it with little chunks of wood (can I get a yabba dabba do, up in here?! Total Flintstones-style, right?!) and then you just grind away!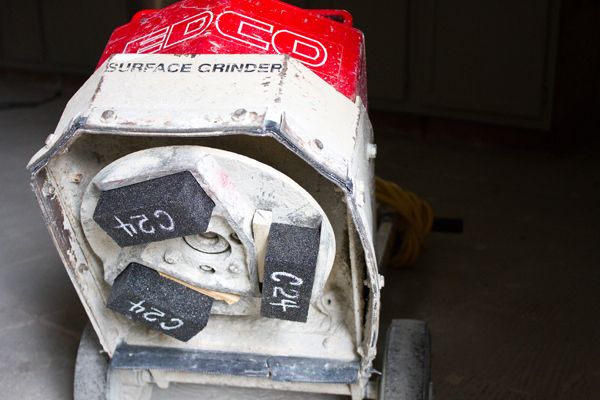 Oh, but I forgot to mention- you also have to hook a garden hose up to that sucker.
Yeah. A garden hose.
Like, so that water can ease the friction between the stones and the thin-set…or help keep the dust factor down…or something. We're not really sure…that's just what the guy at the store told us to do, so we did it.
Anywho- Jason and Kevin were able to get it all ground down…but we did have a lake in the middle of our kitchen for a while there…
That's water Jason's push-brooming water out our side door. Nothing screams, "Cook and do laundry in me!", more room full of dusty water, huh?

After the bulk of the water was out, we were left with….paste…
Pretty nasty, huh? Kev just kept staring at it and saying, "this is…our kitchen", and "we just…like…intentionally did this to our kitchen".
Although it took a couple days to clean up, we did manage to get it ready in time for the flooring guy (Wade) to lay skim coat on it a couple days later…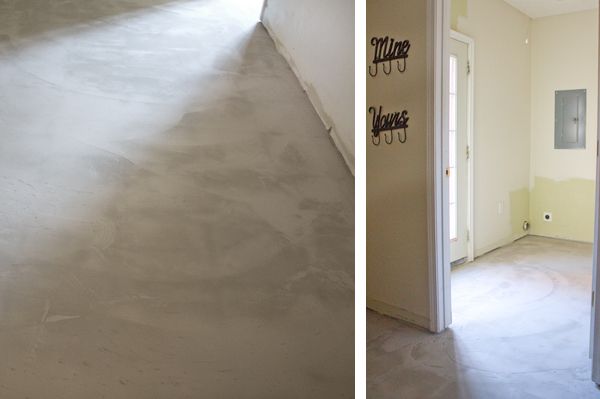 (Please excuse the half-painted laundry room pic- I just got plumb-tuckered out on that project a couple years ago and never got fired up to finish it again. Good thing though 'cause Kev painted it a totally different color (November Rain) yesterday- LOL!)
Wade poured the skim coat on and used a great big flat metal thing to push it around so that when it dried, the whole kitchen and laundry room floor was nice and level.
He filled in the "trough" that previously separated the kitchen from the dining room with a strip of plywood…
(Please excuse the refrigerator and kitchen cabinets in our dining room. No matter how hard I try, I just can't figure out how to make them look natural in there.)
Here's a closer look at the trip hazard trough that was previously filled with a bunch of broken up concrete…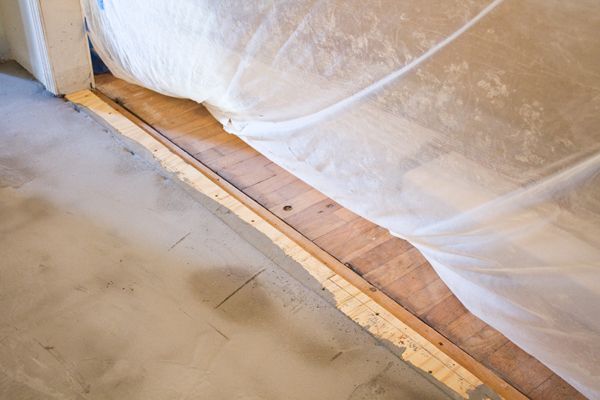 The next day, a couple more guys came over with Wade, and wouldn't you know, they had that whole floor installed in under 3 hours!?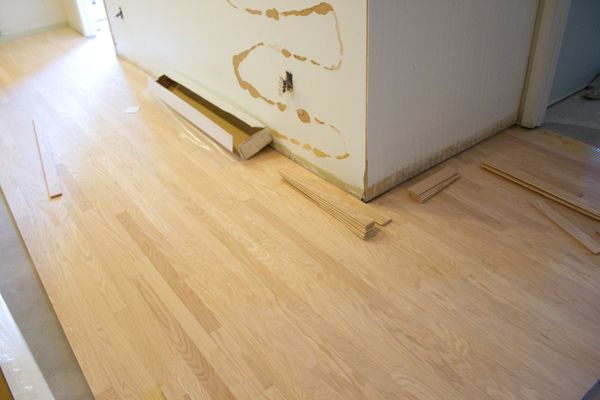 After that, things got a little wacky for a minute again. Not quite as bad as "Dust Lake", but still, not the way we had planned.
Ya see, when we refinished the (60-year-old) floors in the rest of our house, Kev just sanded them back and then I applied four coats of clear Varathane.
They ended up being the perfect warm pecan-tone we were hoping for…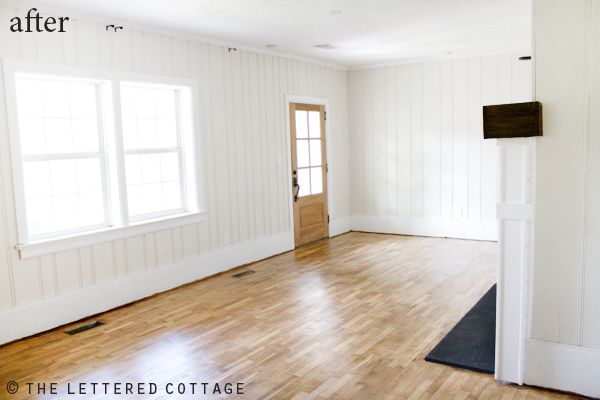 Which is pretty cool because I didn't even do a test patch first. (Whew!)
Well, things didn't go so smoothly with the Varathane on the new hardwood flooring.
I was so anxious to get it sealed (before Max had a chance to do his business on it!), that we just decided to skip sanding them (which is what the folks at Carol's Carpet told us to do), and I went straight to Varathaning right after Wade and the flooring guys left.
Bad idea.
The new floors were absolutely colorless before I sealed them, and they stayed absolutely colorless after I sealed them. Boo. Not the warm pecan color we were hoping for. *sigh*
So, Kev ended up sanding the Varathane off with a palm sander, and in the end, the floor was waaaay smoother because of it, so that turned out to be a blessing in disguise. (Shoulda listened to those folks at Carol's!)
After that, I tested some Min-Wax Golden Oak stain (Thank you, again, True Value!) on a scrap piece of flooring, and I was super happy to discover that it almost perfectly matched the color of the old flooring in the rest of the house. It wasn't a ton of fun to brush it all on and wipe it all off every 3 minutes, but it only took about two and a half hours to stain the whole floor, so it wasn't too bad. (My neck and back were pretty mad at me the next day though!)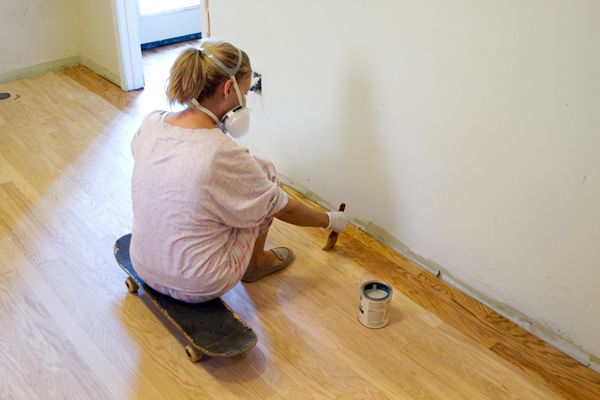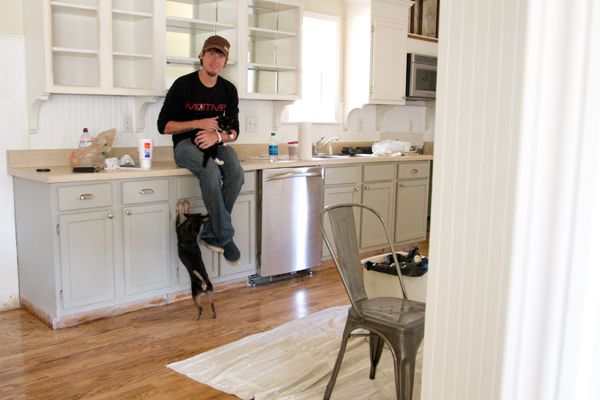 We spent all day yesterday priming and painting the walls and baseboards, and we look very forward to taking a turkey break today!
Happy Thanksgiving!

This post is a part of our True Value DIY Blog Squad series!

PS- You can find more info True Value (and the entire DIY blog squad!) on Facebook and Twitter!
Disclaimer: We were selected by True Value to work on the DIY Blog Squad and have been compensated for our time commitment to True Value-related blog posts. We've also been given a gift card to purchase the materials needed for our True Value-related projects, however, our opinions are entirely our own and we have not been paid to publish positive reviews. Boom!
Get My Free E-book: 15 Common Decorating Mistakes And How You Can Avoid Them
Enter your email to download my free e-book instantly! 🙂