When we first moved into our house, the kitchen floor was covered in dingy, gray ceramic tiles that weren't laid very level, and had different-sized/badly-stained (because they were never sealed) grout lines running between them…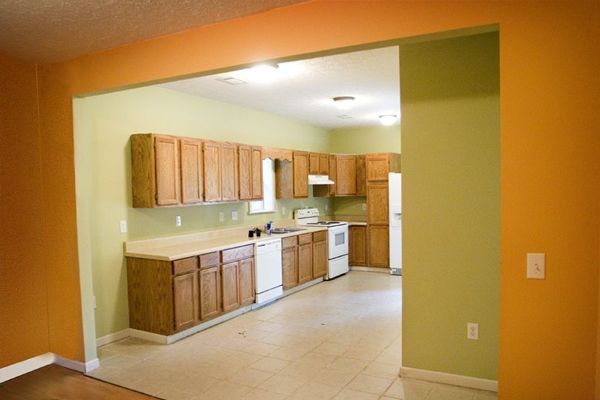 So right after we moved in, we quickly covered it up with an inexpensive, dark-colored, laminate flooring we purchased on eBay…
It only cost about $250 to cover the whole room, and it's been great for the past three years, but now that we've finally finished re-doing the original hardwood flooring in the rest of the house, we're ready to rock the kitchen floor with something that matches it. (PS- Our neighbors re-used the laminate we ripped out in a building they recently built in their backyard.)
At one point, I thought it might be cool to have a brick kitchen floor, but Kev was never 100% sold on the idea aesthetically, and I was never sure about it comfort-wise, so we decided to just go ahead and match the hardwood in the rest of our house. We invited a couple of folks from Carol's Carpet to come out and take a look at our existing floors to see if they could match it, and sure enough, they found the right stuff (2-1/4″ oak) and they're coming over to install a kitchen full of it next week! (We're going to seal it and trim it out ourselves to save some dough.)
Kevin has been dying to get the tile out of there for quite a while now…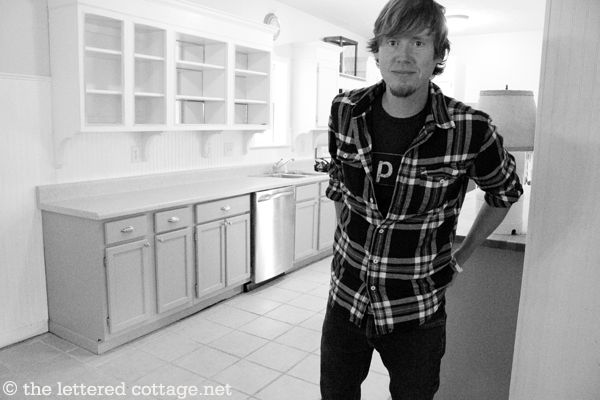 …especially since we've had to walk over a row of broken-up concrete for, like, the last six months (don't ask)…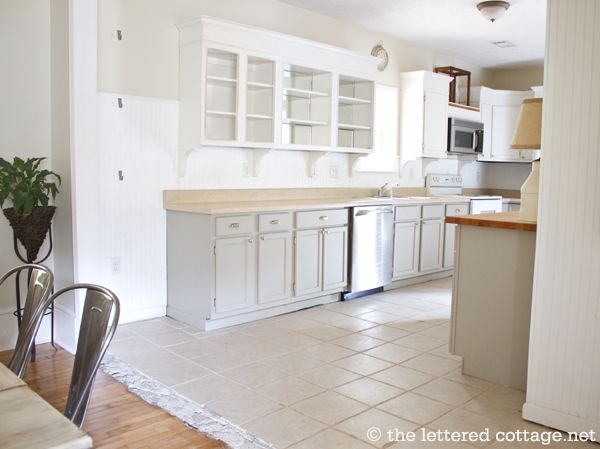 …but he's just getting over a bad case of pleurisy, so we hired a friend of his (Jason) to come over today and help him chip it all out before the hardwood folks get here next week.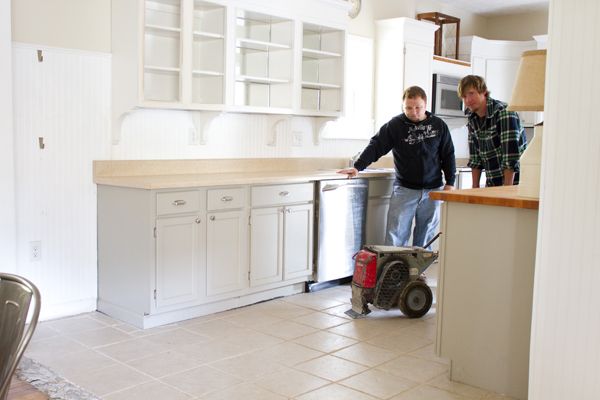 He's a hard worker, that Jason…
I'm not sure if he knew anything about removing ceramic tile before, but sure is a pro at it now!
Here's a short video of the two of them talkin' tile removal:
So, breaking up the edges of the tile with a hammer first seems to be the way to go.
I'll post pics of the new kitchen floor when we're done sealing it next week, and in the meantime, I'm going to call around and get some estimates on the next big redo we'd like to save up for and tackle- a wall of windows! Sort of like this…
Here's a virtual drawing I created in Photoshop a while back to kind of show you what that might look like…
Right now we've just got the one teeny-tiny little window in there (above the sink), so we're anxious to bring in a little more natural light, and take better advantage of the view of the woods behind our house.
Of course we'll have to move our dishes to the other side of the kitchen when we install windows across that wall, but that's okay. I've got big plans for that side of the room, too…

PS- For more info about our kitchen, visit the OUR HOUSE tab in the menu bar at the top of our blog!
____________________________________________
Join us on Pinterest, Twitter and Facebook!
____________________________________________
Need design inspiration? Need help with space planning?
Check out my e-book!