Happy 4th of July! Hope you and yours are having a fabulous, firework-filled weekend!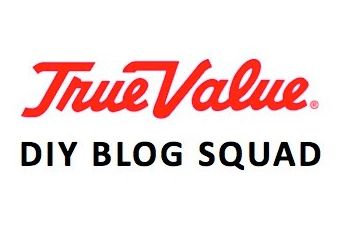 We're teaming up with True Value again this summer and fall, and we thought we'd share a True Value-related update about the outside of our house today. Here's what it looked like last week…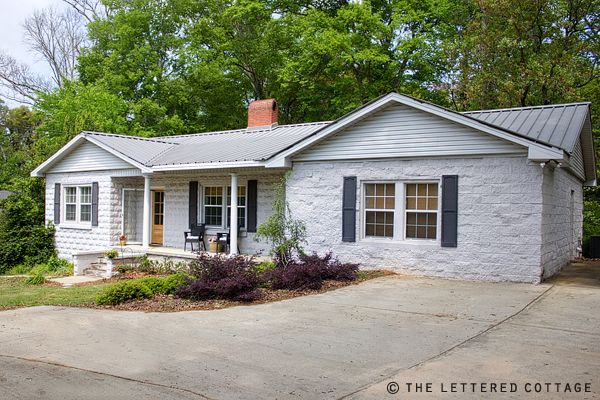 And here's where we're at with it as of right now…
Still lots of work to do, (landscaping, square columns on the porch, shakes on the gables, shutters on the windows, not to mention the front door is still unsealed/stained/painted and there's a bunch of old paint that needs to be removed from the front of the steps. Oh! And let's not forget about all the window trim that still needs to be painted!) but it's slowly but surely coming along!
The first thing we had to do was clear away all the crazy vines and brush that had grown up on the left side of it…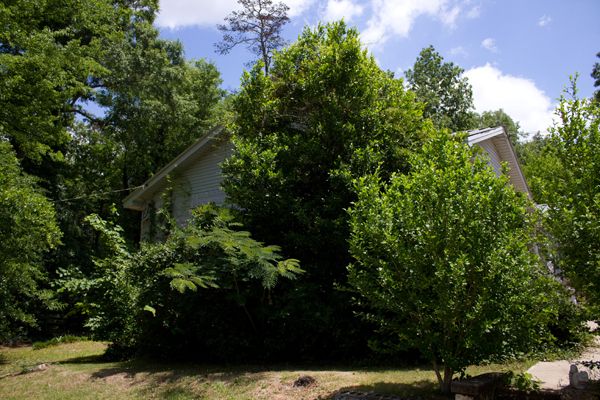 Our reciprocating saw came in very handy that day…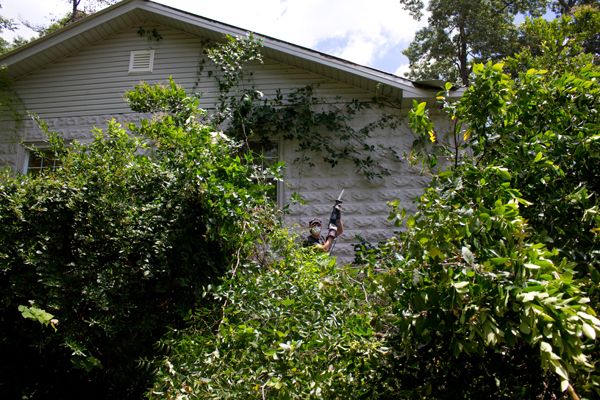 And it was so cool to finally get a gander at that side of the house after all these years! (Note: I look forward to re-landscaping that side when we're done painting. Can you say hydrangeas!?)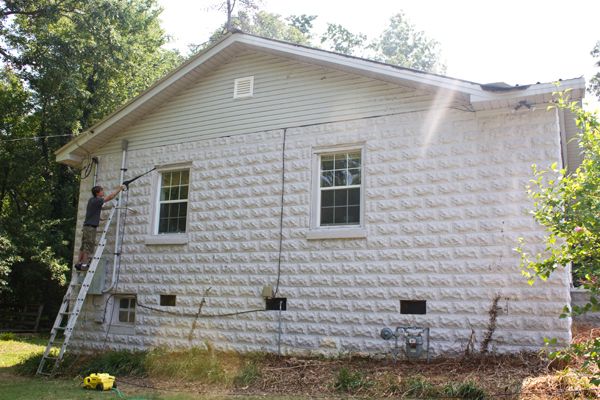 There's Kev, up on the our neighbors ladder. (Thanks David and Cindy!)
And here's a shot of the other end of the pressure washer he used to get all the dirt off our house…
It's our new favorite toy!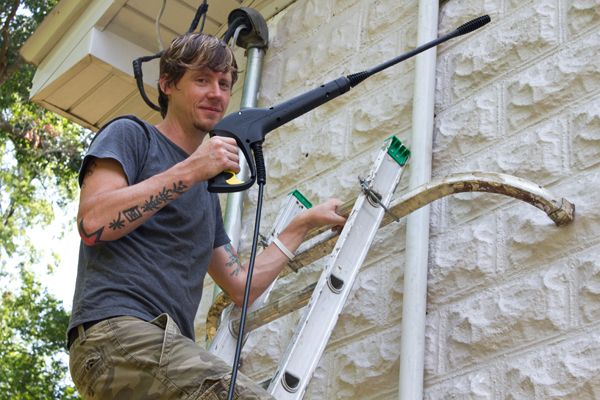 Hey wait a second. What does all that stuff around his head remind me of?
Oh yeah…
(hee hee)
Kev used a paint sprayer made by Ryobi to coat the body of the house with paint…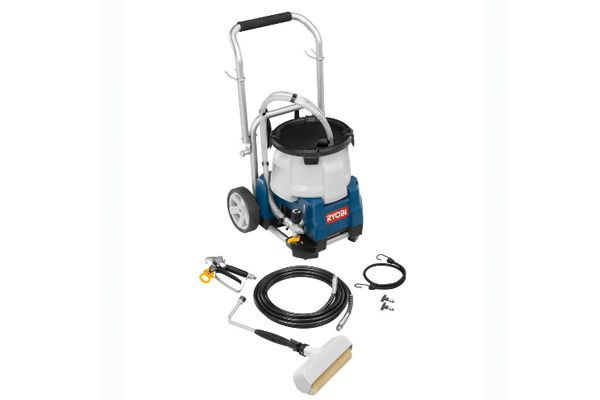 We settled on a color called Pelham Gray Medium/Light (by Martin Senour for their Williamsburg Collection. Thanks to Kelly in Georgia for the tip!) And thanks to a boat load of comments about it on our Facebook page, I've been using a 2″ angled brush to paint the window trim a color called Cloud White by Benjamin Moore. We wanted to go with an earthy color on the cinderblock because we thought it would look a little more like a stone cottage that way. (Versus painting it a pastel or some other color that might look unnatural on a "rocky" material like (bumpy) decorative cinderblock.) Plus, we like the way it warms up the house. The color scheme before was so desaturated…we just wanted to pinch its cheeks and perk that baby up a bit!
We got the paint and most of the other supplies we're using from the folks at the Tallasee True Value, here in Alabama.
They've been super helpful and we always love visiting their store. Check out their massive lumber yard…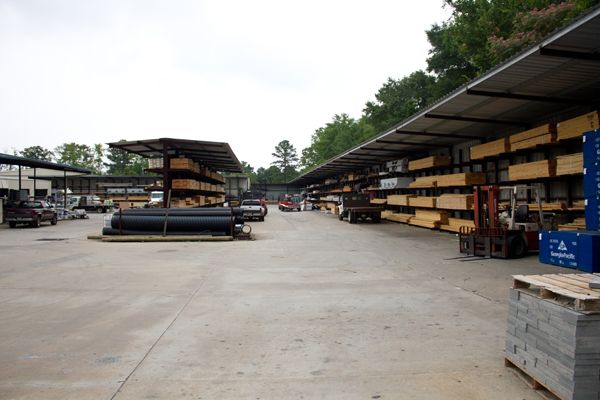 I see a ceiling-related kids room project in our future!

Next up on the exterior (after we finish painting all the trim of course)- faux cedar shakes on the gables! We ordered some samples from a company called Amazulu, and we can't wait to see what they look like!
We're also lookin' forward to seeing what the rest of the blog squad does this year too. Sounds like there's lots of great projects in the works by these talented folks!
Katie at bowerpowerblog.com
Josh at bungalow23.com
Kate at centsationalgirl.com
Brian & Paul at handyguyspodcast.com
Roeshel at thediyshowoff.blogspot.com
Sarah at thriftydecorchick.blogspot.com
Bruno at manmadediy.com
Taylor at maryjanesandgaloshes.com
Marian at missmustardseed.blogspot.com
PS- You can find more info True Value (and the DIY blog squad!) on Facebook and Twitter!
Disclaimer: We were selected by True Value to work on the DIY Blog Squad and have been compensated for our time commitment to True Value-related blog posts. We have also been compensated for the materials needed for our True Value-related DIY projects, however, our opinions are entirely our own and we have not been paid to publish positive reviews.
————————————————————————————-
Join us on Twitter or Facebook!
————————————————————————————-
Need design inspiration? Need help arranging your furniture?
Check out my e-book!
Get My Free E-book: 15 Common Decorating Mistakes And How You Can Avoid Them
Enter your email to download my free e-book instantly! 🙂