Hey there- and welcome to another installment of Pick My Presto! I randomly selected another email from my Pick My Presto inbox (PickMyPresto at aol dot com) yesterday, and had some fun with a photo of a dining room sent in by a reader named Katie.
Her email read:
Hello! I'm a busy mom of three little girls and I've found that I just haven't had the time to really decorate my house so it has that "complete" feeling! This is our dining room…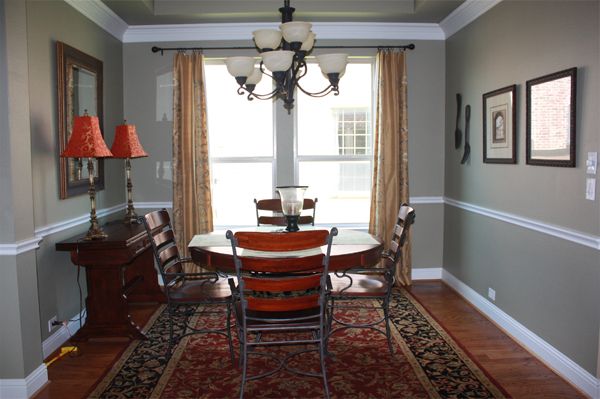 It's just kind of a hodge podge right now and doesn't feel like "us".
Things I don't like about the room: the rug, the lamps, the table and the stuffy feeling the room has. I don't mind the color, but I'm open for change. I'd like to have a dining room table that isn't traditional, but is classic, comfortable and inviting for friends and kids to dine together.
Things I like: I tend to be drawn to decorating with pictures of our family, lanterns and meaningful artwork that relates to us. I like my home to feel clean, with straight lines, but very inviting and not stuffy. With three little girls, I keep the house clean, but would love to have that "this is a family of love" feeling.
________________________________________
With all that info in mind, here's the inspiration drawing I had fun creating for her…
(Move your cursor on and off of the photo below)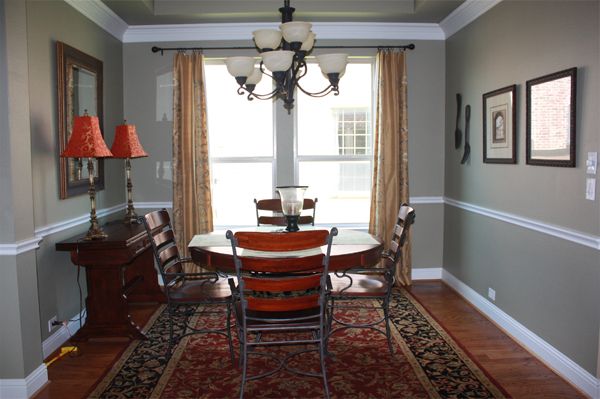 (Note: My drawing is for inspirational purposes only, and the ideas shown in it are just that. Spontaneous, totally flexible, just-for-fun, ideas. And since this is a just-for-fun-photo-consultation, and not an actual-and-perfectly-to-scale-virtual-consultation, I have no idea if any of the furniture, ideas or accessories I used in the drawing would actually work in the room. Boom.)
Here's a still image in case you couldn't view the presto change-o above…
The first thing that popped into my head was wallpaper. But after Googling 'wallpaper' for a few minutes, and discovering that most of them are pretty spendy (like the one pictured below by Kreme)…
…I thought, wait a second! Didn't Emily Jones stencil a really cool pattern onto her walls with regular ol' latex paint?
Yep! She sure did! Here it is…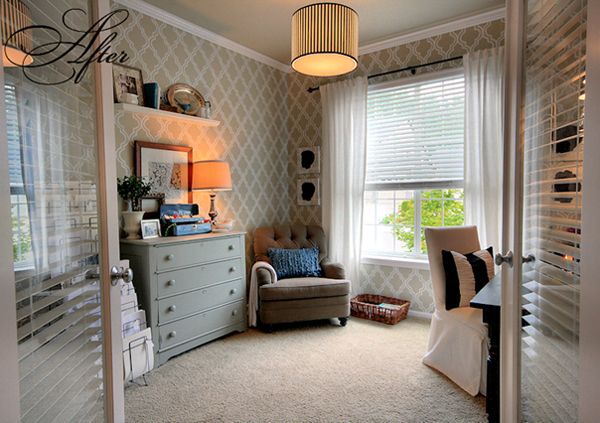 (click on the photo to see how she did it!)
Gorgeous! And since Katie said she was okay with the room color as-is, (and let's face it, who likes to re-paint!?) I left the walls below the chair rail molding alone, and just showed what it would look like if she did some kind of stencil (or wallpaper) on the walls above the chair rail.
It was hard to find photos of dining tables and chairs that were in the right position (straight on) for this presto, but I thought the one I ended up using (from Country Living mag) looked pretty great in the space. A chalky black table, paired with dusty white side chairs and a couple of upholstered captains chairs…YUM.
A piece of framed photography or a large painting that speaks to Katie and her family would be great on the wall above the chair rail on the right, and a lighter & leggier buffet would be fantastic on the left side of the room. Top it with a big mirror and some fun accessories and voila! Luh. Shuss. Ness!
Ivory-colored curtains, and a chandelier that's a little more understated and that directs light down at the food (vs. up at the ceiling) complete the (hopefully inspirational!) new look.
Last but not least, here are some of the inspirational elements I plucked from the web to put together my drawing…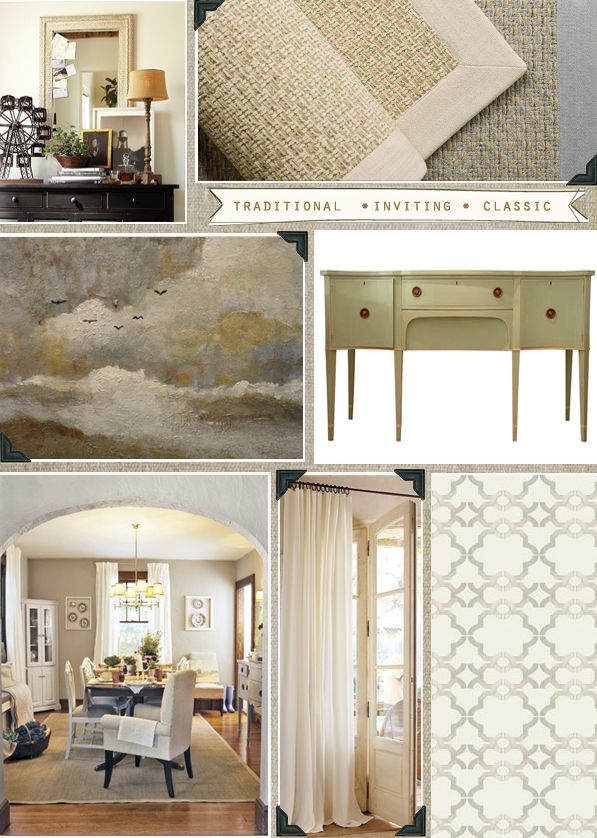 (Top two photos and photo of ivory-colored drape- Pottery Barn; oil painting- Wendy Whitson; , dining room photo- Country Living magazine, wallpaper- Kreme, buffet photo- UrbanGraceInteriors.typepad.com)
Thank you for the opportunity to pick your presto this week, Katie! I had a ball putting it together and I hope you can use some of the ideas as a jumping off point when you start to redo the room!
Wanna submit a photo for our Pick My Presto series?
Send an email to PickMyPresto [at] aol [dot] com titled, "PICK MY PRESTO- Living Room". (Replace the words Living Room with whatever type of room you're actually submitting.) In the body of the email, include your name, your blog name (if you have one) your design likes & dislikes, and one photo of the space in question. (No links please.) It should be clear, and measure at least 400 pixels high x 600 pixels wide. (In other words: at least 4″high x 6″ wide) The bigger the better though! Make sure it's a photo you're comfortable with us showing and writing about on our blog. Then, whenever I'm feelin' the urge, I'll randomly select someone's email and have a little fun creating some traditional or cottage style presto change-o inspiration. Oh, and since I love surprises, I probably won't email you to let you know I've "picked your presto" unless I have a specific question for ya about your space.

——————————————————————————————————–
Join us on Twitter or Facebook!
————————————————————————————-
Need help arranging your furniture?
Check out my e-book!