So I don't know about you, but we're getting soooooper pumped about the upcoming season of Design Star around here. (It's starts Monday, July 11th- yesss!) And speaking of Design Star's, I had a chance to e-chat with Design Star Season 2 winner, Kim Myles, last week. What a sunny gal she is! Here's what she had to say about her upcoming appearance on HGTV'd (her episode airs tomorrow- Monday, July 4th at 9/8c)…
Honestly, working on HGTV'd was the 'The Dream'. When I competed on Design Star, I thought that if I won, I'd be doing huge, fabulous makeovers with huge, fabulous money. I definitely got the 'fabulous' part with Myles of Style, but the huge money part…not so much! Here's some insider juicy juice: When you break your neck competing on a show like Design Star, you think that if you can just get through it and win, you'll be on easy street. Hah! Design Star is merely boot camp — the real blood sweat and tears come when you helm your own show. Don't get me wrong, I wouldn't trade my Myles of Style experience for anything, but it did give me a new level of appreciation for the full support team and giant financing that came with working on HGTV'd. All I had to do was dream it (and then say it out loud) and it got done! I got to design custom lighting (that I did not have to build myself!), and indulge in some other design candy (like wallpaper) that we just never had the time, money or staff for on Myles of Style. So luxurious! So much FUN!! Like I said, totally 'The Dream'!
Cool! A sky-high budget, loads of time, and a big ol' staff does sound dreamy! Okay, without giving too much away, tell us a little bit about the room you re-did for HGTV'd.
I re-designed a family room, and it was intense. The room needed to serve multiple purposes, be elegant, unique (you know I can't do cookie cutter!), and also kid-friendly. Jeesh! But I tell ya'- $80K and a month to design (versus the usual 'one week' on Myles of Style) made it much easier to pull off. I got to treat this space in the same way that I handle my private clients, and I'm super excited to share this level of my work with HGTV fans. They've been so supportive of me over the years, and I think (I hope!) they're going to be blown away by this project!
Here's a sneak peek of the room Kim designed that will appear on Monday nights episode of HGTV'd: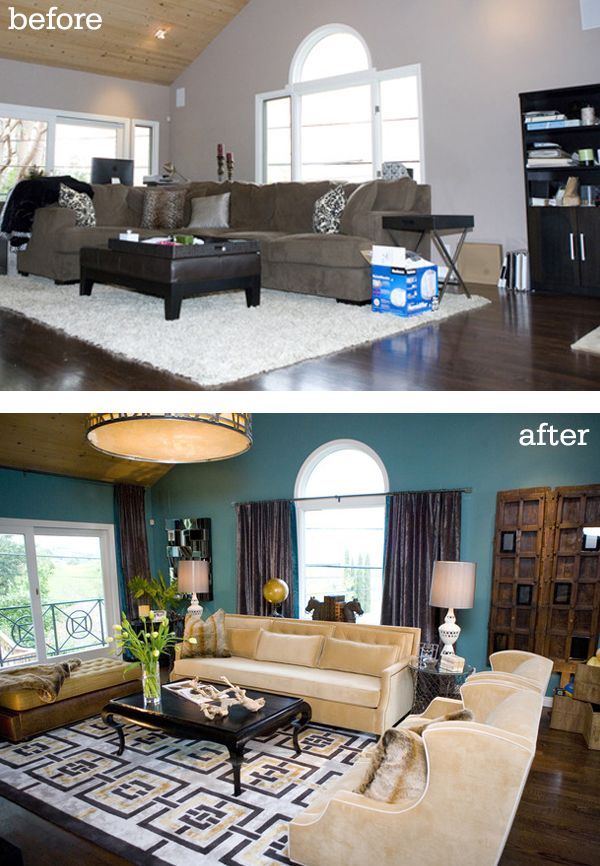 What's on the horizon?
I'm a bit busy! I'll be coming back to co-host America's Biggest Yard Sale on HGTV in the Fall, and my design firm Kim Myles Design is doing well despite the economic down turn…a fact that I'm extremely grateful for. I do a lot of travel/public speaking, and I'm also working on my first book! It will feature the 'Kim Myles' brand of creativity and budget design solutions that people love, mixed with crazy insider dish about my time competing on and winning Design Star…I promise you it'll be tasty! I'm also about to begin writing a regular column for the e-magazine 'House of Fifty'. (Oh, and I'm doing hair again — you can take the girl out of the salon, but…). Ok…I just read all of this back to myself, and I think I need a little vacation! Seriously though, I'm blessed to be living a hyper-creative life of my own design. My plan is to just do everything that I love until someone tells me that I can't…and so far it seems to be working!
Last but not least, we'd love to hear about your dream pad. Where would it sit? What would it be made out of? What would it smell like? What would the kitchen/living room/bedroom/etc. look like?
My dream home would sit on a bluff overlooking the mighty Pacific. It would be small and sweet (I never feel 'at home' in giant houses), but also modern. There would be a giant soaking tub in the bathroom (some of my best ideas come to me in the tub) with an assortment of delicious salts and bubbles to choose from, as well as a picture window looking out onto the ocean. The bedroom would be serene and simple (I hate to wake up to a cluttered visual…my mind is cluttered enough!) with a giant Moroccan wedding blanket as a bedspread — like a jewel in a very simple crown. The living room would have a Chesterfield sofa (butterscotch leather), a Color Reform carpet from ABC Carpet and Home (today, I'm thinking teal). And no living room of mine would be complete without my dog Ollie lazing on the furniture with us…for me, pets make a truly happy home!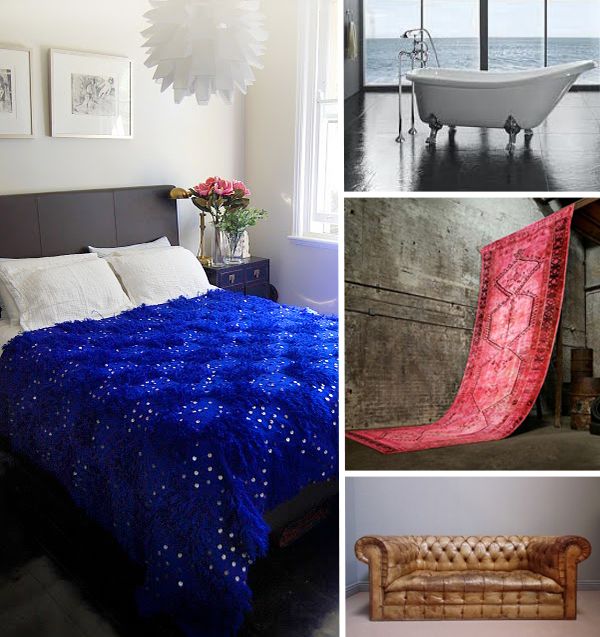 The kitchen would have white marble counter tops and glittering black glass tile for the backsplash, and there would be two comfortable bar stools at a small center island so that my husband and I could keep each other company as we cook. And there would be a skylight in every room….the better to look at the stars and dream!

Thanks Kim!!
I love the bit about having "a plan to just do everything that I love until someone tells me that I can't". Sounds like a great idea to me!
PS- You can also find Kim on her blog, her Facebook page, and on Twitter!
————————————————————————————-
Join us on Twitter or Facebook!
————————————————————————————-
Need design inspiration? Need help arranging your furniture?
Check out my e-book!