Kev and I surprised my Mom with a quick "happy birthday" guest bedroom makeover this past weekend, so I thought I'd share some pics of what we put together for her here on the blog today!
It's always fun to hang out at my Mom and Randy's. There are pretty kitties at almost every turn…
…and there are so many fun things to look at around their house…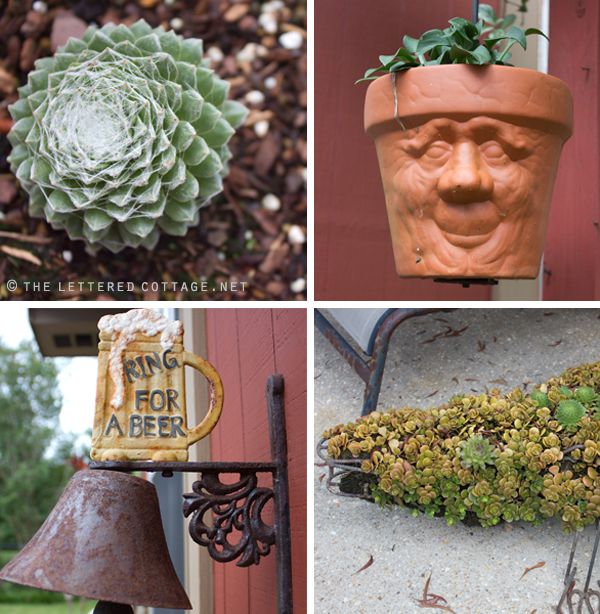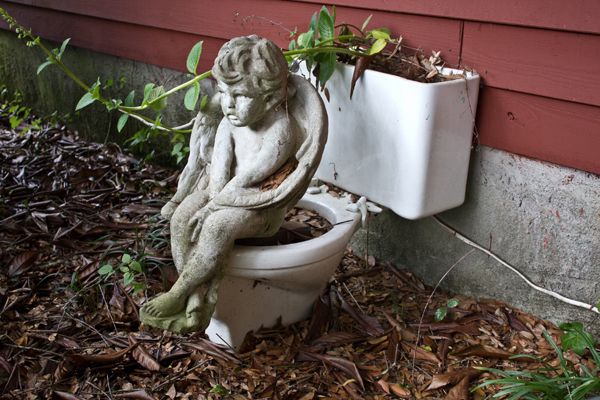 We started the redo by gussyin' up their guest room bed with some new linens we got on eBay and at Target the week before. After that, we went out to pick up a few more things for the room at some local flea markets. We took my Mom with us, but we didn't let her see anything we bought for the room. I snapped this funny pic of her over my shoulder on our way to Alyssa's Antique Depot in Milton, FL…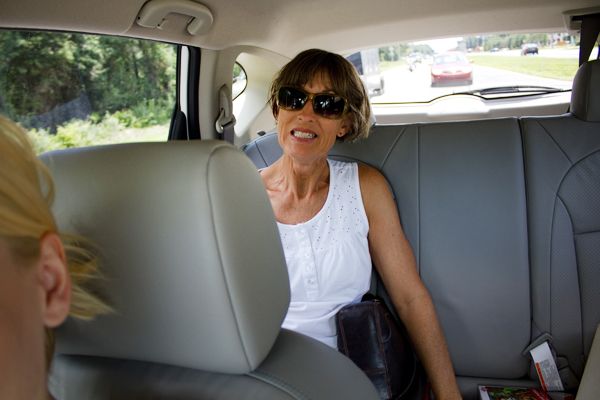 Kev found an armoire he thought would be perfect for the room while we were at Alyssa's. Here's a little video he shot right after we got it loaded into our vehicle…
(Apparently Mom and I both like blue and white striped shorts!)
The next day, while my Mom was at work, we got to work making over a couple of our flea market finds. A pair of brass wall sconces got sprayed with Rustoleum's oil-rubbed bronze spray paint, and an old parlor table got cut in half and painted Magnolia White. (Some leftover paint my Mom had in one of her closets) We also added a 12″x18″ piece of wood (we got them cut at a local home improvement store) to the top of each half (with Liquid Nails), to give them a little more surface space. We anchored each table-half to the wall with little metal L-brackets from the home improvement store.
Here's a couple shots of the guest bedroom before we cleared everything out…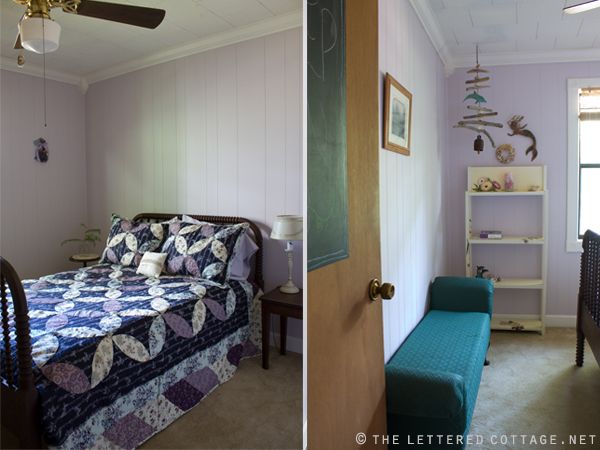 And here's what we had fun putting together that day!
Of course the antique Jenny Lind bed stayed, as did the lavender walls, which are painted a Martha Stewart color my Mom picked out several years ago. She can't remember the name of it, but she said that it looks very close to a couple of new Martha Stewart colors called 'Phlox' and 'Orchid'. The ceiling fan came down, and my Mom is on the hunt for a pretty little chandelier to put in its place. The basket above the bed came from the Pottery Barn outlet in Georgia a couple years back, and the letters I hot glued inside it came from Paris Market in Savannah, Georgia. The wood and metal-trimmed letterpress boxes on the wall to the left of the bed came from Alyssa's. They were $7 each and I just hot glued some of my Mom's shells inside each of the compartments. The accessories on top of the armoire and on the bedside tables also came from Alyssa's.
The Matine Toile duvet cover and standard shams (in "Lilac" by Pottery Barn) were eBay purchases, and the white channel-stitch F/Q quilt is from Target. The green-trimmed (white polka-dotted) sheet set is also from Target, and the (Pottery Barn) accent pillow in front was another eBay score. Here's a close up of what it looks like:
We would have loved to throw in a new (old) painted hardwood floor, and maybe a great, Dash & Albert-style rug…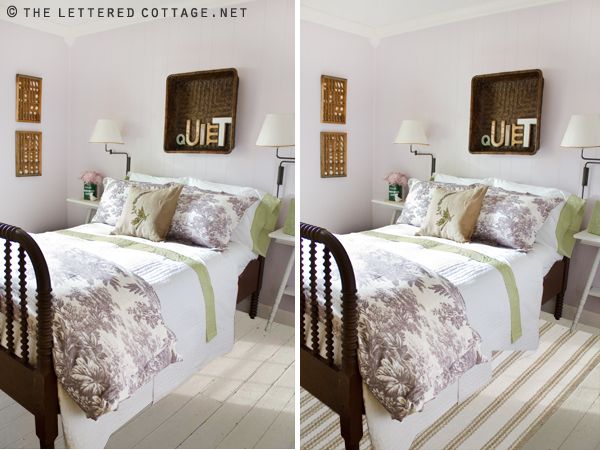 …but this was a one day fluff, and we were pretty plum-tuckered by quittin' time that day!
(We did everything while my Mom was at work the day after we went shopping together and revealed it to her when she got home!)
All in all, it was a super fun room to revamp and we're thrilled that Mom and Randy are happy with the new look!
Happy Weekend!
Join us on Twitter or Facebook!
————————————————————————————-
Need design inspiration? Need help arranging your furniture?
Check out my e-book!