Well, we're fiiiiinally done re-doing our master bedroom closet doors, and I'm happy to report we're pretty stoked about how they all turned out. There really wasn't anything wrong with them before…
…but YOU KNOW ME. Once a project idea pops in the ol' noggin I gotta git-after-it!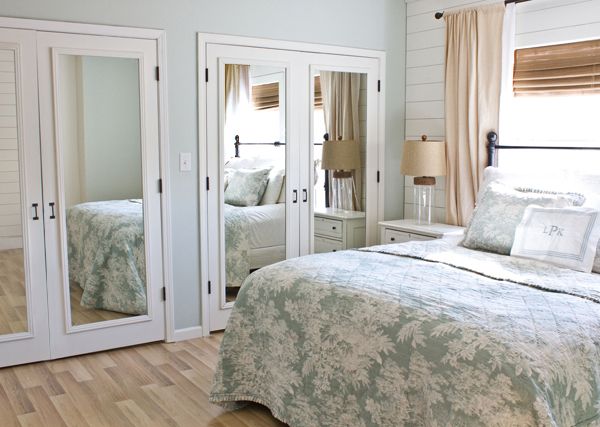 They're not perfect, but it's all good.
The re-do was pretty simple. We just removed the doors, and their old, painted-on hinges…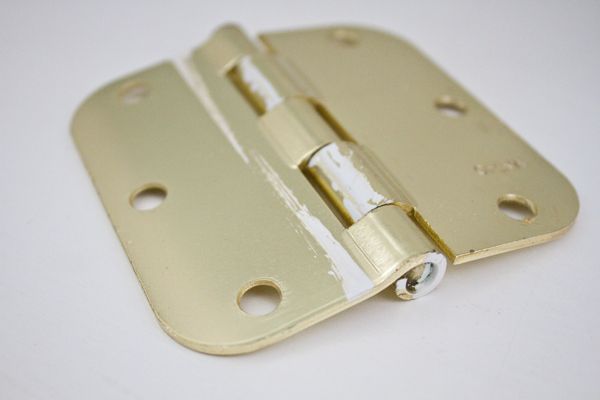 …and added some new, oil-rubbed bronze hinges to each one instead…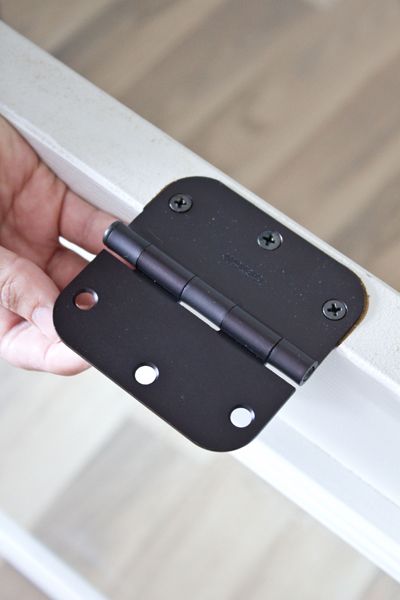 We bought four 3-packs for around $8 a piece at Home Depot…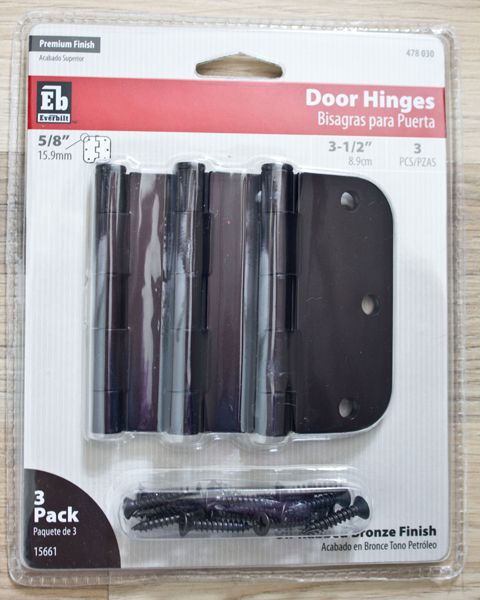 Then we took off the old, scuffed up door knobs…
…and replaced them with new, oil-rubbed bronze utility pulls…
We found them on the hinge/window hardware aisle at Home Depot. Here's what the packaging looked like…
I think they were around two bucks a piece. They're actually made for windows…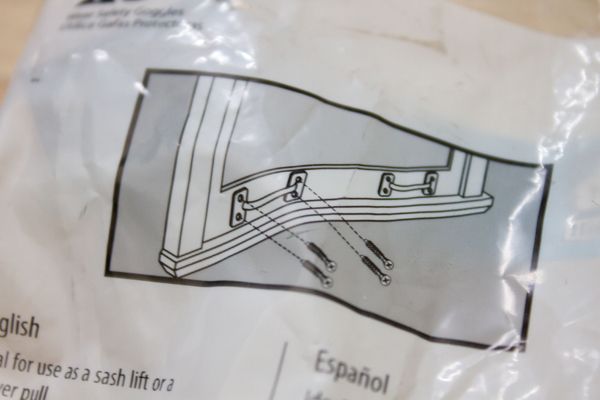 …but I thought they'd make nice-looking door pulls, so on they went!
We already blogged about how we attached the mirrors to each door, but here's a close up of the edge of the mirror we needed to cover up with trim…
And here's a photo of the trim we ended up choosing… (Home Depot)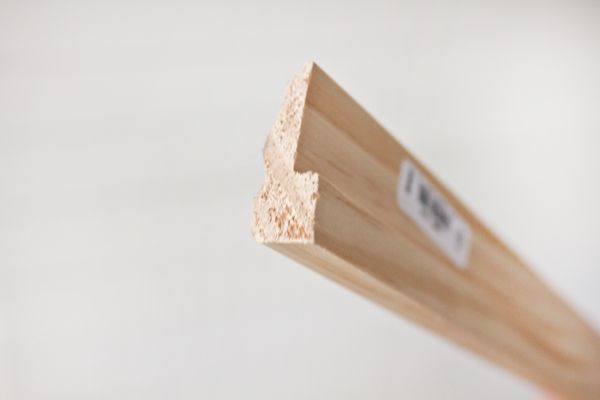 We painted all the molding first, then mitered all the corners. Then we glued all the pieces to each door with Liquid Nails specifically engineered for attaching mirrors. (Not regular Liquid Nails!) After that, we fixed up our miter cuts with white shrink-resistant/crack-resistant silicone (Walmart) and gave 'em all a quick coat of touch up paint. (Moonlight White- Benjamin Moore)
The next step was to make sure the door on the far right didn't ever accidentally bump into my bedside table, so we picked up a variety of supplies at Home Depot…
The chain was 50 cents, and the "screw eyes" were a buck or two.
Screw eyes.
*giggle*
Sounds like somebody from Scooby Doo or something.
*giggle*
I spray painted the screw eyes (giggle) with some oil-rubbed bronze spray I had, and we attached one to the door frame, and one to the door. We used a small length of the chain in between them to prevent the door from swinging open too wide…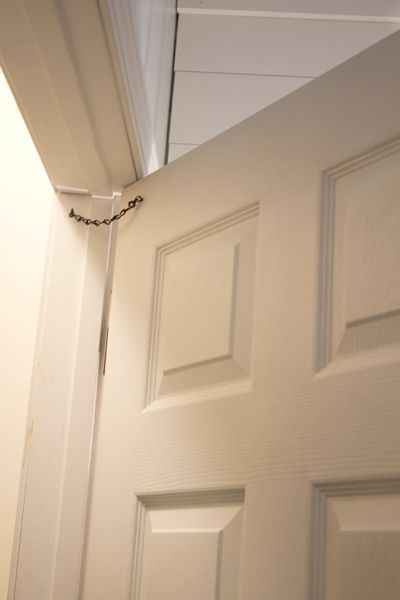 The surface bolt was about five bucks, and we added it so that wild & crazy little ones don't accidentally fling open Momma's closet door and bust that chain right off.
We mounted it on the inside of the door…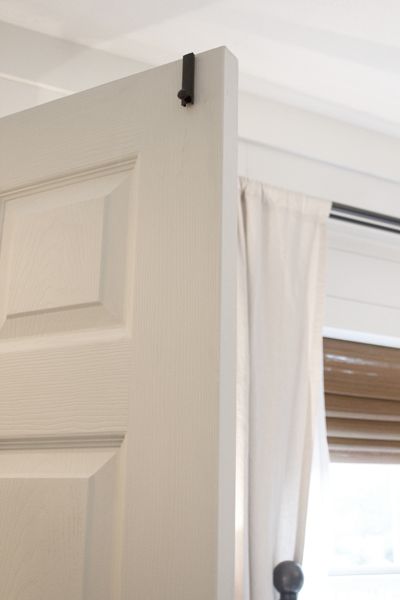 …so us taller folks can push it up…
…and into a little hole we drilled…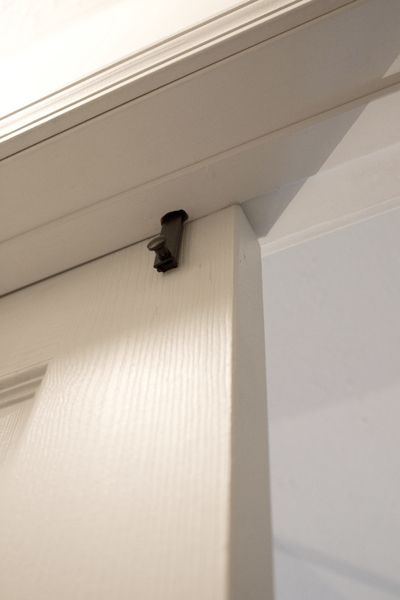 And look! I can still access all the clothes I never wear with ease- ha!
And everybody steers clear of each other on the flip side…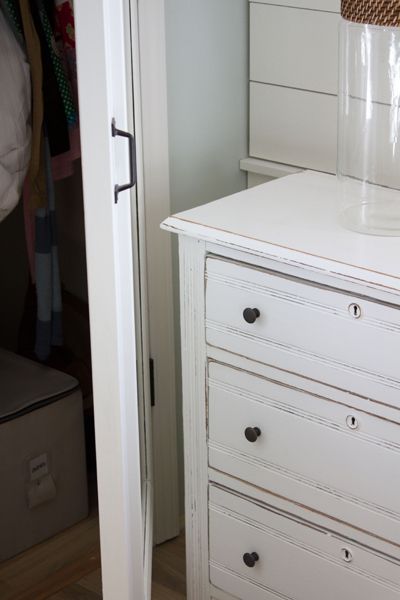 I am going to get rid of some more of those clothes though, for real. We got rid of a bunch of stuff and added some new shelving to the closets a couple of months ago and Kev's closet looks SO much better than it did before…
BEFORE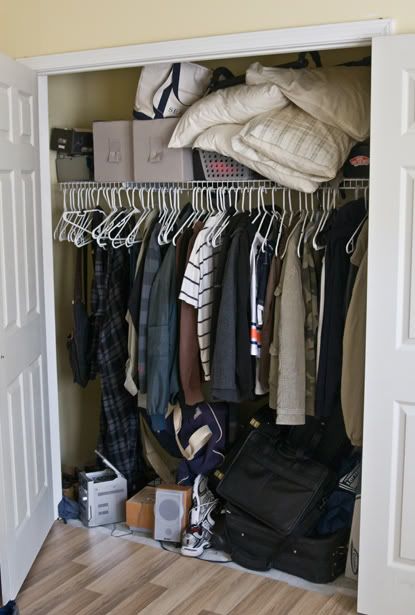 AFTER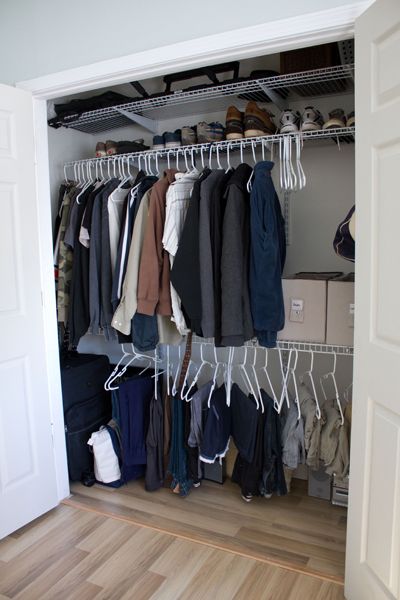 I finally got around to labeling those handy dandy storage boxes we pull from every day, too…