Remember that Long Room at Ree's house that I blogged about a while back? Well, some fun folks from HGTV recently visited the ranch, and gave it a major makeover. Here's the room before…
And here's what Cortney and Bob Novogratz whipped up for Ree's daughters in just under a week…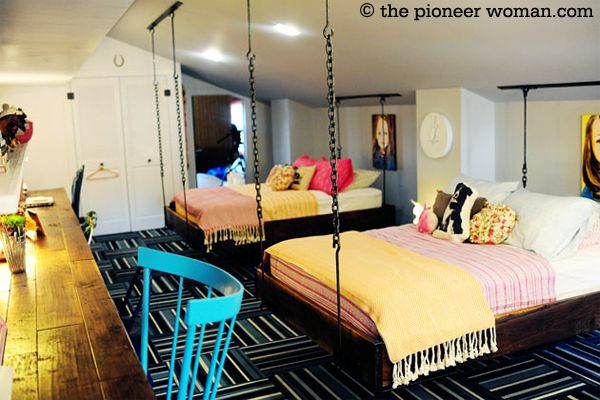 What a dramatic difference, huh? Ree said her daughters are LOVING it, and joked that she keeps "thinking they'll come downstairs to eat, but so far there's been no sign of them". LOL!
One of my favorite things in the room is the "knitting station" at the end of the long desk…
And speaking of the long desk, that sucker spans almost the entire length of the room! Holy Creative-Stuff-Is-Definitely-About-To-Go-Down-On-That-Thing, Batman!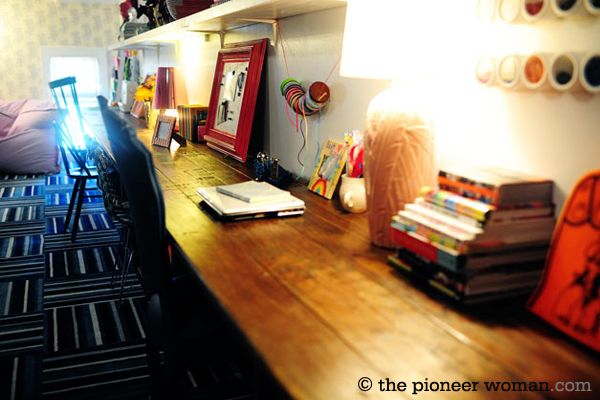 I love that they used paint-by-number wallpaper, too…
And if the girls decide they don't want to fill it all in with paint pens, it looks great just the way it is, too! Bonus!
Now that the girls' room is all gussied up, Ree's ready to redo the rest of the upstairs. Soooooo, over the next however-many-months (I don't think there's any rush and Lord knows she's a busy lady!) she and I are going to put our heads together to see if we can come up with a plan for all the other areas up there, too!
But since we live 800 miles apart…
We'll be doing all of our brainstorming via phone and computer. I'm super excited about the opportunity, and I look forward to blogging about the experience along the way, too!
Ree said there's a bunch of different areas upstairs that need updating, but I thought I'd start by giving her some inspiration in the area they pass through before they reach the top step.
Move your cursor on and off of the photo below to see what I had fun dreaming up for her stairwell this weekend…
(PS- Google Readers will have to click over to our site to view this one in action!)
(Note: My drawing is for inspirational purposes only, and the ideas shown in it are just that. Spontaneous, totally flexible, just-for-fun, ideas. And since this is a just-for-fun photo consultation, and not an actual-and-perfectly-to-scale virtual consultation, I have no idea if any of the ideas or accessories I popped in my drawing would actually work in this space. Or if Marlboro Man even likes the color red. Oh, wait. Of course he likes the color red!)
*wink*
Here are the still images in case you weren't able to view the interactive ones above…
I thought it might be kind of neat to use some kind of rope handrail on the left wall. Something extra chunky like this would be really ranch-y: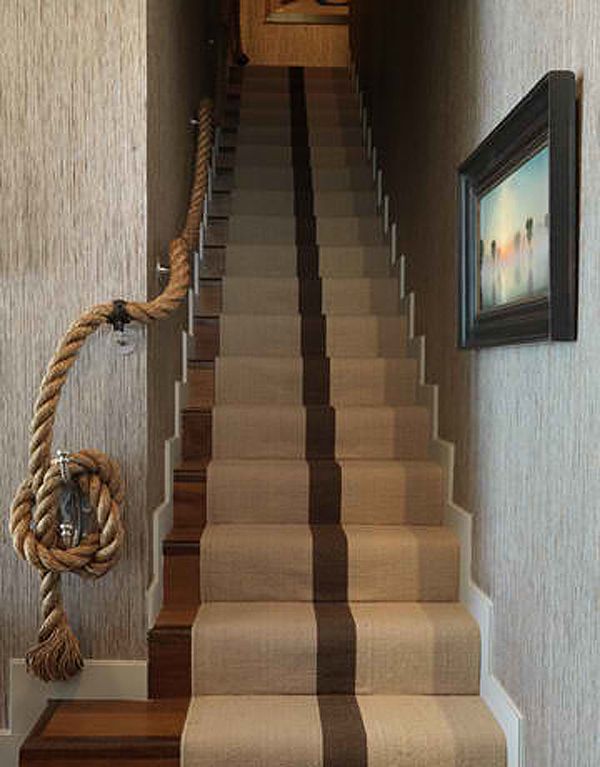 I love that runner in the photo above, too. Reminds me of an old grain sack!
Here's some more rope/runner inspiration I found online…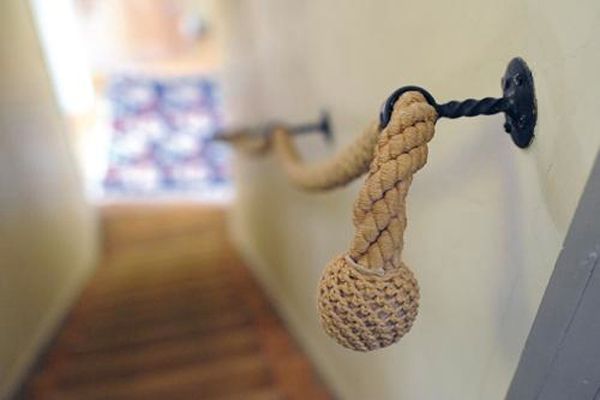 I love the idea of some kind of dark rope-holders brackets, kind of like (but more simple than) the ones in the photo above. Again, seems like they'd fit right in at the ranch.
The runner in the presto change-o pic I put together is from Dash & Albert, but like I said, Ree wouldn't have to use that exact runner. I just like the idea of a using one because of the softness it would add amongst all those hard surfaces.
I popped in some reclaimed wood steps under the runner in my drawing, because I thought some kind of dark rustic wood would look pretty spiffy. I'm not sure how easy/inexpensive that would be to recreate in real life though. (?) Maybe it would be easier to just do the treads? I'll have to talk to someone about that if Ree digs the idea. But again, they don't have to be rustic wood steps. I'm sure those stairs would look absolutely loverly with a fresh coat of stain or paint on them, too!
As for the walls, Ree told me she was open to painting them, so I thought I'd show her what they would look like if they were painted with a color like (but tad warmer than) the one the Novogratz's used in the girls' room. But before I put pen to paper cursor to computer, I asked Ree if she was surrrrre she was okay with painting over the existing wood walls. A) because of the whole "paint it vs. don't paint" debate that always seems to pop up when someone suggests painting natural wood on a public forum (note: design debates give me hives), and B) because I knew those wood walls had been there since Marlboro Man's parents designed the house back in the 70's, and I can certainly understand if he'd like to leave them just the way they are.
But Ree said, "No, I think they're starting to look really tired, and I think paint would help eliminate the splinter factor. (ack!)"
And because she's always posting such beautiful photography on her site, I thought it might be neat to take advantage of that empty wall space above the handrail by grouping a bunch of Ree's photos there.
__________________________________
I sent my initial ideas and my presto change-o drawing to Ree on Saturday night, and got two responses back from her yesterday morning…
The first response read, "OH. MY. GOSH. I ABSOLUTELY LOVE IT LOVE IT LOVE IT LOVE IT!!!!!!!!!!!!!!!!!!!!!!!!!!!"
And the second one (which came in a few minutes later) read: "Okay, I've recovered now. Wow! I love the light paint—totally transformed it. How fun is this?"
__________________________________
Funny how sometimes just a few sweet little sentences can make you exhale SO BIG, isn't it!?
In other Pioneer Woman related news- Ree's got a Christmas card-themed Edit THIS! contest going on right now. In a nutshell, to enter the contest you have to do something creative to this photo…
…using Photoshop or some other photo editing software…
I had waaaay too much fun creating this for the contest yesterday…
…and I'm just going to go on record and say that Ree has officially created a kooky-Christmas-card-creatin' monster. My

Layla