"Friends are the pillars on your porch. Sometimes they hold you up, sometimes they lean on you, and sometimes it's just enough to know that they are standing by."
―Merle Shain

Remember that ($15) crackled old oil painting I blogged about last week?
Well, I'm not *quite* finished with the wall grouping it's now a part of, but I thought I'd blog about it today anyway, while I'm waiting on the final (tiny) piece. The grouping is in the hall area right outside our bedroom, and I just love seeing it there right when I wake up! 😀
(I am going to add a rod and curtains in the future, too.)
I put the crackled painting inside a (50% off) shadowbox I got at Michaels.
I just used the little pearl-headed pins that came with it to secure it in place: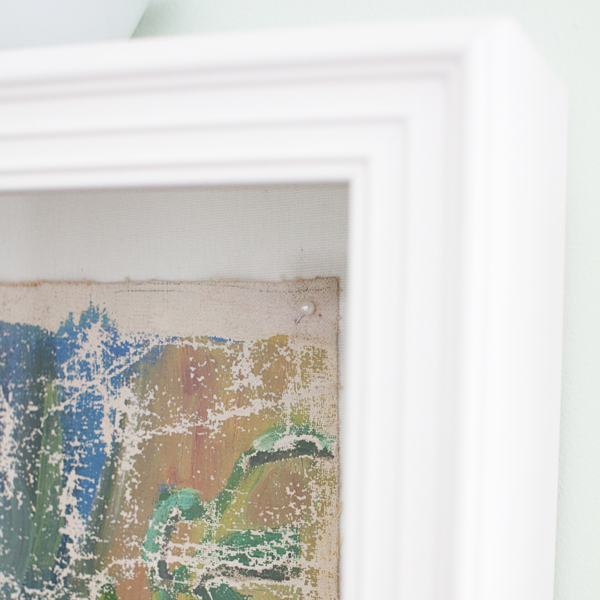 I have found that if I'm drawn to something that's a little on the feminine/vintage side, I like to balance it with something that leans a little more crisp/contemporary. And although he's never said it, I think Kevin probably appreciates that kind of balance, too…especially when it comes to my love of "granny chic" decor. 😀
One thing I love about this particular shadowbox is that it's very deep, which created an opportunity to display some things in a different way. I brought up a couple of blue & white bowls from downstairs, and I love the dimension they added to the grouping:
The tray with the hand painted dogwood blossoms on it came from the same flea market as the crackled canvas painting.
It was marked down from $12 to TWO DOLLARS (can you believe that?), and I didn't even notice that both pieces had dogwoods on them until a few days later. What a fun discovery that was! The tray used to have orange-toned wood handles, but I painted them with some of my left over "Rosemary Gallery" paint so they would blend in better with the rest of the collection.
The framed "bird" quote came up from the living room…
…and you may recognize the little ($1.50) blue & white plate I got at that first estate sale Suzanne and I went to:
I've had the other white plate forever (it's a flea market find, too), and I'm looking forward to adding a tiny vinyl graphic to the center of it when it arrives later this week.
I had fun sticking to a "front porch" theme with this grouping. I wanted it to have this kind of a vibe:
I found the "Front Porch Farmer" book and the old flat sawn porch baluster at a local flea market a while back. (I used the book on our mantel this past Christmas.)
The "tone nut" in me loves that the book pages are the exact same color as the baluster- LOL! 😀
The vinyl graphic I'm adding to the white plate will have something to do with sweet tea…I'll be back on Wednesday to share how it turned out!

PS- My sunny "Valen-shine" and I got a really exciting adoption-related phone call from our caseworker at Lifeline on Friday.
IBESR released our referral letter (the one that was finally signed 2 weeks ago) to Lifeline's in-country rep and we should be receiving a copy of it TOMORROW! 😀
We're required to travel in groups of at least two families, and our fellow Lifeline/Three Angels adoptive couple-friends, Matt & Tacy and Jason & Stormy (a.k.a- the pillars on our porch!), are still waiting for their referral letters to be released. Prayers appreciated for their letters to be released so that we can all book our two-week socialization trips! XO