I started working on a couple of laundry area-related projects last week. The space leads to and from our master bedroom (which still has mustard walls, by the way), so we pass through it several times every day.
This first project isn't as much fun as the one I'm going to blog about next week, but I've had it on my to-do list forever, and I'm so glad to finally check it off. I thought I'd share it here today in case you were in the market for something similar. It started with an old wire hamper I picked up for $10 at Red Top Market last year. It's been sitting in the corner of our master bedroom for months, and although I do love that Kit-Cat enjoys napping in it…
…I did not like seeing our dirty clothes bulging out the sides. 😀
First, my seamstress friend, Jana, sewed together a liner from a couple of yards of muslin fabric:
I didn't want there to be any ties on the outside of the hamper, so she sewed in some hidden ones underneath the top hem:
Next, to make it easier to move around, we secured the hamper to a round of wood with some EZ Cable Clips, and then added four small casters to the bottom so it could roll:
Here's a look at the before and after: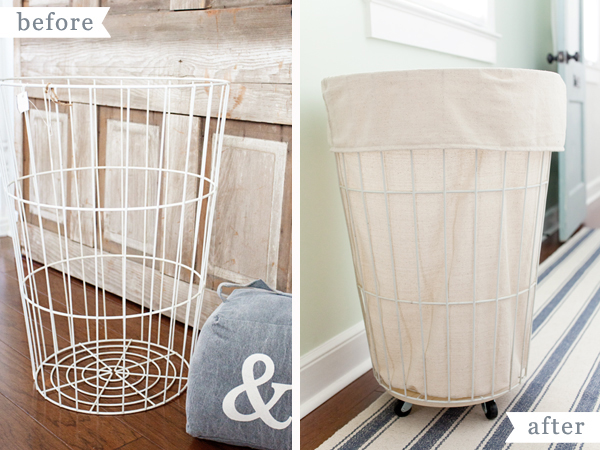 I'm also putting together a small wall grouping in this hallway right now, inspired by this crackled old painting:
Suzanne and I found it draped over the top of a piece of old furniture the last time we went flea marketing, and the colors couldn't be more perfect. Navy, white, mint, grass green, warm brown- they're all in there! On the way home, I remembered that I had seen it in that same booth at least a year ago (maybe two?), so I guess it was meant to be all along. I love it when that happens!

Get My Free E-book: 15 Common Decorating Mistakes And How You Can Avoid Them
Enter your email to download my free e-book instantly! 🙂