"And as the dawn breaks and the clouds clear, in an open space, together we will run."
-Steffany Frizzell

Suzanne and I hit another estate sale Friday morning. Two, actually. The first one was in Deer Creek, a neighborhood about 15 minutes from ours. I'm still giddy about the ($20) painting I found in the kitchen…
…and the ($3) purse I found in one of the bedrooms…
…but what I really want to tell you about is my chicken. I found him on a card table in the screened-in porch.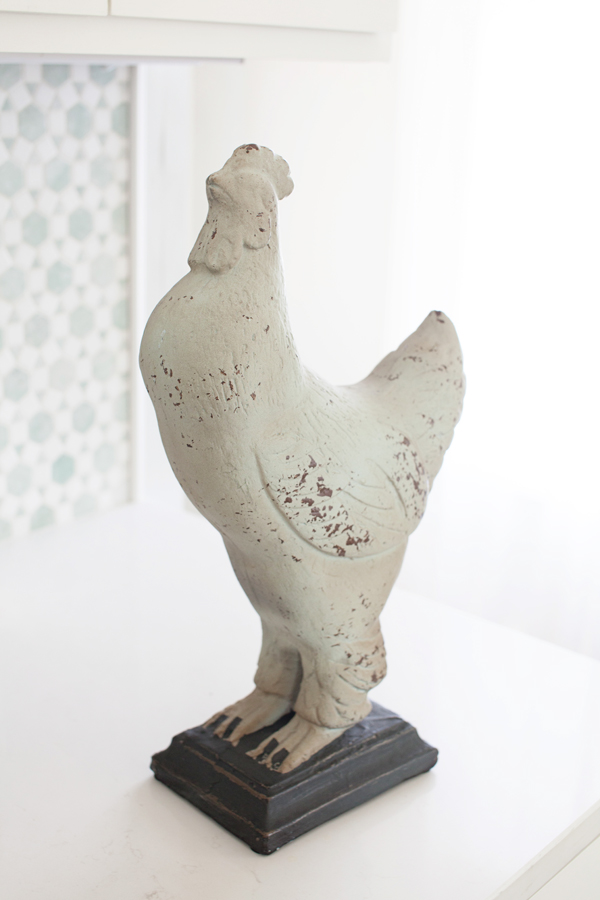 I knew he would be for sale that day, because I saw a photo of him listed on the EstateSales.net site a few days before. There was a sticker that read "$8" stuck to his chest, and I was absolutely smitten with his (inexpensive) farm-style self. I texted Suzanne about Mission: Chicken on Thursday night, and when I woke up on Friday, this was the first picture that popped up in my Instagram feed:
One of the fellow adoptive mamas in our Three Angels group had posted it. She and her husband have since flown back home to Ohio, but at the time, they were in Haiti meeting their daughter, who also lives at our son's orphanage. I quickly left her this comment on the photo…
…and then I raced to get ready, and dashed over to the estate sale house to meet up with Suzanne. When I saw that Insta-photo, I was REALLY determined to get that chicken! 😀 By the time I arrived at the house, a long line had formed up the sidewalk that led straight to the front door. Suzanne joined me in line a few minutes later, and we both noticed there was a much shorter line over on the side of the house, near the garage. Right as the clock struck 9am, we decided to scoot over to the shorter line, in hopes that it would be a quicker route to the screened-in porch…wherever that was. As we all moved forward, (fighting the urge to run- ha!) some folks decided to stop and check out what was for sale in the garage, but Suzanne and I kept walking toward the rear of the house. When we turned the back corner, we spotted the porch. A few people had already overflowed into it from inside the house. Those estate sale shoppers are fast! I did a quick scan of the floor (because that's where I had seen the chicken in the photo on EstateSales.net), but he was nowhere to be found. I circled back around and scanned the top of the table next to the door we came in through. There he was! Right on top, next to an identical chicken that was painted bright red. By this time, there were several more people in the porch with us, so it was a bit of a challenge to get to the my chicken without bumping into someone. And isn't it funny how when you've got your heart set on something like that, you're positive that everyone else around you is there to scoop up the same thing? LOL! 😀
Suzanne and I met up with her mom at estate sale #2 a little later that morning. I found the perfect ($14) like-new rug for Sweet P's bathroom, and Suzanne picked up an awesome old console table for her entry way. I can't wait to show it to you. We need to modify it a little, and then after we decorate around it I'll post some pics.
When we were done wandering around that house, we walked out to Suzanne's mom's car. We were loading some things into the back when my phone started ringing. I pulled it out of my pocket and saw the word Lifeline lit up on the screen. It didn't surprise me because we usually hear from our caseworker (Meredith) on Fridays. For 62 Fridays, she has had to call (or email) and tell us that there hasn't been much movement with our son's paperwork. Updates on Fridays have been tough for the past 434 days, and I know reaching out couldn't have been easy for Meredith either.
She asked me if Kevin was with me. I told her "no, I'm at an estate sale with my friend, Suzanne and her mom". I rambled on and about how much fun we were having, and about how much I was hooked on estate sales now, yada yada yada. Anything to keep the conversation light-hearted so she didn't have to feel bad about giving me another "no movement" update…and to protect my heart from possibly having to hear another one, I guess. She giggled about my estate sale ramblings, and then asked if there was any way to get Kevin on the phone. That's when I felt my brain-brakes come to a screeching halt. "Oh! There's an UPDATE-update? Like, a REAL update?", I asked. "Yes. There's a real update", she replied, with a smile, I could tell. I wanted to hear it right then and there, so I told her she could just tell me and that I would call Kevin and share it with him as soon as we hung up.
Y'all.
We got the last signature.
THEY WANT US TO FLY TO HAITI AND BOND WITH OUR BOY!!!
My legs turned to spaghetti as the words came out of Meredith's mouth. I dropped down to the curb and slammed my left hand over my mouth. Tears streamed as I half-listened to Meredith for the next minute or so- my brain-brakes in wide open mode at this point…a thousand thoughts racing every which way inside my head: "Is this really happening? Am I really getting THE phone call? I can't wait to tell Kevin! I have to board a plane again. I get to hold my baby! The date my Grandma showed was 2-26…will we be there then?"
I called Kevin as soon as I hung up, and when I got home, we hugged and danced and cried and smiled our faces off. 🙂
I'm not exactly sure when we'll travel yet, but it's looking like late February. Can you believe it?
It won't be long now, Sonny boy. The dawn is breaking, the clouds are clearing…and SOON, in an open space, TOGETHER we will run.

Get My Free E-book: 15 Common Decorating Mistakes And How You Can Avoid Them
Enter your email to download my free e-book instantly! 🙂