Kevin started priming the armoire in the sunroom this week:
The wood is really drinking up the primer, so I think he's going to put on a second coat and then paint it with a durable semi-gloss paint. (Simply White by Benjamin Moore. The same color as our trim.) I'm still trying to decide what color he should paint the doors. I wanted to leave them natural, but the wood was super-inconsistent (pink in some parts and green in others), and I didn't like the way that looked.
And speaking of the sunroom, I don't know if you remember or not, but when I hung up the collection of plates in here (two years ago this very week!), I attached a little "tag" to one of them:
I mentioned that I was going to add Sweet P's name and "Gotcha Day" date on it whenever I knew what they were. It's exciting to think I *do* know his name now, and that there's a *chance* that date could end with the number 15! 😀
My friend Suzanne took me to an estate sale Monday afternoon. She goes to them all the time, but I think I had only been to one before yesterday. There were gobs of people roaming from room to room throughout the house. Everything had a price tag- except the architectural details, which of course, I was most drawn to. 😉 You should've seen the marble tile on the floor in the foyer- WOW! 😀 I also couldn't help but notice how much wrapping paper and ribbon (rolls and rolls of ribbon!) the person who lived here had. There was one small room and a large walk-in closet FULL of the stuff. It made me think about how much she must have enjoyed giving. I smiled thinking about her making other folks smile. 🙂
I spotted a beautiful, vintage seascape painting hanging on the wall in her sunroom. It was quite large (maybe 24×36?), and it was framed. It reminded me of the ones Katherine and Jay collect, and I just knew Kevin would absolutely love it. He was inspired by their collection, and would like to create one of our own because the ocean reminds him of God so much, too. The price tag on it read $125, but Suzanne told me everything would be marked down to 50% off the next day. (Apparently that how these 2-day sales work) I've been researching seascape paintings online for the past couple of weeks, so I knew that was a great price, but just a little more than we could spend. $62.50, on the other hand, would be quite the deal. The Monday sale was only open for another hour when we left, so Suzanne and I made a plan to swing by again after she dropped her girls off at school on Tuesday morning.
We pulled back up to the house around 8:40am and there was a pretty big crowd gathered in the circular drive out front. We were all asked to sign in, and when the clock struck 9, we shuffled in through the front door and made bee-lines to the items we had come back for. I followed Suzanne through the foyer, into the hallway, into the den, into another short hallway, and then into the sunroom. My eyes went straight to the spot where the painting had been hanging the day before- and then to Suzanne, who had turned around to tell me, "it's gone".
And it was. It must have sold during that last hour of the sale the afternoon before- can you believe it? I was only not there for an hour! What an adventure though. I'll never forget it! 😀
I didn't come home totally empty-handed though. I found a sweet little blue and white dish that had been marked down to $1.50 by the time I bought it…
…and a great big blue and white bowl ($20) that I'm currently using to hold the extra bath towels that were previously stacked on the shelf in the laundry area:
And last but not least, here's a (fuzzy) cell phone pic of "the one that got away":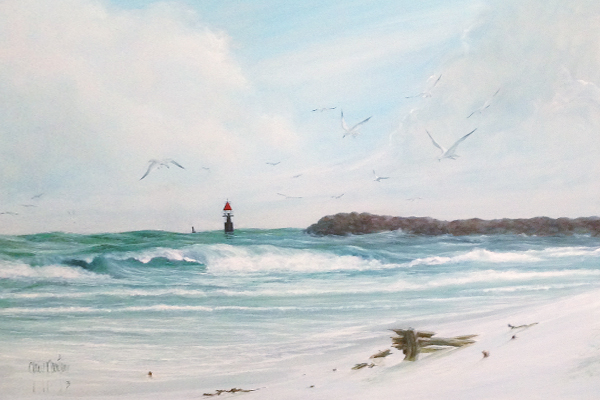 *sigh*
You can almost feel the breeze right through the screen, can't you? Here's to the thrill of the next seascape-related hunt! Which, according to Suzanne, is coming up soon. 😉

PS- The winner of The Best Yes book giveaway is Cynthia Taylor!
(Cynthia, be on the lookout for an email from me later today! XO)
Also, Kevin's Shoot Fly Shoot business has partnered with the folks at The Ultimate DIY Bundle this week. If you've been thinking about taking his Photography 101 class, now is a great time to purchase it for less, and get TONS of extra e-books and e-courses along with it. The bundle, which includes offerings from some of the most popular home decor authors and bloggers on the web, will be available through the banner link below for the next 6 days.
Maybe you've just recently moved into a new place. Maybe you've been living in the same place for a while and want to refresh your surroundings. Or maybe, you're just really creative and are constantly changing things up. Maybe you feel "design-challenged" or just need some new design inspiration. Whatever inspires and motivates you, The Ultimate DIY Bundle has put an incredible depth of resources at your fingertips.
*banner links to affiliate link
Get My Free E-book: 15 Common Decorating Mistakes And How You Can Avoid Them
Enter your email to download my free e-book instantly! 🙂