"At the end of the day, your hands should be dirty, your hair should be messy, and your eyes sparkling."
-Shanti

Okay. That's not exactly how Shanti's quote originally went. The quote actually says "your feet should be dirty", but I think our hands should to get into something messy/new/thrilling/meaningful every day too, don't you?
Y'all, I went to the most glorious place this past Monday afternoon, and I have been so excited to tell you about it!
There were oodles of BEAUTY-FULL paintings stacked in wooden crates, leaning up against the walls, and hung on just about every open spot of wall space. It was AMAZING!!!
But let me rewind a bit…
Several weeks ago, I was visiting a friend from church (Ann-Allen) and she was telling me about this "incredible artist friend" of hers named Ruthie Carlson. Ann-Allen had a couple of her paintings, and I was totally smitten with them. When I got home from Ann-Allen's house that afternoon, I looked Ruthie up on Instagram and immediately started following her feed. (RuthieCarlsonArt)
Fast forward to two Sundays ago. Another friend from church (Carol) invites me to have lunch with her and her friend, Ruthie Carlson.
Fast forward to this past Monday. It was just after 1 o'clock when the three of us climbed up to the studio on the 3rd floor of Ruthie's charming, country home, and man did we have a great time getting to know each other and making art together!
(That's Carol on the right)
Ruthie nicknamed her studio "The Holiday Studio" because she "loves a holiday!" and her motto for the place is, "…where every day is a holiday!". My jaw almost hit the floor when I walked through the door and saw all her heART!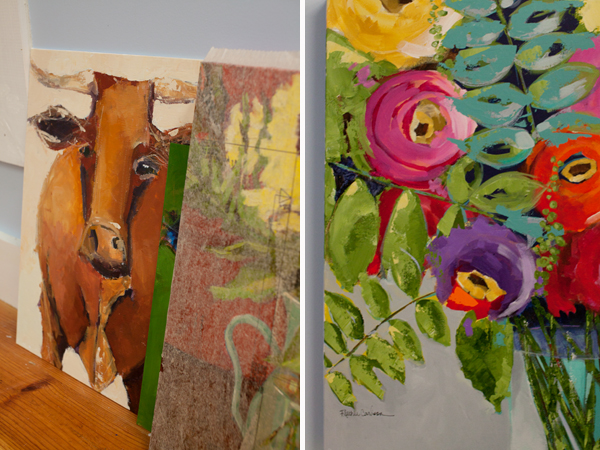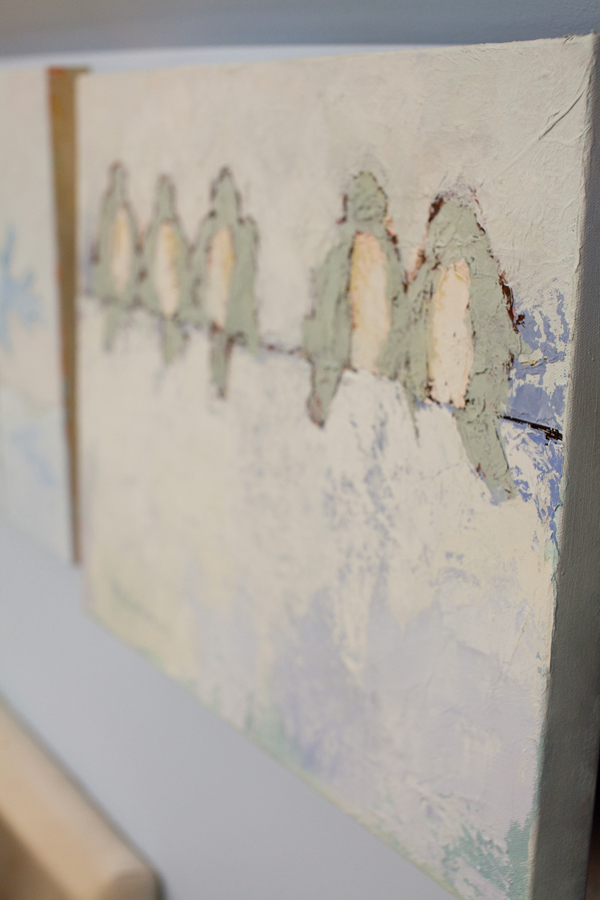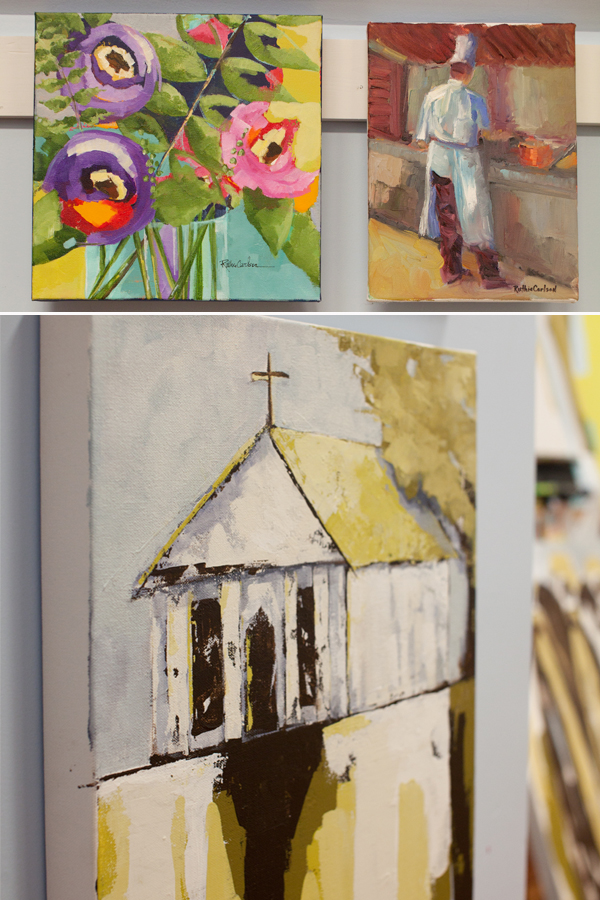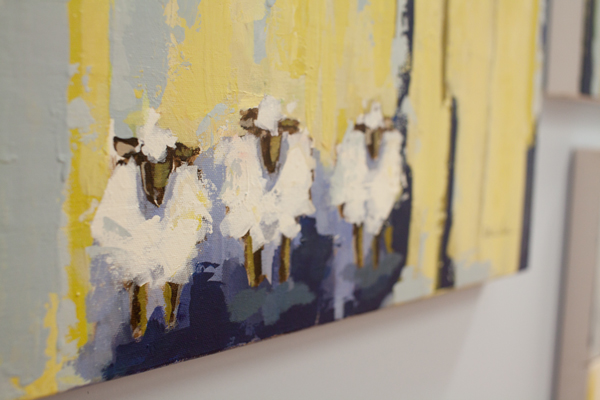 Ruthie walked us through a fun mixed media project that involved covering a chunk of pine lumber in old book pages, scrapbook paper, acrylic paint, stamps and doodles. All that chatting and gluing and painting and stamping was like chicken soup for my soul. I added my Word of the Year and the number 23 to mine…
23 is our house number and our Sweet P's birthday number, so it always conjures up the warm fuzzies. 🙂
When Ruthie was done sealing her block, she finished the bottom of the painting she was so sweet to send me home with that day.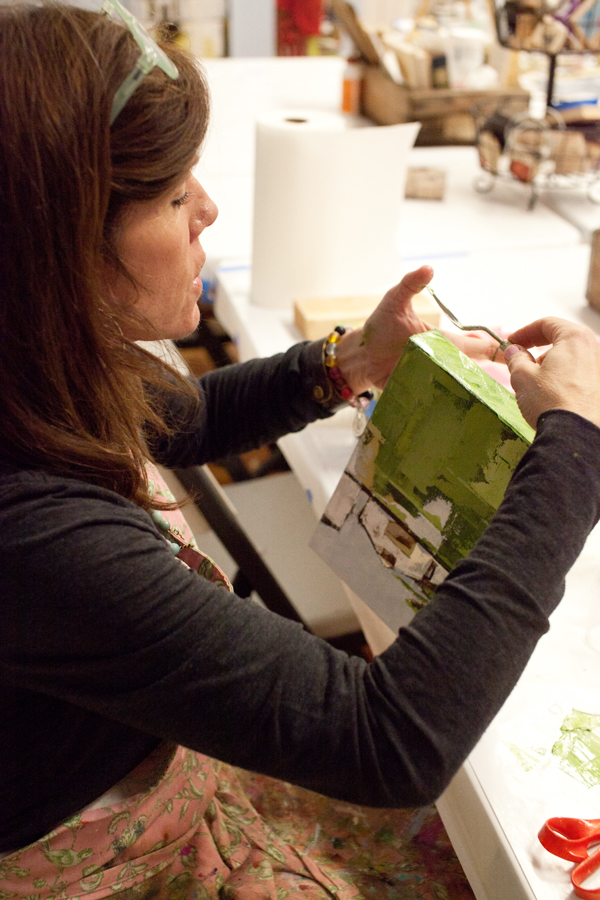 She applies the paint with a palette knife- isn't that neat?
She wrote a special message on the back of the painting for Sweet P. It included the first line of Psalm 23: The Lord is my shepherd. It made me smile not only because I had just stamped "23" on the front of my wood block, but also because I discovered that Carol had included the same verse in the card she gave me when she arrived at Ruthie's that day. I didn't read it until I got home that night, so you can imagine how my heart swelled when I saw it pop up again!
So thankful for those gals and their Encouragement…and sparkling eyes! 🙂
And Carol was so kind to send me home with a loaf of her home baked bread and two tiny sheep to remind me that I am never alone…
Ruthie's email address is [email protected] and she has a website called RuthieCarlson.com if you'd like to see more of her work and read her blog. Her Facebook page is Ruthie Carlson Art, and if you live in the area, don't have plans Thursday night, and would like to see her paint live and in-person, she'll be at an event called Art Splash. Carol said there will be lots of local artists there painting, and there will be both a silent auction during the event, and a live auction at the end of the night. Fundraising will support Montgomery Christian School- the only non-profit school in the River Region. For more information, check out the Art Splash Facebook page. Here's a sneak peek at a couple of the paintings Ruthie will be bringing to work on/auction off at the event:
My favorite. 🙂

Get My Free E-book: 15 Common Decorating Mistakes And How You Can Avoid Them
Enter your email to download my free e-book instantly! 🙂