"Design is a never-ending journey of discovery — for which it helps to pack a healthy sense of humor."
-David Carson

Ain't that the truth? 😀
So, a few weeks ago I told you my gut had been saying "paint the fireplace white" from the time the Blue Yonder went up way back in September. I just wasn't 100% loving it on the fireplace, and I've already got so much blue-gray in other areas of our house:
I polled you that same day, and most of your guts said the same thing: paint the fireplace white.
So, I painted it Simply White…but my gut did not dig it.
Nope. It didn't feel right at all. I can't pinpoint exactly why it didn't work, and I didn't take any photos, so you'll just have to trust me…and my gut. 😉
I tried keep a sense of humor after realizing white wasn't right, but after sampling several shades of gray on it, I really started to wonder if I had made the right decision to cover up the blue.
And that reminds me, friends message me all the time and ask for my advice about which paint colors they should use. "What's the perfect gray paint color for the exterior of my house?". "What's the perfect blue-gray for my bathroom?". "What's the perfect green for my mom's foyer?".
I always give them the same answer: Sample a BUNCH of colors.
This is why: Without sampling, there's no way to know what a particular color will look like in/on your particular house. Windows, walls, doors, rooms, and lights are positioned in different places from dwelling to dwelling, so each home is lit differently than the next. Also, everybody has different furniture, bedding, roof colors, etc., and there's no such thing as one color that "fits all".
Sampling *at least* four or five different colors (and more if necessary) will help you see which one (if any) is the right color for your home. I always tell folks to paint large squares of various colors in different places (on the walls behind their furniture and bedding, next to their front door (if it's an exterior color), next to the flooring they have or want to install, etc) to see which one coordinates best in (or on) their house, with their particular (natural and incandescent) lighting.
That's really the best way.
Take Light French Gray by Sherwin-Williams for example. That's the color our fireplace (and our guts!) ended up embracing: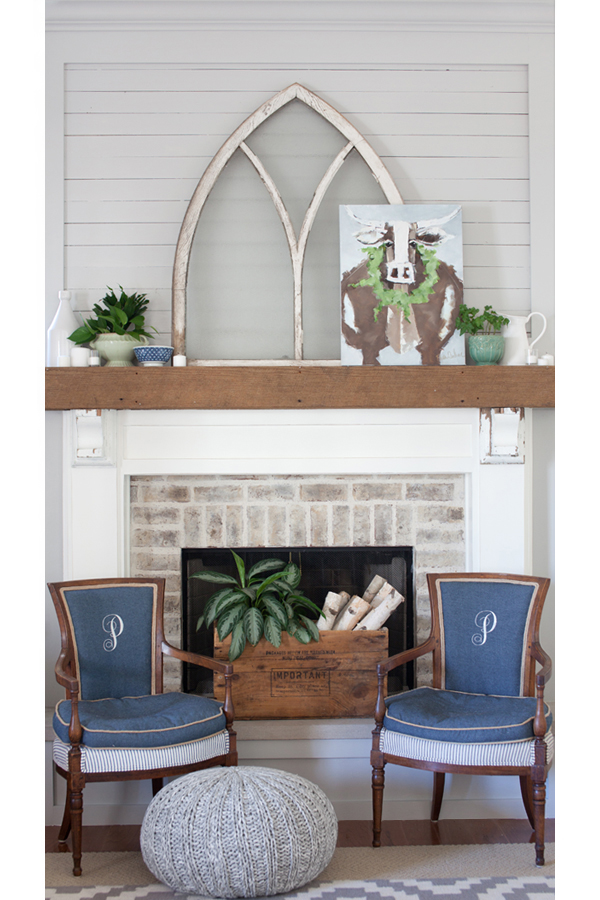 I sampled five different grays along with that one though. The others were either too blue, too warm, too light, or too dark. A couple of them looked great on the trim and walls in two of my friends' houses, (which is why I got samples of them) but they didn't look right at all on our fireplace. Light French Gray is exactly what we were looking for *our* living room, and with *our* furniture and brick. (Keep in mind, that doesn't mean it will automatically work for everybody, or on every fireplace, or in every home. #SampleSampleSample)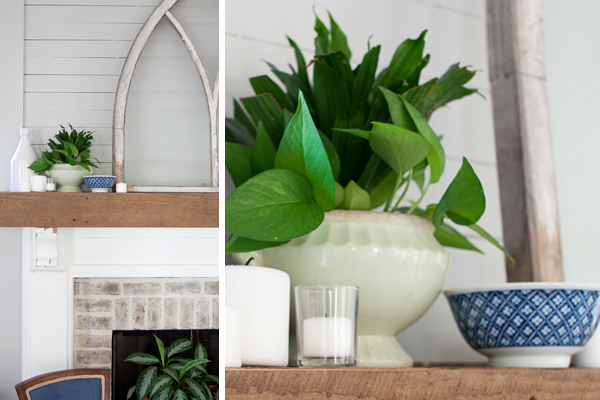 ("Christmas Cow" by Ruthie Carlson)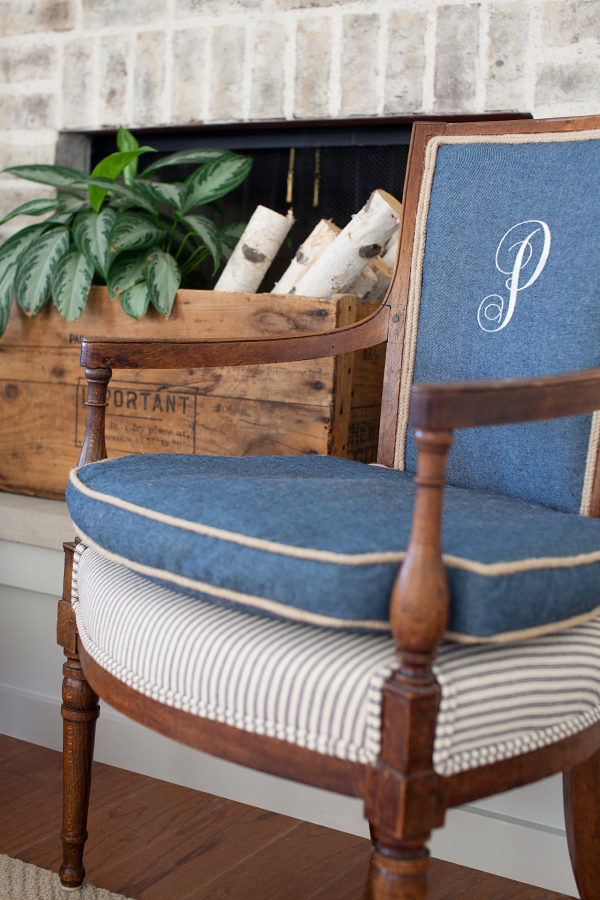 I'm loving the subtle, more neutral change, and that I still have contrast between the (white) mantle and the (now gray) big "box" we built as a backdrop. I tend to use so many white things on the mantel beam throughout the year, so it'll be nice to have that gray back there to pop off of. I also like the idea of the built-in cabinetry being painted Soft French Gray vs. Simply White because I feel like it will hide fingerprints better. 🙂
And speaking of the left and right sides of the fireplace, you probably noticed they were missing from all the photos I put in this post. We've got some fun stuff in the works in those areas right now, and I'm excited to surprise you with some more updated photos soon!

Get My Free E-book: 15 Common Decorating Mistakes And How You Can Avoid Them
Enter your email to download my free e-book instantly! 🙂