Happy New Year!!
I'm ready to tackle some more home projects this month, and I've got a fireplace paint color question for you today. Right now, the backdrop of ours is a custom-mixed color I call "Blue Yonder"…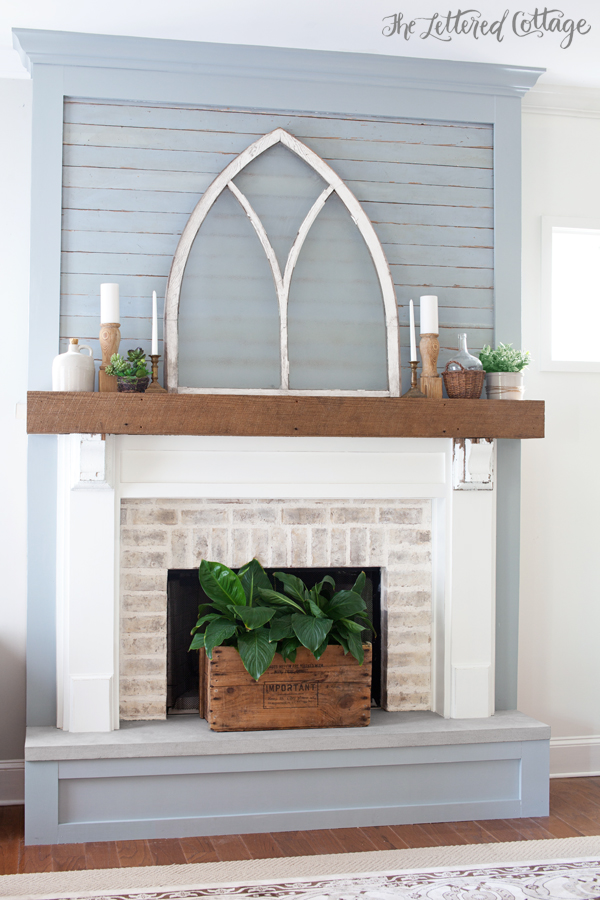 (PS- the church window is a dark, natural wood on the flip side)
But here's the thing: we painted it that color because the antique horizontal boards (on the upper part) were already painted that color. We just took one of them to the paint store and had it color matched. But do I really want it to be that color all the time? I'm still not sure. When Kevin got done painting it a few months ago, I told myself I'd live with it for a while and decide in 2016.
Oh! Well looky here! The calendar says it's 2016! 😉
My spirit color is normally white when it comes to wood-backdropped fireplaces (spirit colors can be a thing, right?), and I do love the idea of not being locked into a color all the time. But then again, I do like the color, and the challenge of working with it, so, hmmmm.
On the other hand, I also like the idea of the future built-ins being the same color as the fireplace…like these:
…and this:
So. What do you think? To repaint, or not to repaint…that is the (current) question. Let's #PutAPollOnIt :
Thanks, y'all!

Get My Free E-book: 15 Common Decorating Mistakes And How You Can Avoid Them
Enter your email to download my free e-book instantly! 🙂