Remember when this odd little 6′ x 6′ space…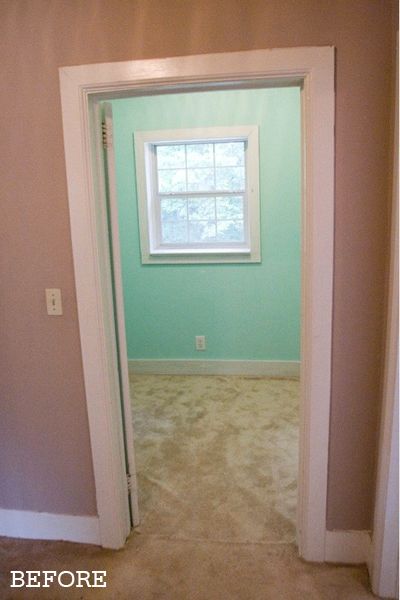 …became our reading room?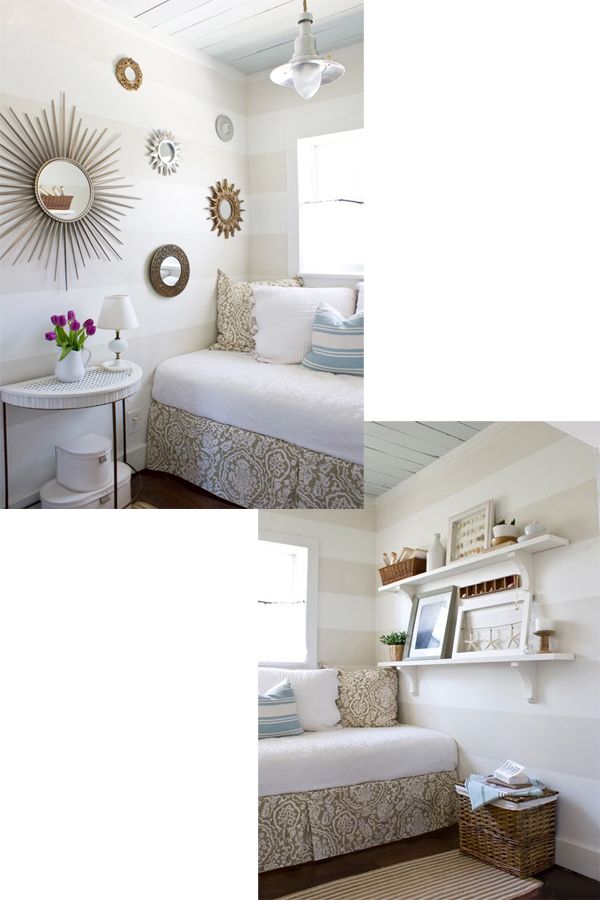 Well, it needs to act as our guest room now, so a couple weeks back, we started clearing it out…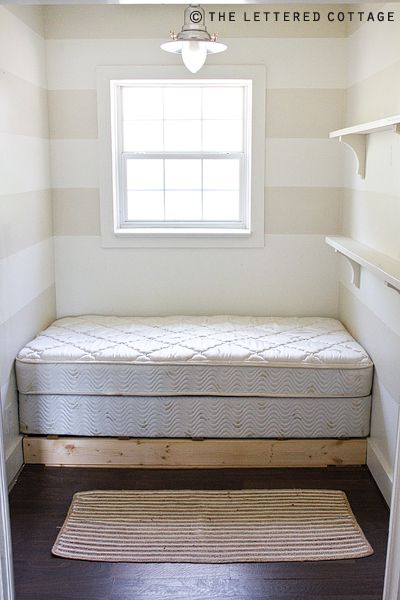 …and patching the walls…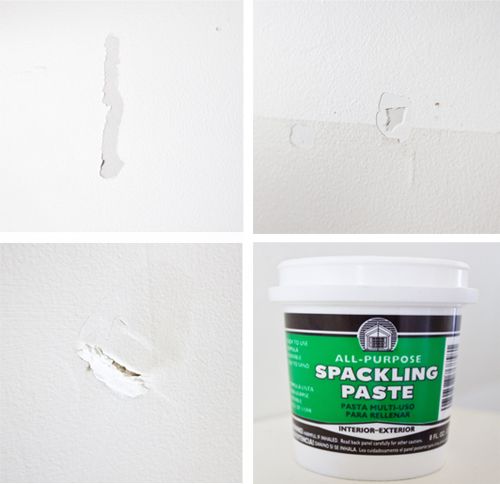 …and talking about how to build a bed with a little more storage, and create walls with a little more character, and a little less stuff on 'em. I started having crazy visions of a sunburst mirrors landing on my Mom's head in the middle of the night, so it was time for them (and the shelves) to say buh-bye!
After the room was completely clear, we loaded the car up with a bunch of wood from the home improvement store…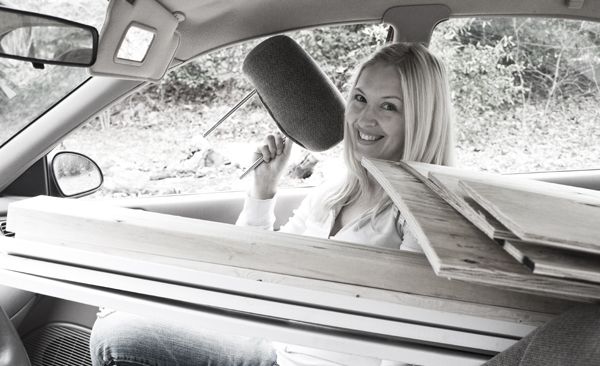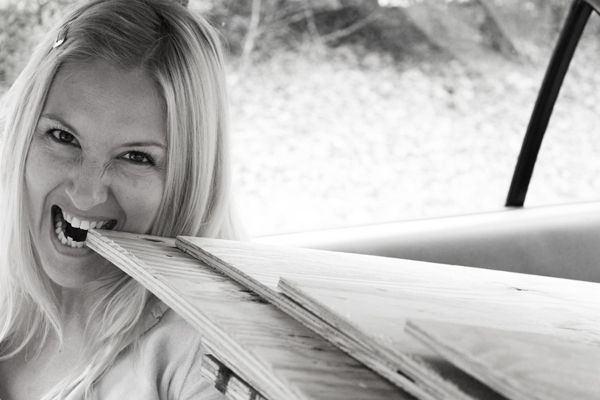 …and (spontaneously) decided to take a 2-hour road trip to Cullman, Alabama for some old gymnasium flooring from this place…
It's called Southern Accents and they carry all kinds of awesome architectural salvage.
What a fun day that turned out to be!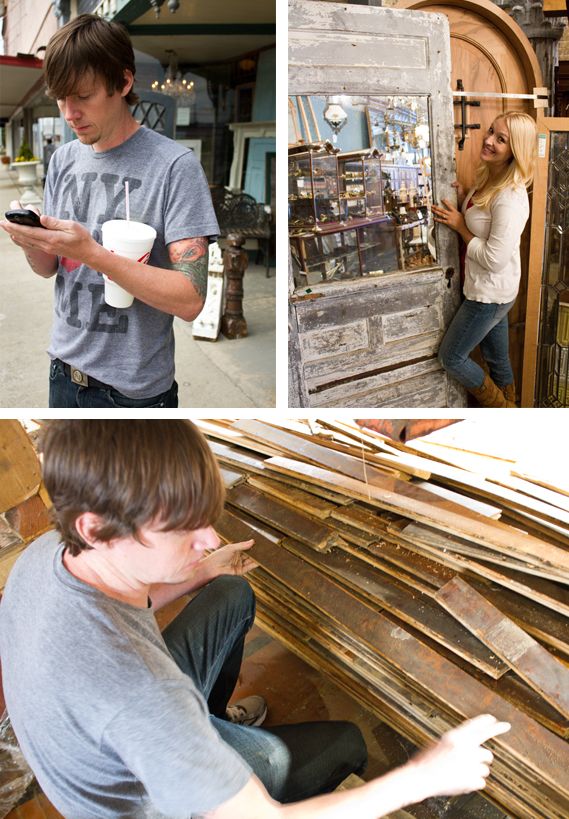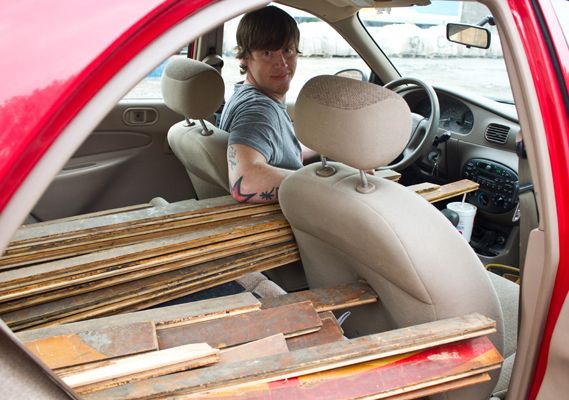 Back at home, and after some hardcore rub-a-dub scrubbin' with mineral spirits and soap & water, we started attaching the old floor boards to the back wall in the room…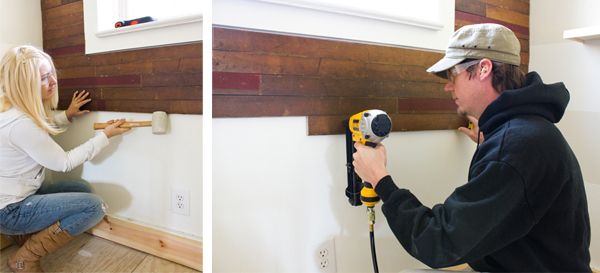 Here's what we eventually came up with…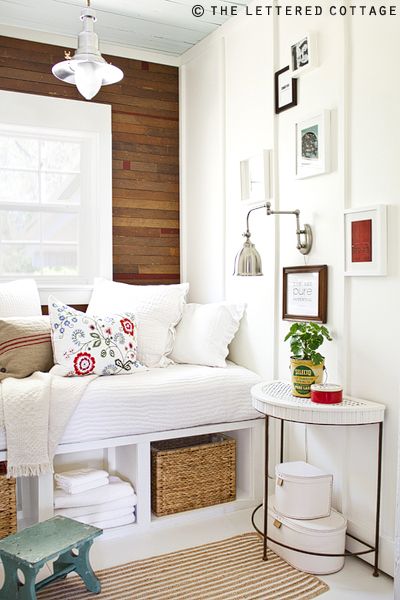 (Note: We've still gotta add some trim molding below the baseboards.)
Simple, Moonlight White-painted board and batten on the side walls, a rustic gym floor back wall, a Moonlight White-painted plywood floor, and little cheery pops of color and texture here, there and everywhere!
The daybed we built was inspired by Pottery Barn's $749 Stratton Daybed…
I think we spent around $75 to build, caulk and paint ours. If you'd like info on how to build one too, click HERE to visit Ana-White.com.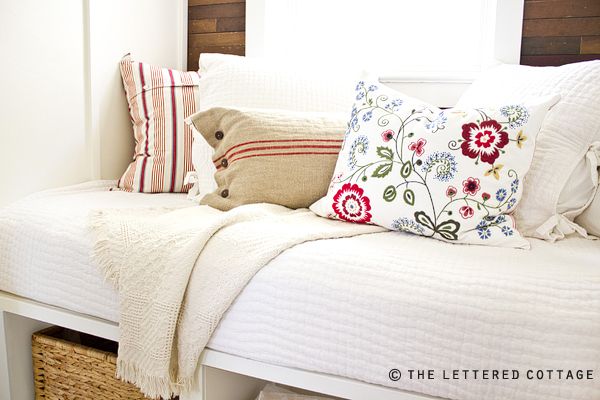 (Note: Because Kev and I each have the attention span of a gnat when it comes to directions, we didn't actually use any plans to build our bed- but if you're lookin' for some rock solid instructions, and wanna cut out all the guesswork, definitely check out Ana's plan!)
On the left side of the room, we used our leaning ladder / magazine & book rack. We haven't secured it to the wall yet, but we do plan to do that in the near future…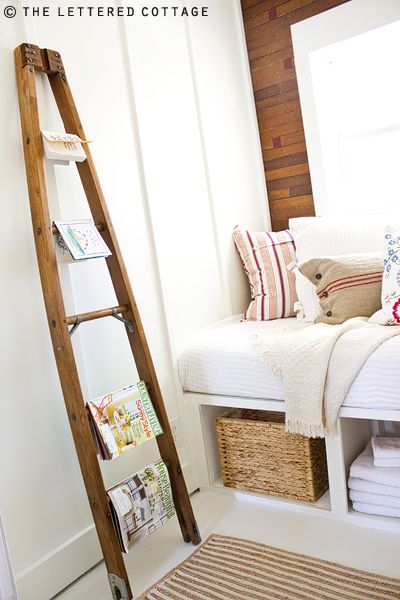 For the board and batten on the side walls, we just used pre-primed MDF 1×2's from Home Depot. They were super simple to put up with our nail gun, and because our baseboard and crown molding are flat, everything finished out nice and neat. (After a couple of tubes of caulk!)
I got the little green and yellow bucket from Ashley and Myra during our trip to Nashville this past January…
I'm such a sucker for brightly-colored vintage metal! I got the red, white and blue Bingo tin on Etsy a while back…
I'm SO gonna hide surprises in that sucker every time my Mom comes up for a visit!
We got the Pottery Barn Stratford wall sconce on eBay…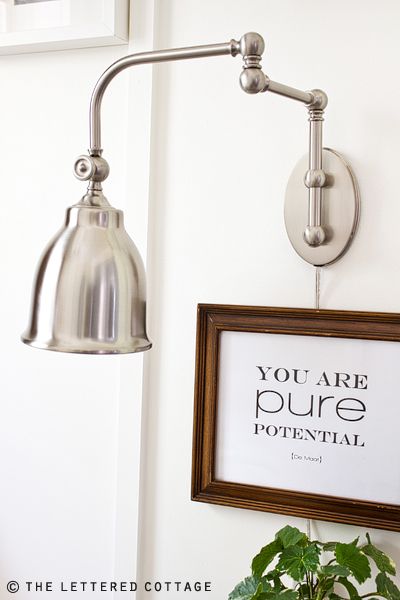 I camouflaged part of the cord by hanging one of our framed quotes on top of it…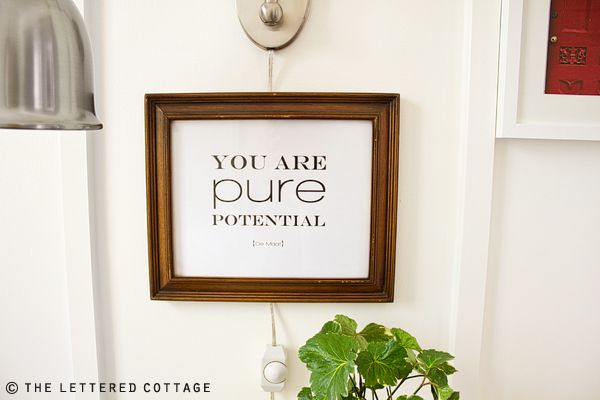 The light has a dimmer switch- which I love. It looks so warm and cozy in there at night!
The rest of the frames hanging on that wall were also swiped from our old guest bedroom…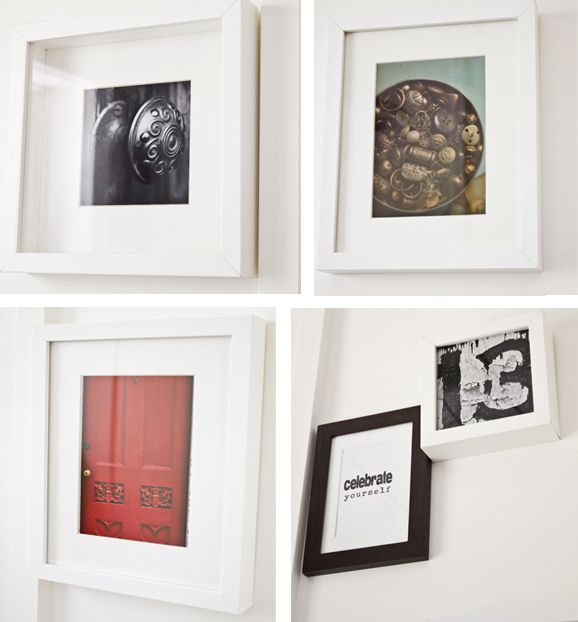 (My Mom's birthday is June 13th!)
We decided to go with a more random arrangement than usual this time, and we're really diggin' the way they play with the board and batten.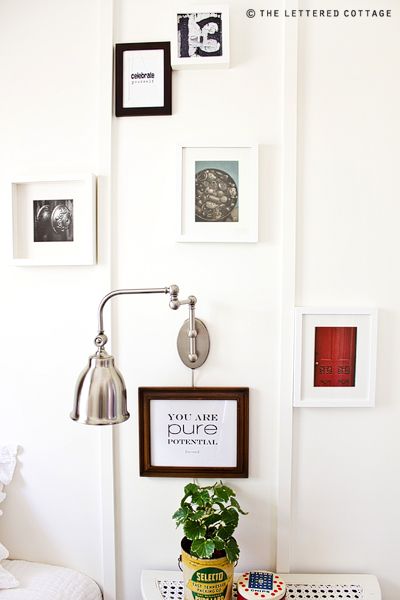 It was such a fun little redo to work on together!
Just gotta add that trim below the baseboards, and attach a curtain rod and some curtains on the inside of the doorway for privacy, and we'll be done!

I think.


Source List:
 
Paint on ceiling: Sea Salt – Sherwin Williams
Paint on side walls: Moonlight White – Benjamin Moore
Paint on floor: Moonlight White – Behr Premium Plus Porch & Floor Paint (Home Depot)
Pottery Barn Stratford Wall Sconce: eBay
Rug: TJ Maxx
White Pick-Stitch Quilt and Euro Shams: Pottery Barn
Floral Pillow: Ikea
Red Stripe Euro Pillow Cover: Ikea
Natural and Red Stripe Lumbar Pillow Cover: eBay
Ceiling Light: Ikea
White "Ribba" Picture Frames: Ikea
Wood Picture Frames: Walmart
Large Seagrass Baskets: HomeGoods
Blue Step Stool: J&G Flea Market, Prattville, AL
Ivory Throw Blanket: gift from our realtor
White Storage Containers: Ikea
Side Table: HomeGoods
Ladder: Nashville Flea Market
Green & Yellow Bucket: The Rare Bird Antiques, Goodlettsville, TN
Red Bingo Tin: Etsy.com
Blue Button Tin Photo: Etsy.com
Red Door Photo: LetteredCottageArt.com