The bottom half of the dining room currently looks like a bomb went off in it because of what's going on it the kitchen, but we finally finished working on the top half of the room last week- so I thought I'd document that big ol' project, start to finish-style, here on our blog today. It's been a bit of a work in progress over the past four years, so we're excited to finally be able to check that sucker off our list, once and for all!
We started with a popcorn-esque ceiling back in 2007…
I say "popcorn-esque" because it was actually swirls of stuff…not little bumps, like popcorn ceilings have.
Then, at some point, we realized there was wood underneath it, so Kev went all Tasmanian Devil on it one day…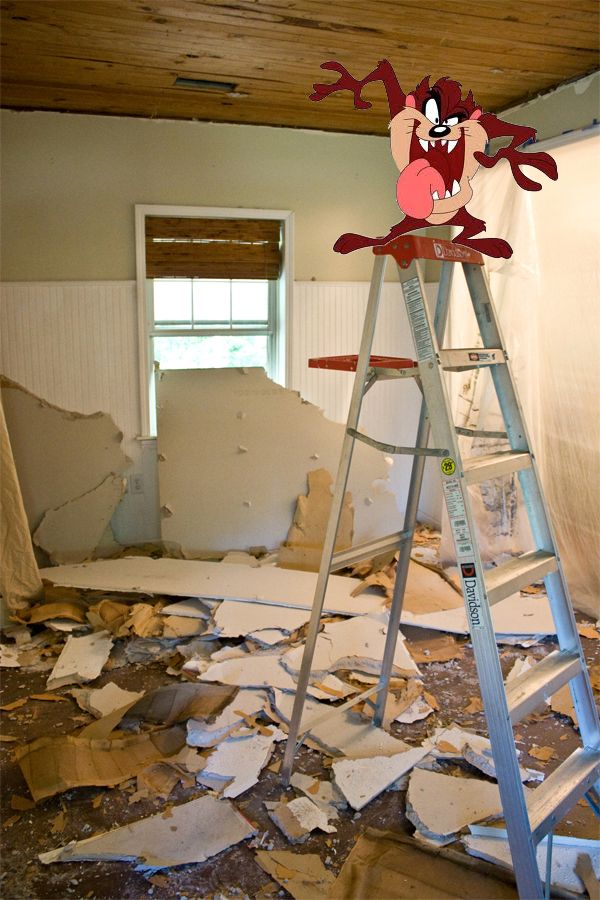 After we got that mess cleaned up, we primed and painted the wood planks (Sea Salt) blue. We hung a light fixture up in the middle of the room for a couple of years, but we were never 100% happy with the condition of the planks…
(The white rectangle was up there for quite a while too, for an article we worked on for HGTV.com)
But since it's easier to rip down that it is to put up, we spent waaaay too long staring at the beyond-rustic planks and the hole in the ceiling where the light once was.
We discovered an inexpensive solution to our problem a couple of months ago though, and once we had the new ceiling planks installed, we fired up our True Value gift card again, and picked up some 1″ x 4″ MDF boards, and some 3/4″ round wood molding to finish off the edges of the ceiling…
We used the 3/4″ round molding because there were still some pretty big gaps around the edges of the room after we put the 1 x 4's up. The 3/4″ round sealed everything off, nice and neat. Well, after Kevin caulked for about four hours, of course.

Our True Value carries traditional-style crown molding too, but we actually like the way the straight 1×4's look in this house, and they're a lot less expensive then the traditional stuff, so that was good for the ol' boo-jwah, too. (Note: That's how I say the word, "budget". It's like saying Tar-jhay instead of "Target". Try it sometime…it's fun.)
We saved up for (and put a 20% off coupon to good use on) a new light fixture this year, too…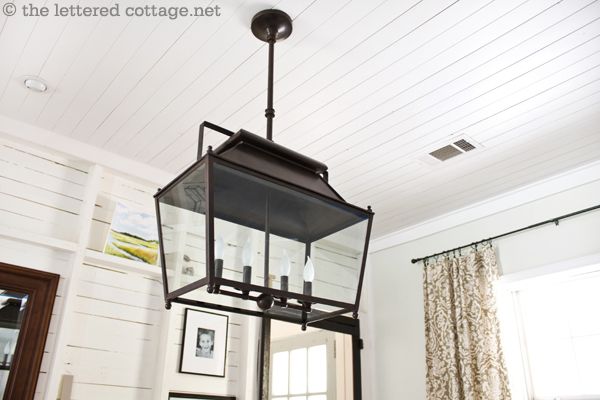 And thanks to our super sweet and electrically-saavy neighbors, we were able to get that hung up this past week. (Thank you again, neighbors!)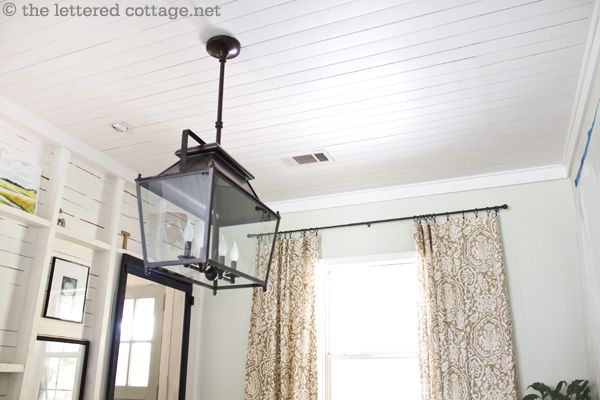 Our dining room is a lot longer than it is wide, so I wanted something more linear in shape than the round fixture we had up there before. I really dig the way the new fixture looks at night, too. I'll have to snap a pic of it sometime. Ya know…when the dust settles and there isn't a room full of kitchen stuff sitting underneath it.

___________________________________________________
This post is a part of our True Value DIY Blog Squad series!

PS- You can find more info True Value (and the entire DIY blog squad!) on Facebook and Twitter!
Disclaimer: We were selected by True Value to work on the DIY Blog Squad and have been compensated for our time commitment to True Value-related blog posts. We've also been given a gift card to purchase the materials needed for our True Value-related projects, however, our opinions are entirely our own and we have not been paid to publish positive reviews!
___________________________________________________
Join us on Pinterest, Twitter and Facebook!
___________________________________________________________
Need design inspiration? Need help with space planning?
Check out my e-book!

Get My Free E-book: 15 Common Decorating Mistakes And How You Can Avoid Them
Enter your email to download my free e-book instantly! 🙂