"I felt like I was an arrow, pulled back and ready to be launched into something big."
―A.B. Shepherd

Kevin and I had to update our medical exams yesterday. It's been 18 months since we first had them done as a part of our (adoption) home study, and our first set is to expire in February. You may or may not know that going to the doctor is a pretty big deal for me (#WhiteCoatSyndrome), but I went into this appointment feeling pretty good, and I felt totally ready to roll up my sleeve and get stuck.
Well, I think it was sometime between the second and third stick that I started to feel a little light-headed. Two veins had already blown in the crooks of my arms, and the sweet gal at the front desk had rushed in to fan me with her clipboard by the time the phlebotomist was finally successful at drawing three vials full of you-know-what (I can't even type it) out of the top of my right wrist. Blech!
I sat there until I didn't feel shaky anymore, and I think it was sometime between lunch and supper that I felt like my bruised arm crooks and sore wrist = a new (old) side table from Red Top Market. 😉 #RetailTherapy
I thought it would be fun to break up the metal nesting tables we have in our living room, so I pulled the new (old) wooden table up next to the shorter of the two metal nesting tables we got from my friend Ashley.
I'll find another little table to use with the other metal nesting table on the other side of the room at some point. I'm thinking something concrete like this would be cool:
Oh! And speaking of Ashley, Kevin and I photographed her house for Cottages & Bungalows magazine and the issue it's in is on newsstands everywhere right now!
Ashley is busy getting her FABULOUS new shop set up right now (Locals, there's an open house from 10am-5pm on on January 14th! 1614 Graham Street in Old Cloverdale- don't miss it!), but as soon as she's got some free time, I want to have her come over and help me make a decision about the dividing wall I blogged about a couple of weeks ago. I'm *thinking* that it'll stick out three or four feet or so on each side of the living room. I laid a roll of kraft paper down on the floor to get a feel for the width yesterday: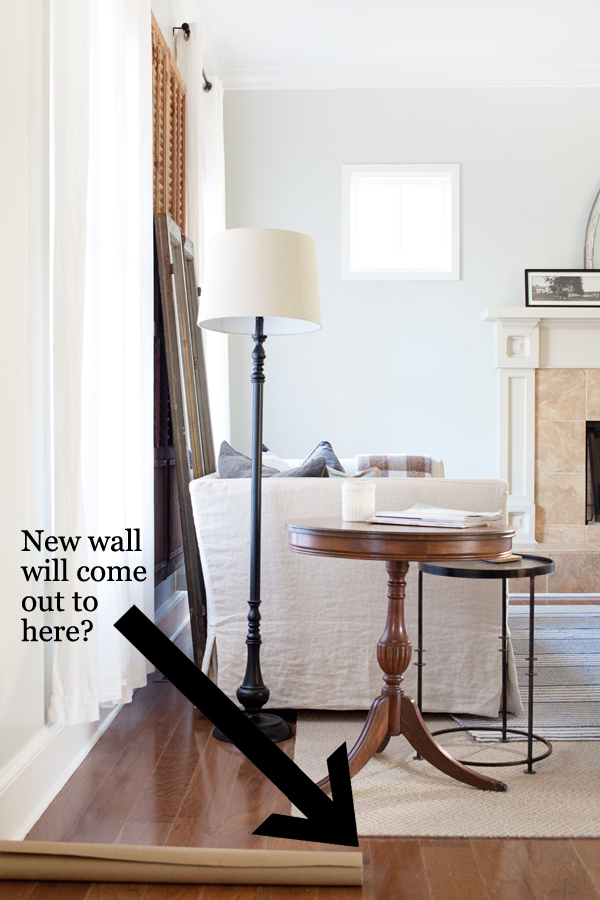 (The mirrors are temporarily propped up on the floor behind the sofa, and yes, the drapes are still too short.)
I think I'll pull the ladder out today, and unroll that paper so that I can tape it to the ceiling there, and on the opposite side of the room. I think if we see it rolled out from the ceiling all the way down to the floor, it'll really give us an idea of what it would feel like to have walls there. I'm a very visual person, and I like to live with things for a while before I jump into them these days.
And while we're on the subject of the living room, I met with the fireplace folks last week! Super sweet guys, and they had a genius idea about how to build out our firebox. They suggested angling it, sort of like the one in this photo:
(Architectural Digest)
They also suggested we remove our hearth and take the firebox straight down to the floor, which I love. I'd love to create a fireplace that looks like it's 100 years old, so I think dropping the opening down to the floor will do a lot in helping us achieve that look.
(Country Living)
Oh! And before I sign off, a kind reader named Jenny sent me a photo of her living room which has the kind of "dividing" walls we're talking about creating:
Isn't that neat? Even though it's not the *exact* kind of doorway or dividing walls we're talking about, it is SO awesome to see how cozy that space looks when it's closed in just a little! (Thanks again, Jenny!) 😀
The living room wall/doorway, fireplace, built-ins, and ceiling aren't going to go up over night though. Believe me, I'd love to have it all finished in "blog time" (whoosh!), but we can't afford to take these projects on all at once, and like I said, I'm not a "rusher" anymore anyway. I'll be happy if they come together by the end of the year, but I'm not going to put a hard deadline on anything. (Just didn't want anyone to think these projects were going to go "poof"!) Also, we're hoping for three trips to Haiti this year (one socialization visit, one bonding trip, and one homecoming trip!), so it'll be important for us to pinch LOTS of pennies this year. And guess what? It's looking like we'll be purchasing two plane tickets to Port-au-Prince VERY soon. I know I've said it a million times, but isn't it WILD how slow time can drag AND whoosh by at lightning speed? I can hardly believe Sweet P will be in my (bruised) arms any day now! What a TRIP! 😀

Get My Free E-book: 15 Common Decorating Mistakes And How You Can Avoid Them
Enter your email to download my free e-book instantly! 🙂