"Create with the heart; build with the mind."
― Criss Jami

I'm meeting with the fireplace man this week, and I am crossing my fingers my plan to build out our fireplace will work! See how it's flat against the wall in the (before) photo below?
In order to create a fireplace/built-in cabinet set up like the one in the inspiration I put together, (where the built-in cabinets sit back further than the fireplace)…
…I need to find out if it's possible to add depth to our existing firebox. Have you ever seen a really deep firebox like that? I can't find anything on Google, and ours would need to be 32″ deep in order for it to sit out in front of the built-ins. Obviously, we'd still burn things at the back of the firebox (directly below the chimney flue), I'm just not sure if that's a "thing" or if it would look right, ya know what I mean?
I've been thinking a lot about how I can make the first floor feel more like a cottage lately too. (#nesting) The outside of our house is very traditional in style, but inside our front door, you'll find our kitchen, dining, and living room are all one big (tall) open room:
I'm definitely more drawn to a layout that has several, separate, cozy spaces. (#TheLetteredCottage) That kind of floor plan takes me right back to the farmhouse I grew up in, and I have so much fun dreaming up ways to create that kind of feel. 🙂
Kevin and I both like the idea of building one massive (planked wall) "doorway wall"that opens to the living room. Like this:
We both love the doorway in this next photo, too:
Obviously, the transom window is stunning, but I'm not sure enough we could do something like that because (I think) our opening would be too wide.
I added a few things to my previous Photoshop photo-drawing this past weekend to give Kevin an idea of what I've got going on inside my head at the moment: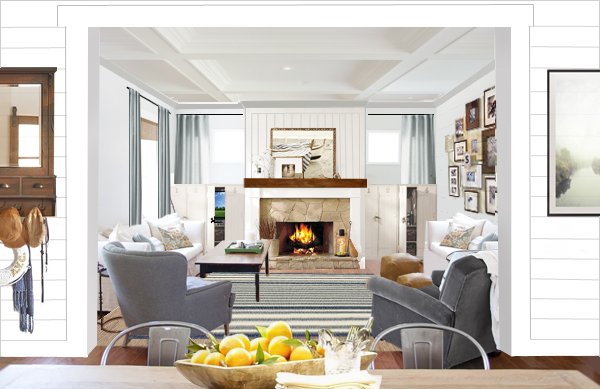 I threw in a coffered ceiling (and a bowl of lemons- ha!) just to see what that would look like too. Why not, right? 😀 #FunWithPhotoshop
I like the "doorway wall" on e-paper, but I'm going to show it to some people that know more about designing & building these kinds of things, to see if they think it'll look right in real life.
I also came across this photo today, that shows a longer version of what I have in mind: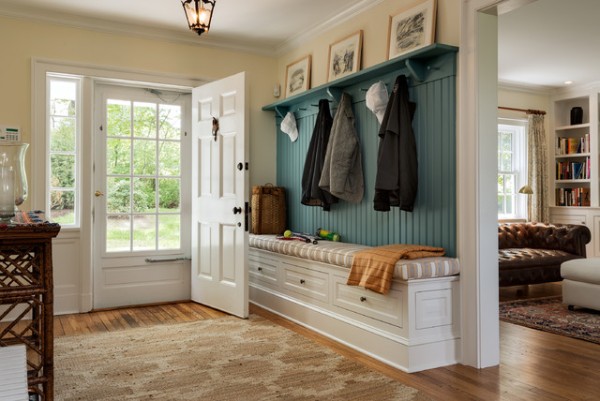 Who knows? We may be able to work in a little entry bench like that too! #SomebodyStopMe

PS- Interested in learning how to modify pictures of your place? Check out my Room Makeover class over at ShootFlyShoot.com!
Get My Free E-book: 15 Common Decorating Mistakes And How You Can Avoid Them
Enter your email to download my free e-book instantly! 🙂