"Reminders of beauty and hope and healing should be woven throughout the fabric of our lives, especially in our homes."
Katherine Wolf

I'm so glad so many of you enjoyed e-meeting Katherine here last week! If you have a chance to attend one of her and Jay's Hope Heals events in person, you *must* go. You will be so blessed by it. (Here's a link to their speaking schedule.) I had a chance to see them the last time they spoke at First Baptist here in Montgomery, and it was such a gift. Pen and program in hand, I couldn't scribble notes down fast enough!
Katherine and I were e-chatting about her home via email this weekend because I thought it would be fun to share some photos of it and do a Q&A with her here today. I just knew you would love it as much as I do! But before we go inside, you have to see how they decorated their patio for Easter this past year:
Isn't that lovely?!!! Tables skooched together, covered in layers of color and fresh flowers. Mismatched chairs and cushions, and a sun-dappled settee…ahhhhh! I can almost feel the Good times right through the screen! 😀
Okay, now for the rest of the tour….
Me: When did y'all move into this house?
K: We moved in 5 years ago this month. For the two years prior to moving in, we had been living in hospitals and rehab facilities as I recovered. Moving into this home signified a whole new chapter in our story, and it was literally the answer to so many prayers that we would one day be able return to our lives, though they looked very different than before. It certainly gave a whole new meaning to that most deeply longed-for idea of "HOME".
(Jay and Katherine hosted a birthday day party to celebrate Jesus' birthday this year!)
Me: What do you love about your house architecturally?
K: Strangely, my most favorite thing about the architecture of the house is how small it is! Though we would love more storage/closets, since the house is all one level and around 1,000 sq ft, I have been able to get around fairly easily and safely (my balance and ability to walk are greatly impaired) which truly makes it feel like a place of safety and peace for me and my family.
Me: What word (or words) come to mind when you enter through the front door?
K: HOPE & HEALING, of course! The house represents so many long hoped-for dreams that God graciously allowed to come to fruition. A cool story: some friends of ours had rented this house years ago. We loved the neighborhood and always wished we could live in this house. Strangely, I even hosted a baby shower in it 2 days before my stroke. Years later, the friends moved and we had an opportunity to move in at just the time when I was going to be leaving rehab and moving back to L.A. The way it all fit together was nothing short of miraculous, and was such a reminder that God cares about all the details of our lives. And like I said, the house is small and on one level, so it's very accessible for me. I know it has actually played a huge role in my recovery and healing as the best therapy for me has been doing life again in my home.
Me: What is your favorite room in the house?
K: One of the benefits of a small house is that we spend time every day in every room of our house. There is no wasted space! However, I spend most of my time around my dining room table, whether reading my Bible over coffee, or working on Hope Heals emails, or writing, or hosting friends for long dinners. We love to live life around our table, and since it is round, you are always able to engage everyone equally around it. Also, this room has the most natural light and is positioned right on a busy corner so I can see all the neighborhood alive, jogging, walking to restaurants, and taking kids to school on the next block. It's the heart of our home and it is my vantage point to engage the world outside.
(Caution: Speaking of photos with food in them, do not read the following posts on Katherine and Jay's blog if you're allergic to beautiful photography OR if your stomach is currently growling: For The Love Of Food- Eats & Treats In Italy and Our Favorite Meal.)
Me: Tell me about the chest of drawers in there, with the floral motif on the drawer fronts. It's so lovely!
K: When we married 10 years ago, we were fresh out of college, 22 years old, and really the first to get married in our friend group. I'm from Athens, GA where my family has been for years so the wedding was kind of a community affair. I remember being almost overwhelmed with the amount of gifts and love poured out on us, so much so, that we had more than what we needed in terms of china and household items from our wedding registry. We ended up cashing in some of it at a local gift store where we were registered and found the (on sale!) chest of drawers tucked in random corner. It is a French antique from the late 1800s and the blue flowers are all hand-painted. From there, we U-hauled across the country to our married housing dorm where our TV used to live on top of it. Today, it's in our dining room where it is our catch-all, holding everything from James' homework to the Hope Heals letters I write.
Me: Tell me about the ocean paintings in your living room. They're captivating!
K: We love the idea of the ocean (more than we actually love the freezing water and the sand in our swimsuits), and more than that, we love the metaphorical picture it paints of God. The vastness, the unknown, the healing, the peace. The paintings remind us of the storms in our lives and the God that has calmed them.
Since we lived in Malibu for 3 years, very close to the ocean, they also remind us of a life that was, and a life that is now. Some even look like familiar beaches we have been to (see the end of our short documentary film where the real beach we are on is transposed into one of the paintings). Jay, especially, has loved the process of collecting them from junk shops and thrift stores and online for several years now. They are all painted by different artists from different eras. One of the most lovely stories is that Jay asked an eBay seller a question about a large seascape, which opened up a conversation between them revealing that the seller was the caregiver for her disabled sister. In the end, Jay gave her encouragement about the challenging role and sacrificial love she was showing her sister, and in response, the seller gave him the painting. She only asked us to remember her and her sister in prayer whenever we saw the painting–which we do! It represents how material things do have the potential to connect us to the spiritual and to remind us of our great purpose in life, to love God and love others.
Me: Clearly, we share a passion for previously-loved pieces. Tell me about one of your favorites!
K: We love the stories they tell, and since James (age 7) loves jumping on everything, we prefer living with things that can get a little banged up. Jay is really the artist and (surprising) designer of our home. Since my stroke, he has always been motivated to create a place of healing for our family since I could not. Near our house there are probably half a dozen really good thrift stores. It became a game, even catharsis, for Jay to scour them for great deals and interesting pieces to make our small house a real home for us. One of his most impressive finds is the black chest of drawers with the gold outlining. It is a rather famous old piece by a designer named Dorothy Draper, probably from the 1950s, from the estate of a woman who was an actress in early Hollywood days. It had lived in her home for 50 years, and since it was not in perfect shape, he got it for $40!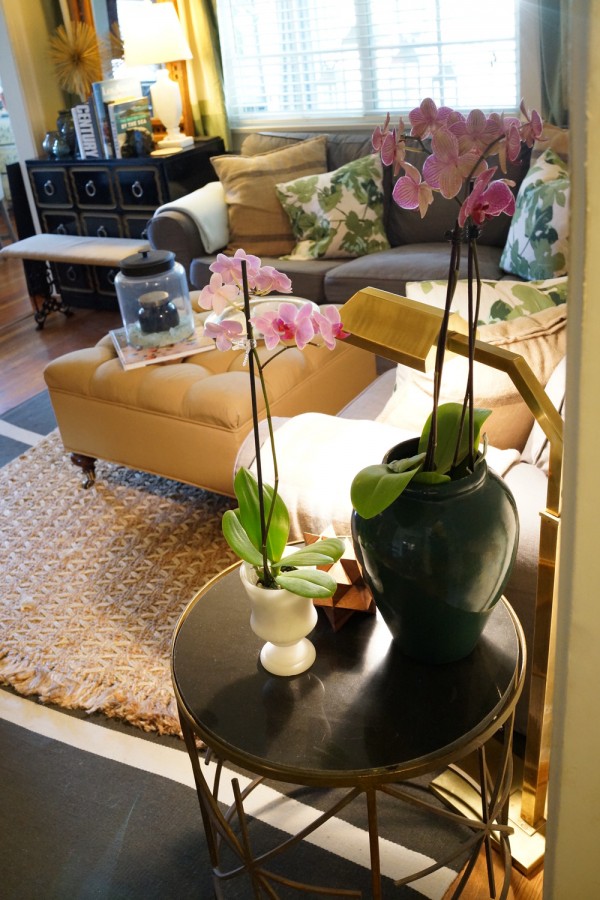 He also found a single Italian mid-century wheat sconce at a thrift store and somehow tracked down an exact matching one online. That's some impressive thrifting! I love that the pair of them flank our media cabinet today, reminding us of the light of God's great harvest.
(The painting the kind eBay seller gave them is pictured in the photo above, too!)
Me: What is your favorite color and why?
K: I've loved blue since I was a little girl. Perhaps it's because I have blue eyes or because I loved looking at the sky. I have also always loved the combination of blue and white, and our wedding china reflects this color combo. Jay and I have developed our style over the years, and we tend to really like the same colors and styles, which is helpful. It seems our closet reflects the same colors our home does too- lots of blues, browns, grays, washed pinks and creams. Those colors are also reflected on our Hope Heals website. We can't help it!
Me: What makes a house a home?
K: On the surface, our 95-year old house is termite-riddled, has a leaky roof, and crummy plumbing, but there is no other place we'd rather return to after our travels because it is home, our place of safety and healing and hope. It's been a place where we have come back to life again because we made it both beautiful and practical, comforting yet constantly challenging us to remember our greater future home with Jesus, and the work we have been called to do while we're still here. What a gift to have this small slice of earth to share with our friends and family, including a new addition coming this Summer!
THEY'RE HAVING A BABY!!!!!!!!!!!!!!!!!!!!!!!!!!!!!!!!!!!!!!!!!!!!!!!!!!!!!!!!!!!!!!!!!!! 😀
Katherine says, "This verse sums it all up: "Lord, you alone are my portion and my cup; you make my lot secure. The boundary lines have fallen for me in pleasant places; surely I have a delightful inheritance. PSALM 16:5-6"
I love that Katherine and Jay have such a passion for being intentional about creating spaces that draw them closer to God, and I could study the photos of their home for days! They have really inspired Kevin and I to be mindful of how we create, experience, and interact with beauty in our home and everyday lives, too! 🙂

PS- I included one of their videos in my post of Friday, but this is another beautiful (must watch!) short film about the Wolf family:
(Interior photos in this post by Alex Wolf at TheDelightedPeople.com. You must swing over and meet her, too!) 🙂