Did I say Rosemary Gallery? I meant Heather Gray. 😉
Kevin wasn't 100% sure about painting the island such a deep green, so we went with a color that we both felt 100% about instead. (I'm a paint color junkie, so switching it up wasn't a big deal and I'll probably use my Rosemary Gallery on a piece of furniture sometime instead!)
Heather Gray (by Benjamin Moore) was the perfect compromise. It's like three colors in one. It goes from looking gray-gray, to green-gray, to blue-gray, depending on where you are and what time of day it is. I absolutely love grays that do that! #ChameleonColor 🙂
The folks at New Look Decorating in Montgomery, AL for helped us find it. We just pulled up this inspiration photo on my phone while we were there…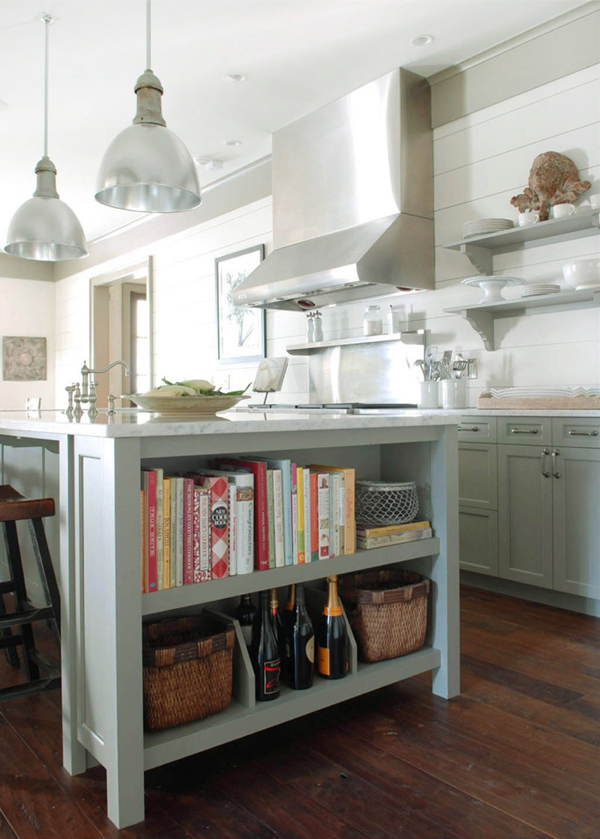 …and left with a quart of Heather Gray fifteen minutes later! (Thanks again, guys!)
The old bar top and corbels popped out really easily, and after the "new" (super old!) corbels were up, we also added some X's to the sides of the island:
I was determined to work some "barn doors" in there! I think they go great with our farm-style galvanized pendant lights…or "chicken lamps", as my Uncle Kevin likes to call them- LOL. (After he said it, it hit me: "That's why I love them so much!") #Farmgirl4Life 🙂
The new (Frosty Carrina) counter top and bar top are coming in this morning and I am SO excited to see them in place! We're extending the bar top out by 4 inches so that it measures 16 inches deep. It used to be 12 inches and I never felt like that was enough room.
Oh! And that reminds me, yes– we thought about making the island all one level. But the thought immediately passed because we, A) like sitting up higher there, B) almost always have a pile of mail and/or paperwork on the backside of the bar, and C) want to keep our dirty-and-not-yet-loaded-into-the-dishwasher dishes hidden. Our entire first floor is one big open space so I love having a little "barricade" there to hide our mess from the living and dining spaces! 😀
I'm also excited to be able to work in some more of our backsplash tile on the back side of the bar.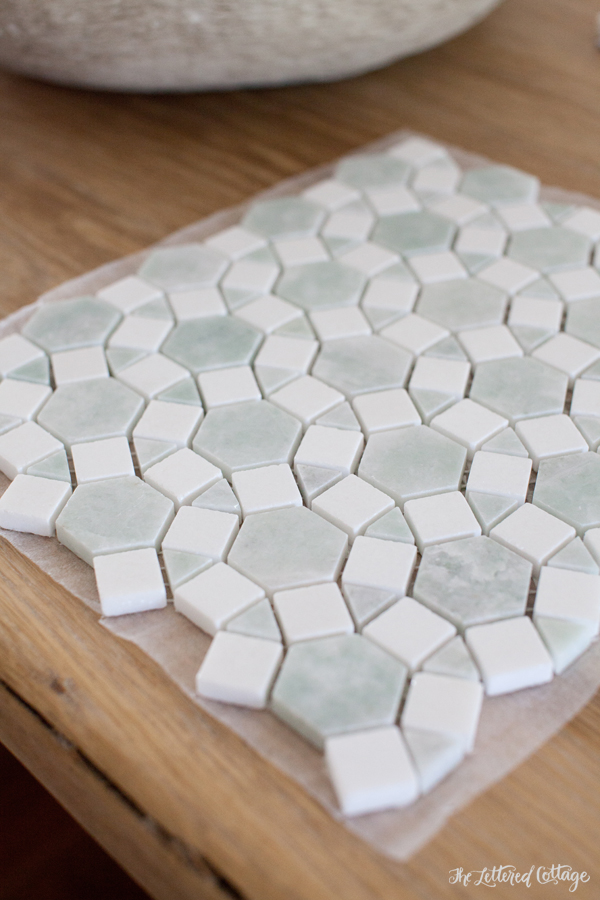 I'll be back next week with some more updated photos! Happy weekend!

PS- For kitchen pics between posts, join me over on Instagram! 🙂