We're up to our eyeballs in primer today, but since we had a few questions about why we decided to lighten our Gray Owl paint by 50%, and what it meant to lighten paint, I wanted to publish a quick post about that here today.
We decided to go with the 50% lightened version of Gray Owl because we like the way it looks and it seems to flow nicely with the Gray Lake-painted walls in our sunroom next door.
A commenter named Cami (Hi, Cami!) asked if we could post a photo of the lightened Gray Owl next to the regular Gray Owl, so here's another shot of the current kitchen paint colors (Manchester Tan and Algonquin Tan), and the ones we're switching to (Simply White and Gray Owl lightened by 50%) next to regular Gray Owl: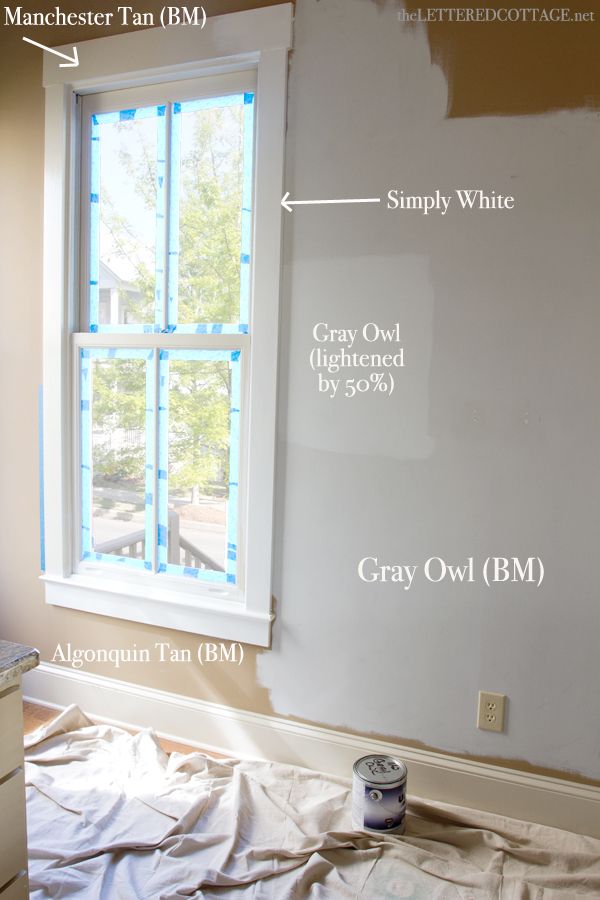 You can see the biggest difference in the new trim color up at the top of the window trim. We'll be painting the baseboards, crown molding and doors Simply White as well. After that, we'll swap out the off-white switches for bright white ones at some point, too. Ooh! And to the commenter named Sarah (Hi, Sarah!) who asked if we'll be painting our kitchen cabinets- the answer is yep! We're going Simply White on the uppers and lowers on the stove side of the room, and a shade of green on the island.
As for the paint lightening process, we asked a friendly fella at our local Benjamin Moore store to break it down for us and this is what he said. When you mix a paint color, you start out with a can of white base paint, and you drop a certain number of other colors into it. He gave us an example of a paint color being 10 drops of yellow, and 10 drops of black. To lighten any color by 50%, you would cut the number of drops in half. For example, you'd only mix 5 drops of yellow and 5 drops of black into the white base paint. You'd do just the opposite to make a paint color darker. Pretty cool, huh?
Here's one more pic of the lightened version next to the regular strength version of Gray Owl: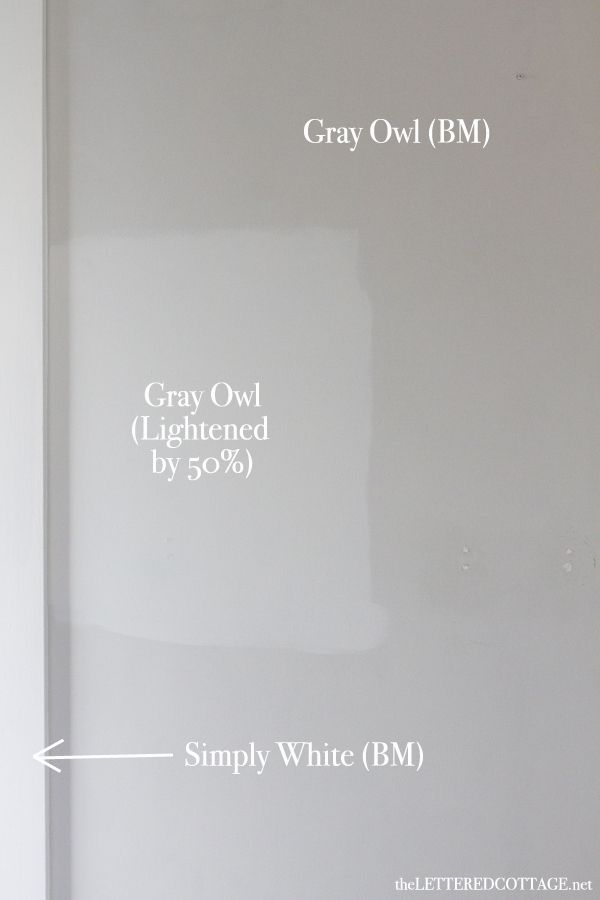 There's not a *huge* difference, but it's just the intensity of Gray Owl we were looking for, so we're gonna roll with it! #literally

PS- For pics between posts, join us over on Twitter, Facebook and/or Instagram!