Yesterday was such a roller coaster of emotions.
First, channel after channel of horrifying earthquake and tsunami footage. So, so scary and sad. I just stood there praying and watching in shock until it was time for me to head over to Ashley's house. She, Shaunna, Rhoda and I had plans to visit Ikea and meet The Pioneer Woman at Borders Books in Atlanta. I'll post more about our trip later this week- but in a nutshell, we had a really, really fun time and Ree was an absolute delight!
This morning, I just sort of felt like I was in a daze from all the up and down rollercoaster action yesterday. And I don't know about you, but whenever I'm feelin' delirious- I gotta do something productive with my hands to calm down the ol' nerve center up top.
So this afternoon, I broke out the Varathane applicator/shepherd's staff again, and finished sealing the recently-sanded floor in the kids room.
Here's what the room looked like when we bought the place back in '07…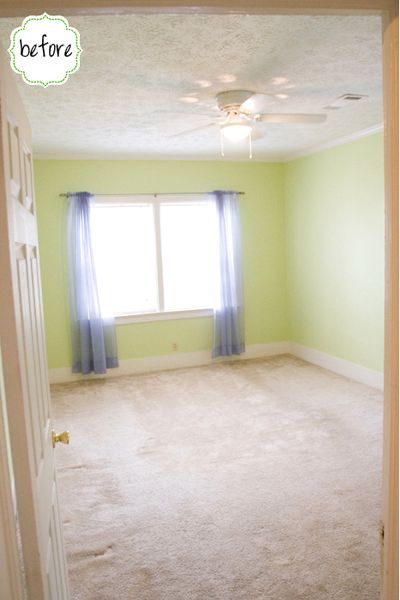 We got rid of the carpet, curtains, and wall color right after we moved in- and for the past few years we've just used it as a computer room/storage space.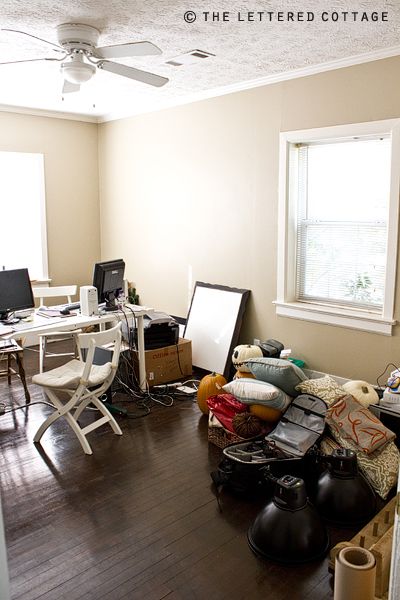 We also used it as a mystery room.
You know- the room your guests wonder about because the door is always closed when they come over, but they're sweet enough not to ask about because they're smart enough to know the door must always be closed when they come over for a reason.
Redoing this room has been on the back burner for several reasons, for so long, but we're really looking forward to creating a low-dough/high-smile room for two in here over the coming months. And I gotta say, I'm really looking forward to ditchin' the mask in the near future too.