Last week at the ranch we had a chance to hang with Ree's fabulous friend Hyacinth, and before we left town, we stopped by her house to check out her newly re-done, contemporary style living room. (Me, and fellow design bloggers Holly and Melissa e-worked on it with Hy on it last year- click here to read all about that wacky adventure!)
Everyone out there in OK was sooo sweet and friendly. Even Hy's dog newly-rescued pooch (Missy) made us feel super welcome…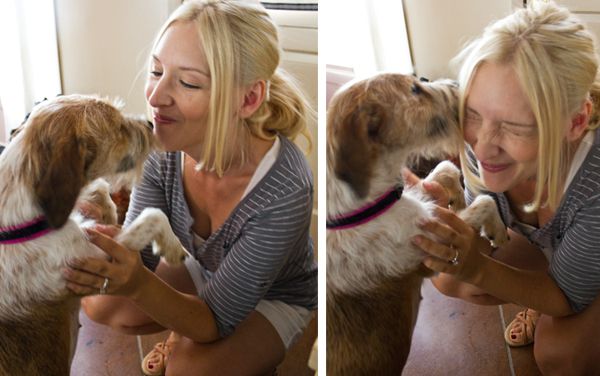 It was a real treat to see Hy's house in person. As a predominantly virtual designer I rarely get to see folks' finished products after I'm done presto change-o'ing them, so it was an absolute thrill to actually witness them loving and living in the space I had the pleasure of e-designing with her and the rest of Team Hy!
Here's Hy's before photo that Ree blogged about last year…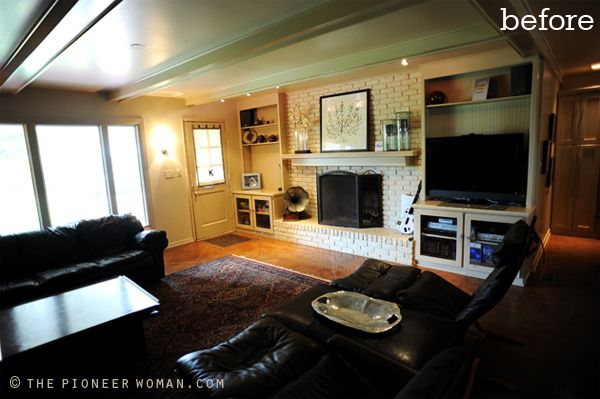 And here's what it looked like after all Hy's switcheroos were in place last year…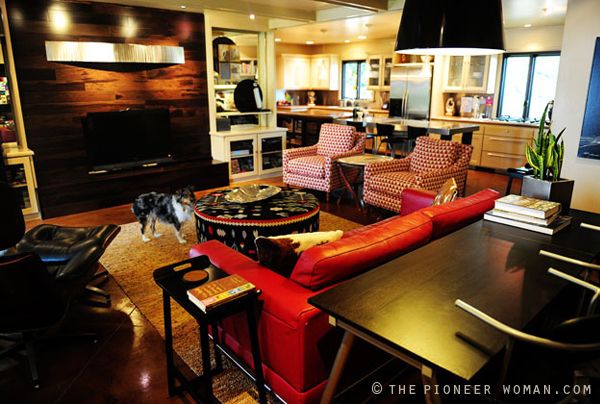 Here's a shot looking back from the kitchen…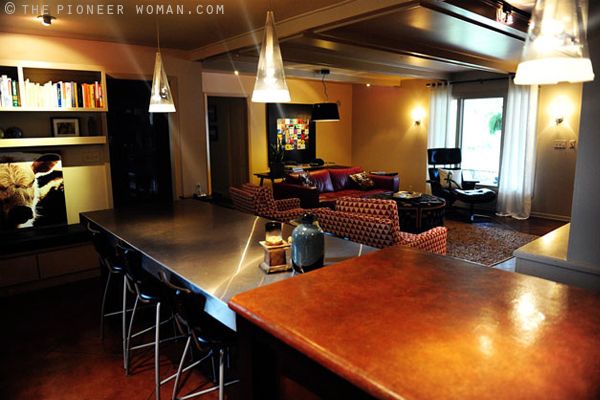 (Note: I'm officially obsessed with concrete countertops. Must get me some of those!)
Again…the before…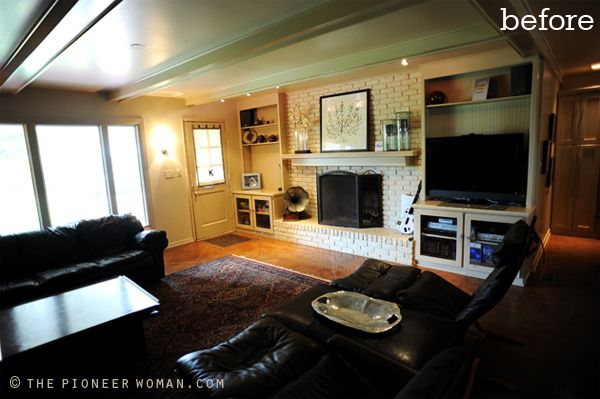 …and a shot Kev snapped the morning we stopped by…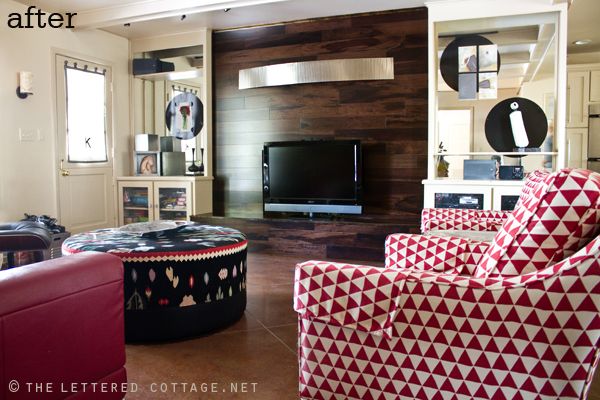 What a trip to see (and feel!) that fireplace I drew up in Photoshop so long ago! Crazy on the 8's, I tell ya.
They've temporarily removed the area rug because Hy thought it might be lighter and cooler for the summer season (Not to mention more more waterproof- there's a big ol' swimming pool outside that back door). She plans to bring it back in when the weather starts getting cooler to cozy the space up for winter.
Hy picked up the big black dots on the mirrors in the bookcases at Ikea, and uses them as backdrops for various paper art and small sculptures. (A sweet gal by the name Anna Nassett helped Hy with all the art in the room.) The metal piece mounted above the TV was made by an artist from Nebraska artist named David Belitz, and the fabric on the armchairs came from Perennials Fabrics– it's called Geez Veez and the color is Geranium Red. (Model #: 786-75). The chairs underneath were purchased on eBay and the red leather sofa and big, round ottoman were pieces Hy and fam already owned and loved. The ottoman is actually covered in a really heavy-duty rug…perfect for their energetic children to climb/lay/sit/wrestle on!
While we were visiting, I told Hy she should "tooootally paint the back door".
"What color?", she asked.
"Hmmm", I replied, "maybe an ochre yellow?"…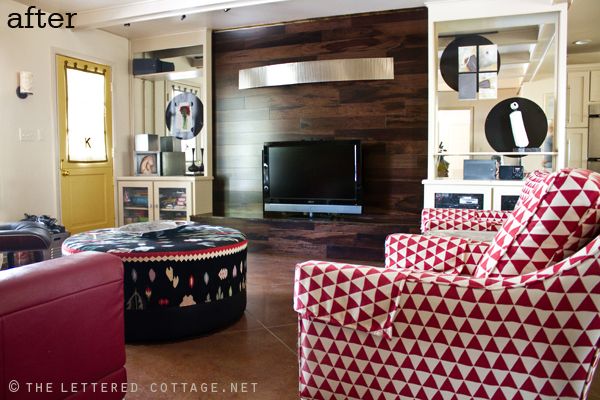 …"or a teal-y blue?"…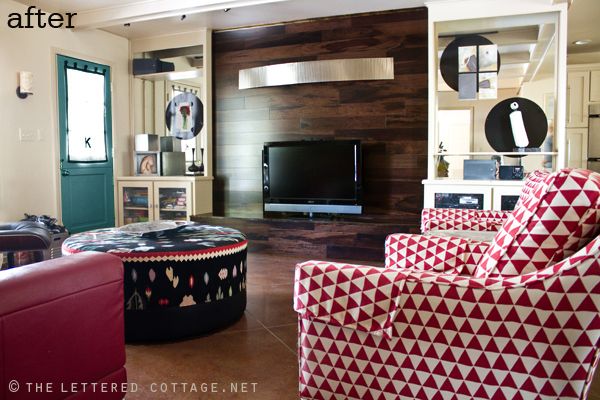 …"or a charcoal gray?"…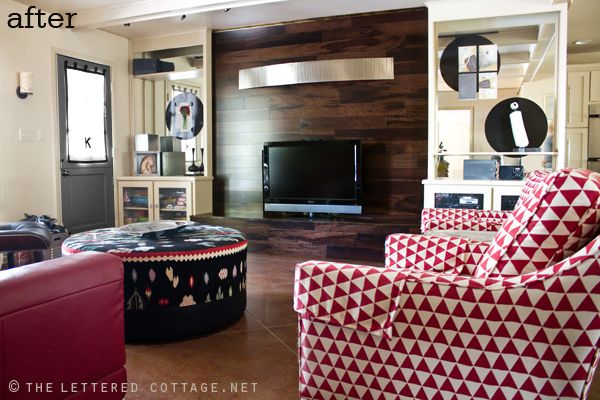 The options are endless…and totally a taste thing. Who knows? Maybe these presto change-o pics will help her decide on a color! (Hy- please send us more after pics if you decide to break out the brush!)
Here's a shot Kev snapped of the living room looking back towards the (fab) kitchen…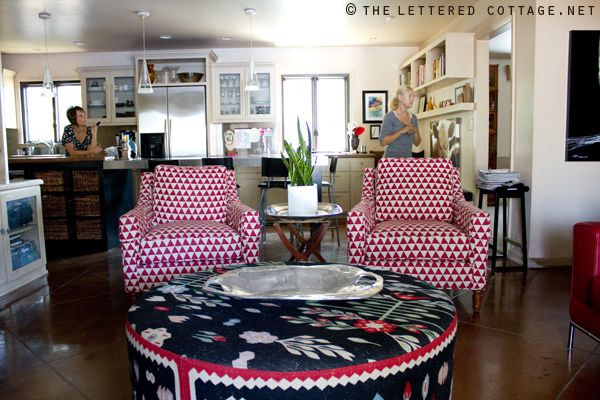 He took it right as Hy directed my attention towards several massive bookcases full of colorful Fiestaware in the room next door. (Notice the excited palms.)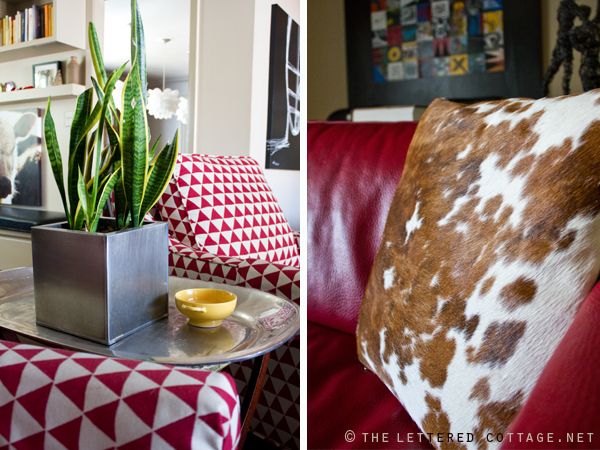 (Large paintings by Steve Hickok)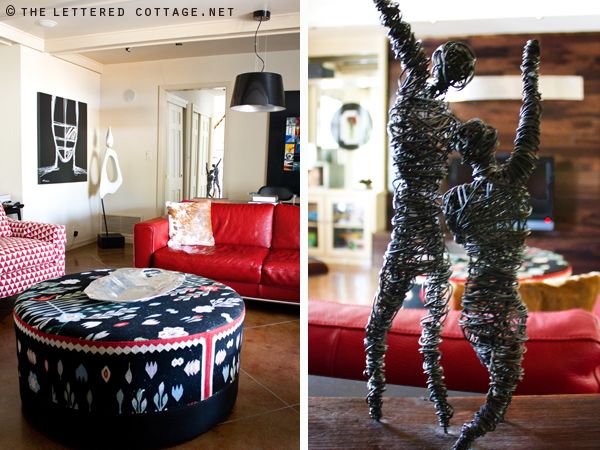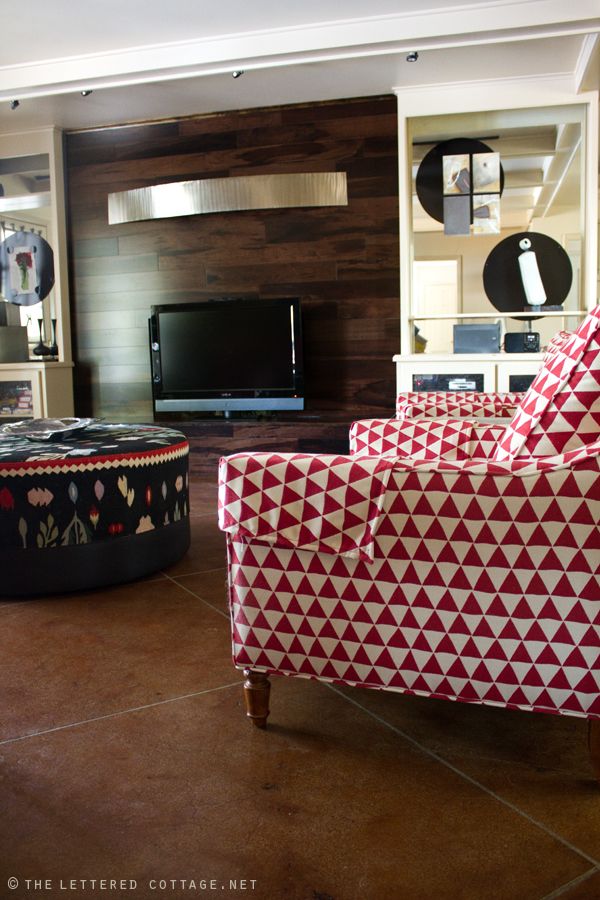 One of Hy's recent email messages included this ultra-intriguing sentence: "I need to convert a polka-dotted bedroom to a sophisticated guest bedroom suitable for college boy weekends."
Hmmm…I don't know if my presto change-o finger can resist that kind of challenge!

__________________________________________________________
Join us on Pinterest, Twitter and Facebook!
___________________________________________________________
Need design inspiration? Need help with space planning?
Check out my e-book!
Get My Free E-book: 15 Common Decorating Mistakes And How You Can Avoid Them
Enter your email to download my free e-book instantly! 🙂