We're baaaaack and whooo-wee! what a whirlwind of a trip that was!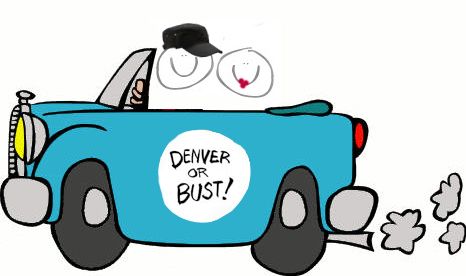 We pulled back into Prattville just after midnight on Friday night, and I had fun putting together this video full of snippets from the trip yesterday afternoon…
(I apologize for the occasional herky jerkiness- all we had with us was a Flip cam!)
Like I said- Total. Whirlwind! (True story- (sweet) Michelle literally introduced herself through Facebook the day before our trip. Gotta love that social media!)
And as for those meetings in Denver, well, I'm happy to report that they went (Tony the Tiger-style) grrrreat!, and we're almost all set to film our pilot in September. Just gotta settle on a house, a design plan, and an outfit. Oh dear. That last one gives me hives. (Hi. I'm Layla and I need a wardrobe whisperer!) Ooh! And here's something else I didn't have a clue about: Our pilot will actually be episode #1 if the network decides to pick up a full seasons worth of shows. Say, wha?!? This silly rabbit thought it was just gonna be a practice run! Ha!
The creative folks responsible for creating our (potential) show were just as awesome and down-to-earth as can be, and they really made us feel comfortable about the whole (potential) ordeal. They said they really just want us to be ourselves and do what we do, and that they'd be more "fly on the wall-ish" than "all up in our face-ish". Yesssss!
And we're really looking forward to working with fellow bloggers, Facebook friends, and Twitter followers if this whole thing happens, too. Sounds like we could be spending several weeks in four different cities around the country, per season, if the show gets picked up. This is all new to us (and that's a long time to be away from home!), so the thought of meeting up/working with familiar faces (and "voices"!) sounds really amazing/comforting!!
In the meantime, I better get crackin' on on my Pinterest Challenge project. The deadline is tomorrow morning and I haven't even started sticking, spraying or shooting it yet! (Hi. I'm Layla and I wait 'til the last minute. A lot.)

PS- Kev got some lovely photos of Ree's lodge and Hyacinth's living room to share at some point this week too!
__________________________________________________________
Join us on Twitter or Facebook!
___________________________________________________________
Need design inspiration? Need help with space planning?
Check out my e-book!
Get My Free E-book: 15 Common Decorating Mistakes And How You Can Avoid Them
Enter your email to download my free e-book instantly! 🙂