Hi and happy Friday! We're heading upstairs at the house on Felder Avenue today!
When you get to the top of those steps, you'll find three bedrooms, 2 large bathrooms, and a cozy den. Here's a peek into the bathroom…
I love how big and bright it is!
And speaking of light-filled, the bedrooms are flooded with loads of natural light (and beautiful original-to-the-house details), too: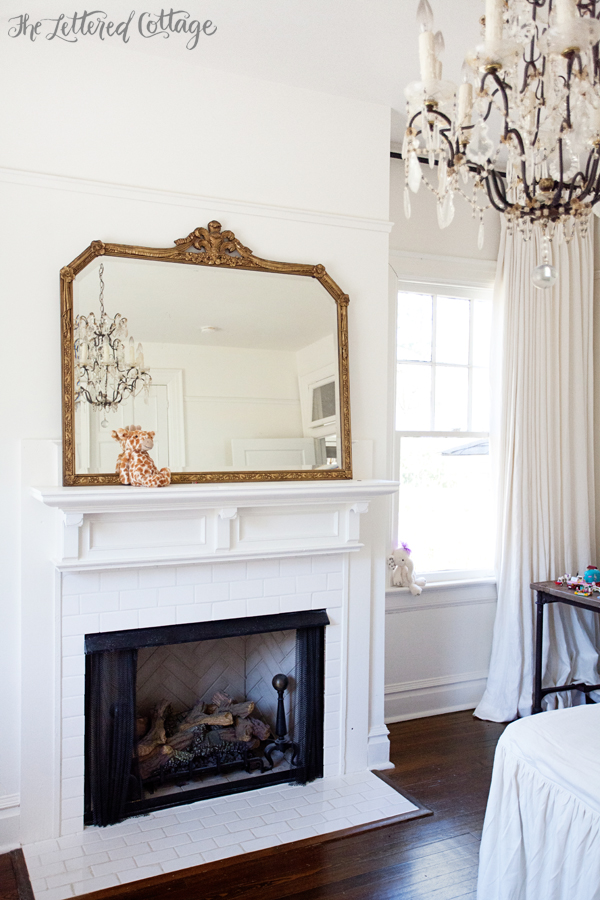 Have I ever told you how much I love those chunky wooden dresser knobs? #smitten
This is the master bedroom space…
…and this is the master bedroom closet:
I told you. Natural light-o-rama up in this place!!
My favorite space upstairs is actually the den located at the back corner of the house:
You know I'm a sucker for lots of white & wood! 😀
The banister in that photo is what's around the staircase that leads back down to the kitchen that I blogged about the other day:
And before I wrap things up I just had to post a picture of the playhouse in the backyard:
It's a good thing I've already found an old door for our hallway, otherwise I may have had to beg the homeowner for this one- ha!
The house is actually on the market right now, and I found the listing online, so I thought it would be fun to end this post with a guessing game. The listing says the house is 3,857 square feet and that it sits on almost an acre. Once you've thought a number, here's a link to the listing so you can see if you were right: 797 Felder Avenue, Montgomery, Alabama! 😀
Happy guessing, and happy weekend!

PS- If you missed my other posts about this house and are interested in seeing them, click here:
Southern Style House Tour – Kitchen & Butler's Pantry