The t-shirts are here! The t-shirts are here! 😀
UPS delivered them all on Saturday, so this week will be filled with lots of printing and packaging and shipping! If you placed an order, be on the lookout for it to show up in your mailbox soon. And, again, thank you SO much for being a part of the early stages of this design-related daydream of mine! XO
*****
Okay. Who's ready to tour another beautiful house in Old Cloverdale? 😀

I have wanted to see the inside of this one for SO long!
It was also renovated by my friend Ashley Gilbreath (whose house I blogged about last Monday), and Kevin and I had so much fun touring it with her and her co-worker, Jessica, the other day! The house has come a looong way since the first time Ashley and her hubby first laid eyes on it. Here are a few photos of the exterior that were featured in Southern Living magazine last year…
(That's Ashley up there in the photo!), and here's one I snagged from her blog: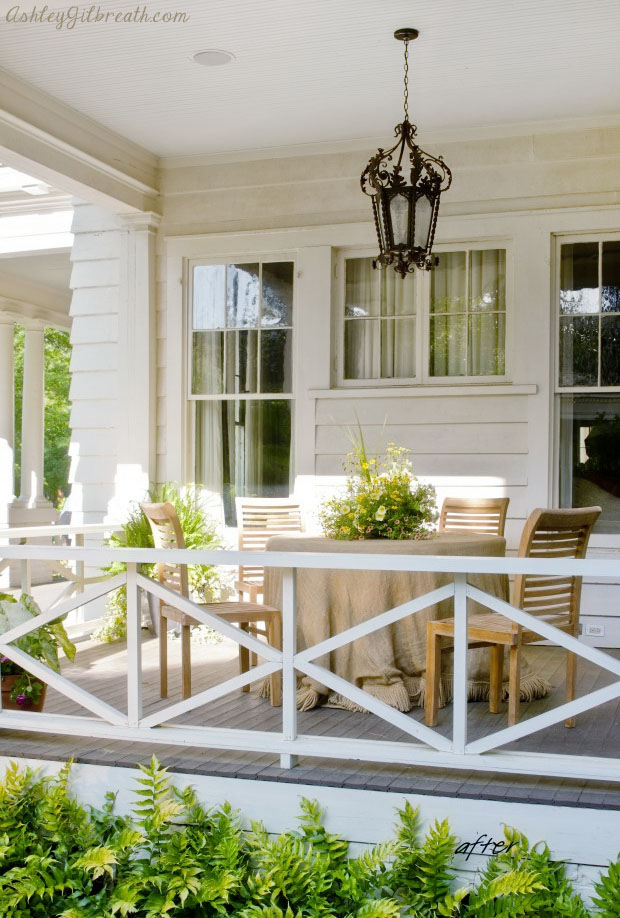 I just love a house with a porch on the side, don't you? #swoon
Ashley and her husband sold the house a couple of years ago, but she talked to the new homeowner for us, and we grabbed our camera with a quickness! We entered the house through the back door on Friday, and stepped right in to this beautiful kitchen:
The cabinets are cypress and the current homeowner painted them a custom-mixed color that no one knows the formula for anymore. (Sorry- to those who are curious!) :-/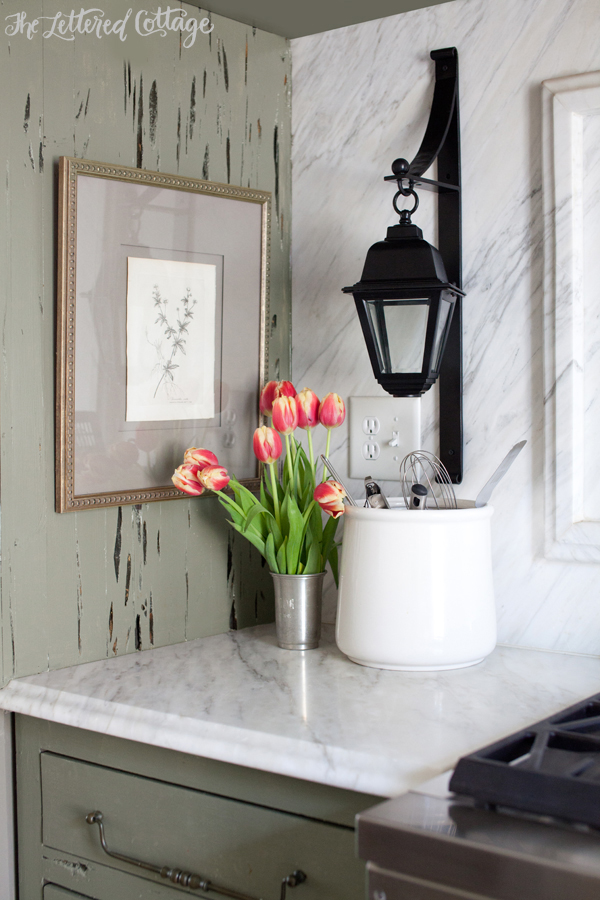 Ashley added the antique breakfast bar back when she was renovating the place, and I love that the current homeowner paired it with quilted vinyl-covered stools. Such a durable choice!
And speaking of the breakfast bar- check out the cross detail on the top of it:
How neat is that? Some of my other favorite details include the plate rack above the sink, and the little pass-through window that opens into the butler's pantry:
Here's a shot of (one side of) the butler's pantry: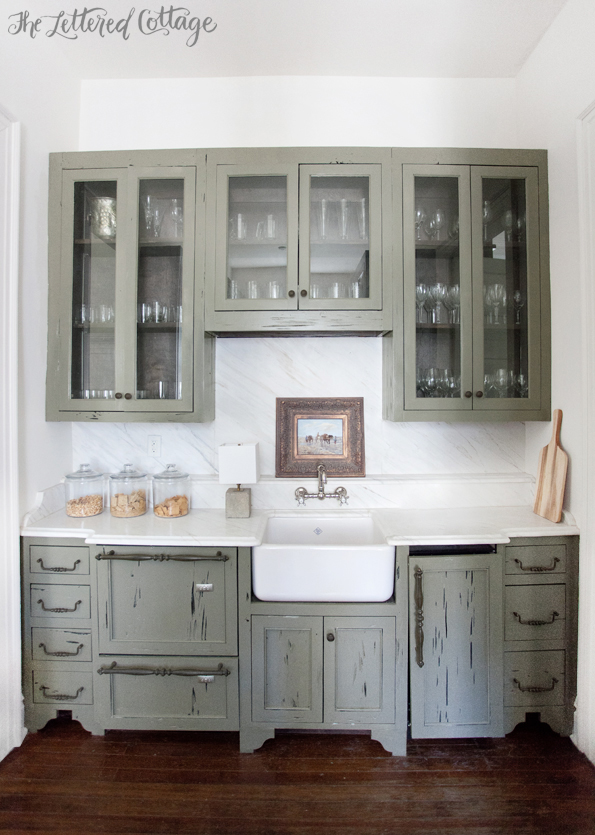 I mean, can you imagine having all that extra space to work/clean/store things? #doubleswoon
Back in the kitchen, here are a few more shots that show how the space is laid out. When you look straight ahead from the back door, you can see all the way to the front door:
When you look to the left, you see this side of the kitchen…
…and when you look to the right, you see this side of the kitchen:
That's white vinyl and nailhead trim on the banquet bench, and those are black-and-white family photos inside all of those frames. #tripleswoon
I cannot tell you how peaceful and absolutely Southern the energy in this place was! What a treat to be able to wander through it with our camera. I've got lots more photos of it to upload, edit and share this week- so meet me back here on Wednesday if you'd like to take a tour of the rest of the first floor!

PS- For pics between posts, join me over on Twitter, Facebook and/or Instagram!

Get My Free E-book: 15 Common Decorating Mistakes And How You Can Avoid Them
Enter your email to download my free e-book instantly! 🙂