Hi! Ready to keep walking through this old house?
Before we wander down that hallway, I did want to mention that my friend Ashley is responsible for renovating this house, but it actually looked a lot different when she lived here. The current homeowner prefers a lighter feel, so she personalized it with a lot of white paint and in a slightly different style after Ashley moved out. Maybe I'll put together a separate post that compares the two looks just for fun next week!
Okay, now back to the tour of the first floor! The first doorway on the left (in the photo above) opens to a formal sitting area:
That door on the left side of the photo above opens to the butler's pantry and you can see the kitchen in the background just beyond that.
My favorite little touch: the (burnable) fire balls in the fireplace!
Apparently you can't actually burn that stacked up like that (they need to be arranged in rows or on a tray) but I just love the way they look, don't you? (PS- Ashley sells them in her shop if you're interested in more info about them.)
Here's a look at the room from the other direction:
There's another gathering room through those (original to the house) pocket doors, and around the corner from that, you turn the corner to this room at the very front of the house: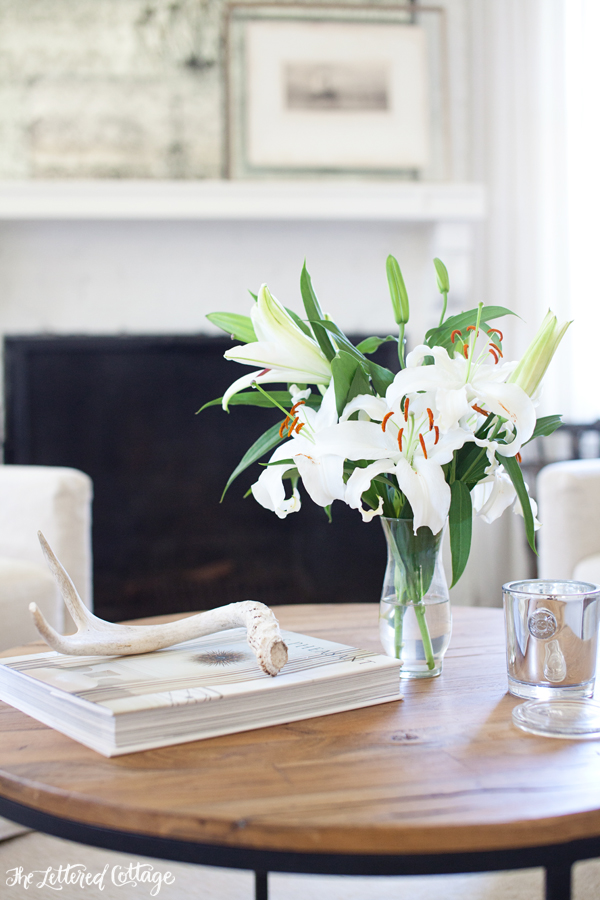 My favorite details in this space? The sidelights around the front door and the newel posts on the staircase!
Moving back down the hall towards the kitchen, you'll find the guest bedroom:
Again, it looked a little different when Ashley lived here, but I cannot tell you how long I have waited to see the "shower armoire" she designed!!!
Isn't that just the neatest thing?
Ashley said the guy who built it used some kind of marine-quality sealer on it so that water beads up on it just like it would on tile. I asked her if it got much use, and they said they (and their guests) used it a lot while she lived there. I forgot to take a picture of the floor, but basically, there's white hex tile down there and there's a (sealed/removable) wood grate on top of that. It really was quite spectacular, and it was so surreal to be standing in front of it after staring at photos of it for so many years- ha! 😀
(Thanks again to the current homeowner for allowing us to tour it with Ashley and Jessica! XO)
The rest of the bedrooms (and another bathroom) are upstairs, so join me here on Friday if you'd like to continue the tour!

PS- For pics between posts, join me over on Twitter, Facebook and/or Instagram!