Remember when I did that presto change-o for Kevin's brother, Kerry, a while back?
The one where I mentioned, that he mentioned, that he wanted his living room to look more like this: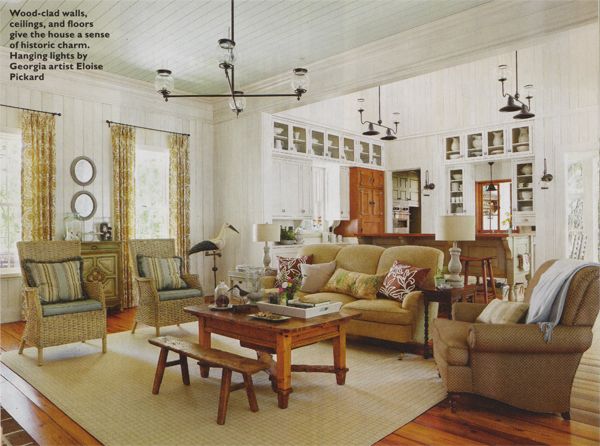 Well, I've been blogging about what we're doing over here at our house a lot lately, but what I haven't blogged about yet is that we've also been working with Kerry on his living room, too. Here's the "before" photo again…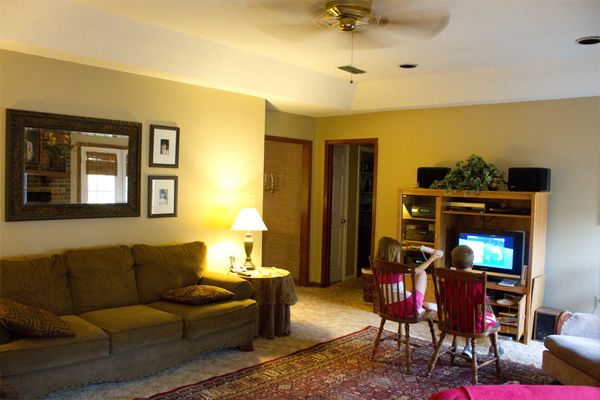 And here's the inspiration presto change-o I blogged about last year…
We went back over there the other day to help him scrape the popcorn off the ceiling, and I took a couple more "before" photos, just to have them documented…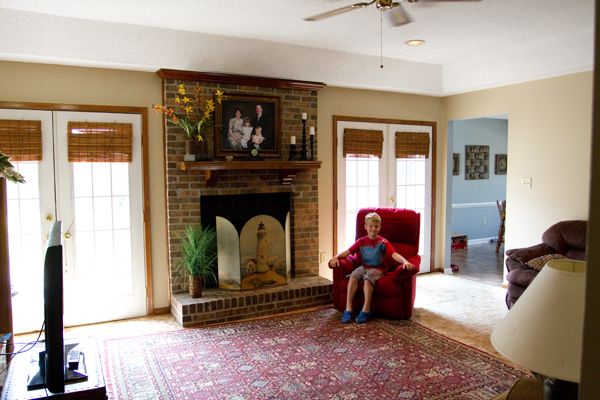 Kerry's wife, Robyn, was at work that day- so me, Kerry and Kevin took on the job of scraping the "popcorn" off the ceiling around the border of the room. (Note: Kerry's house was built in the mid-80's, and the ceilings had never been painted, so we didn't have to worry about aesbestos- but that is something you'll want to check if you're house was "popcorned" or painted earlier than 1979.)
We started by misting the area we wanted to scrape with water. We worked in (approximately) 12″ square areas at a time…
After we were done misting, we immediately started scraping the popcorn off with flat-edged, metal scrapers…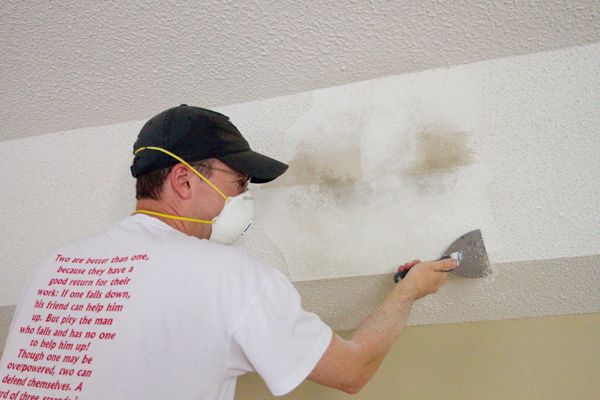 We didn't know what to expect when we started that day, but because the drywall underneath hadn't been primed or painted- the stuff literally came off like melted butter. We were so happy!
A note about the mist bottles: If you can find some like these (Kerry got his at Academy Sports)- get them! They spray the water vertically into the air and they worked SO WELL for this job!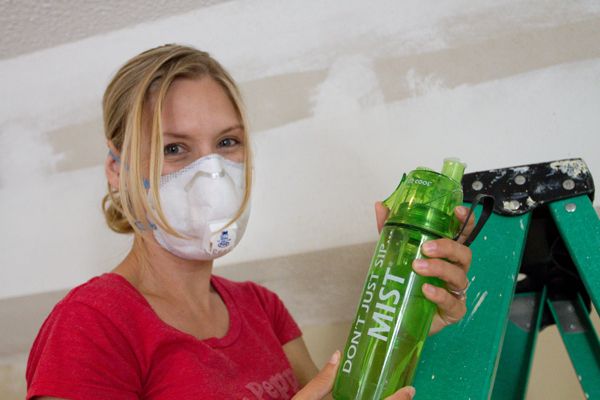 It took us about 2 hours to finish scraping the entire soffit that runs around each side of the room. Then we all did the popcorn shakey-shake…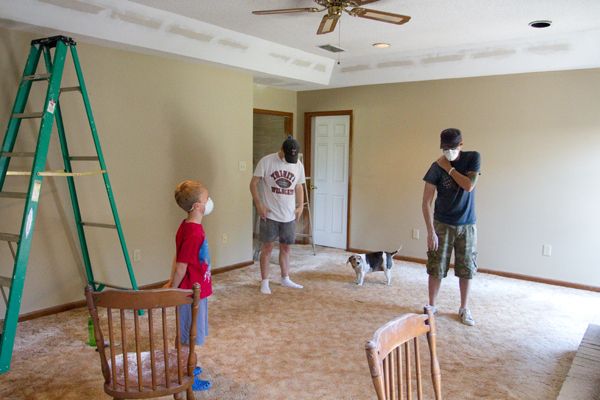 After that, we ripped out the old carpet, and stood around with our hands on our hips for a while…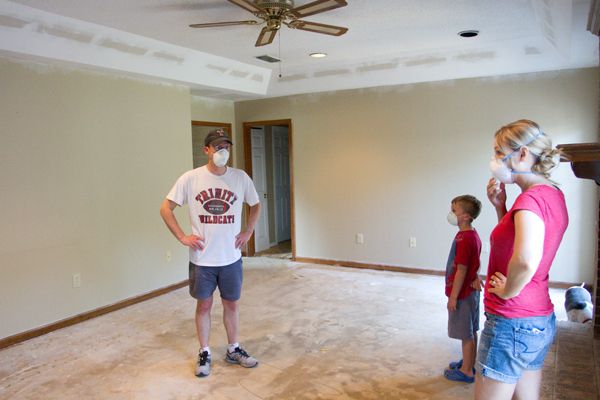 The next step is to replicate the blue-painted wood ceiling in the inspiration photo up above, so this week, Kev and I are going to head back over there and install 165 square feet of Sea Salt-painted wood planks on the center part of the ceiling. It's still covered in popcorn, but since we're doing the planks, we didn't see any point in scraping it all off…
We'll just find the ceiling joists with a stud finder, mark them with chalk lines, and nail gun them into the joists. And for a little extra security, we'll squirt some Liquid Nails on the back side of each plank, too.
And speaking of wood planked ceilings- we still haven't finished the one in Kev's office…
…but I wanted to show a close up of what our textured ceiling look like. It's different than popcorn. It has more of a "sponged" look…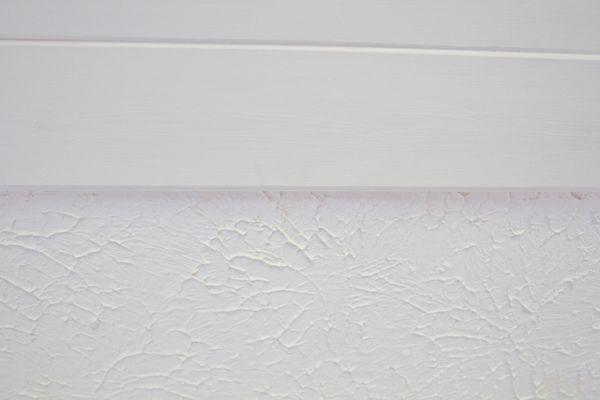 We're also just covering ours up with the same tongue-and-groove planks…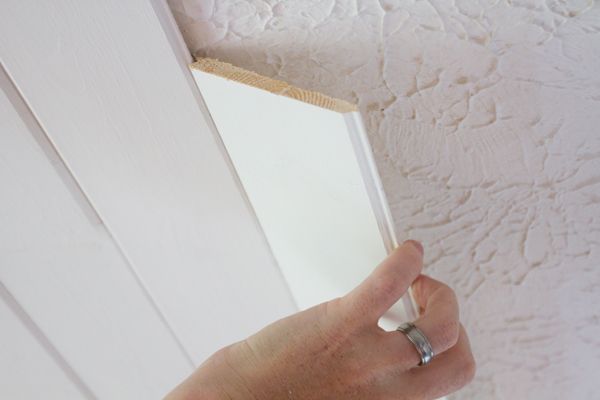 They're pretty inexpensive (just under $11 for a pack of six, 8-foot long planks at Lowes), so not all of the tongues-and-grooves are created equally (in other words, some planks are harder than others to lock together) but we're really happy with how they look when they're all in place. Here's a close up of how they lock together…
We nail them along the back edge only so that it's easier to click the next row of planks into the tongue on the previously installed row.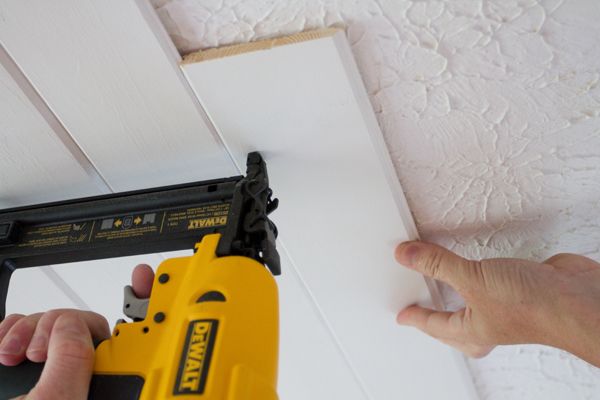 Well, I better sign off for the day. Kevin's in there waiting for me to come help him put up some more planks as I type. Only 82 square feet to go!

PS- Each pack of planks covers 14 square feet. (It only cost $155 to do our entire office/guest bedroom!)