Hey there- and welcome to another installment of Pick My Presto!
I got an email from a fella by the name of Ryan Parent asking for some design help with his newly purchased summer cottage in Canada.
His email read:
Hi Layla,
I would just like to say that you and your husband have done a really good job transforming your house. I love your style as well as your ability to do the work yourself and within a very reasonable budget. I have been searching for inspiration and ideas for my new cottage for a few months now and now I am drawn mainly to your site. My name is Ryan Parent and I am a professional hockey player currently living in Chicago. I have recently bought a summer cottage in Northern Ontario where I am from. Although the place itself is a little dated and almost solely a flashback to the 80's, there is alot of potential. I was looking to do some of the work this summer in the hope to create a cottage with the personality of yours. One of my largest obstacles is a two story, double-sided, old brick fireplace separating the dining and living room. It could be the dramatic defining character of the cottage and is why I was thinking of tackling it first. Any ideas, inspiration, or help would be tremendous and greatly appreciated.
Thanks for your time,
Ryan
Here's a photo of the cottage…
And here's one of the view…*sigh*…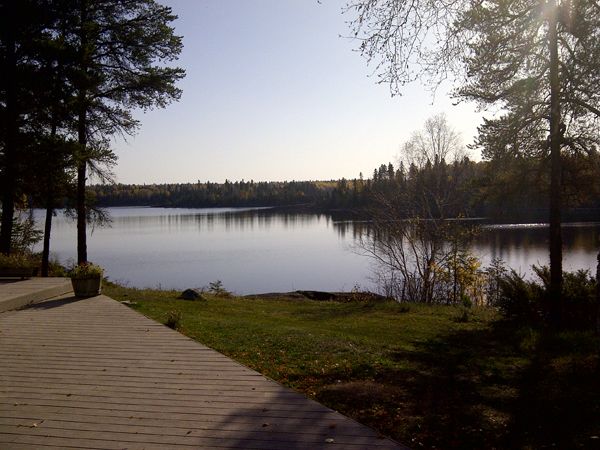 The inside of the cottage has tons of two of my favorite things: natural light and potential! Check out the kitchen…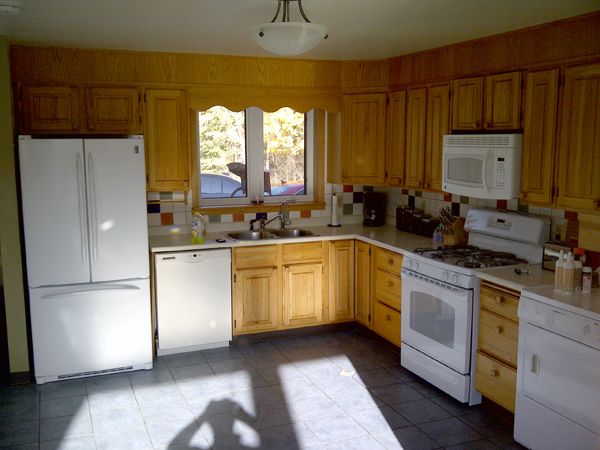 Those look like nice solid wood cabinets to me!
And I looooove the barstools and back door in this next photo…
Here's a photo of the bottom half of the two story fireplace Ryan mentioned in his letter…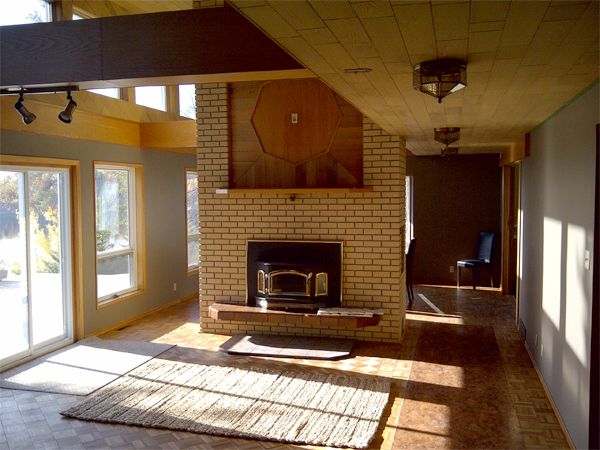 …and here's a shot of the top half…
So, let's see…what would I do to (inexpensively) make that sucker feel a little more summer cottage-y?
Hmmm…
Well, I love the planked parts, so I'd try to work with those…maybe just lighten them up (or even white wash them) with some off-white paint. The bottom square (the one with the octagon on it, right above the mantel) actually reminds me of a "barn quilt"…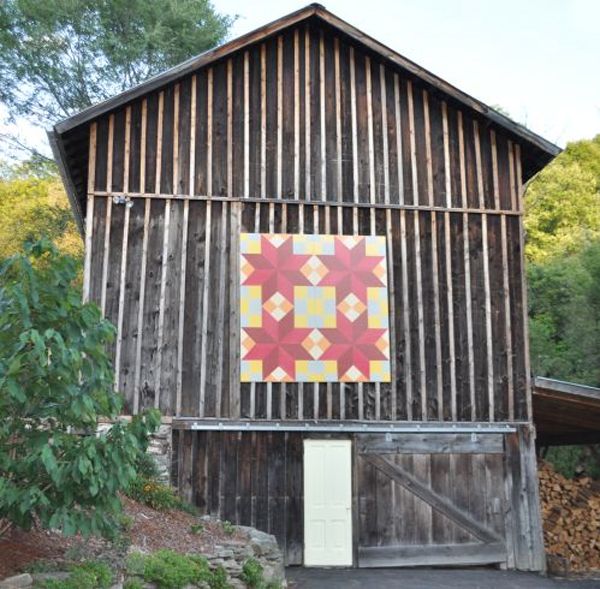 If Ryan's not feelin' the octagon, maybe there's a way to alter that area a little by replacing those planks with some that are laid like the ones I drew onto the photo below. (?) Then maybe someone could hand paint a great big barn quilt design right onto them. (?) The sky's the limit as far as the actual design of it goes, and it could be painted in any color, but it might be a really neat way to create a one-of-a-kind piece of art that really sets the tone for the whole living room area. Move your cursor on and off of the inspiration photo I created below to see it in presto change-o action! (PS- Google Readers will have to click over to our blog to see it switch back and forth.)
(Note: My presto change-o pics are for inspirational purposes only, and the ideas shown in them are just that. Spontaneous, totally flexible, just-for-fun, ideas that may or may not actually work in the room. Boom.)
Here's a still image in case you weren't able to view the interactive one above…
…and here's a gray-blue one, just for fun…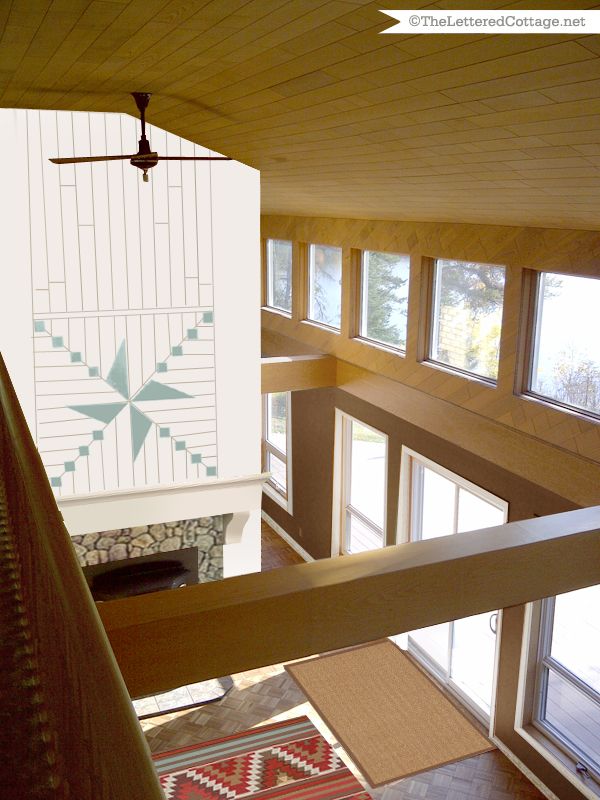 (PS- I popped some different rugs and a different wall color in there just for fun, too!)
You can see in my presto change-o photo I also added some stone (adhered right on top of the existing brick) to the area right around the firebox, and I beefed up the mantel a bit, too. And because the style/color of the bricks don't necessarily scream "summer lake cottage", I also suggested covering the sides of the fireplace up as well.
Anywho- as with all my presto change-o's, these are just the first ideas that popped in my noggin and I sure had fun putting it together!
What do you think, Ryan? Too artsy-fartsy? I look forward to hearing your thoughts, and I appreciate the opportunity to dream up this initial idea for you!
(Note: In case anyone is interested, I snagged the Farah Diamond Recycled Yarn rug image from PotteryBarn.com)

Would you like to submit a photo for our Pick My Presto series?
Send an email to PickMyPresto [at] aol [dot] com titled, "Living Room". (Replace the words Living Room with whatever type of room you're actually submitting.) In the body of the email, include your name, your blog name (if you have one) your design likes & dislikes, and one photo of the space in question. (No links please.) It should be clear, and measure at least 400 pixels high x 600 pixels wide. (In other words: at least 4″high x 6″ wide) The bigger the better though! Make sure it's a photo you're comfortable with me showing and writing about on our blog. Oh, and since I love surprises, I probably won't email you to let you know I've "picked your presto" unless I have a specific question for you about your space.