Just wanted to send out a big (virtual) Happy Birthday! to Kev's brother Kerry today!
Kerry is the principal at a local middle school here in Alabama and we're looking forward to throwing a birthday bash for him here at TLC this weekend! But in the meantime, I thought I'd surprise him with a presto change-o of his living room. (Sure hope you're reading today, Kerry- LOL!)
A while back he and I were talking about some changes he'd like to make in there, and while we were chatting, he showed me this Southern Living magazine photo he'd been hanging on to for inspiration: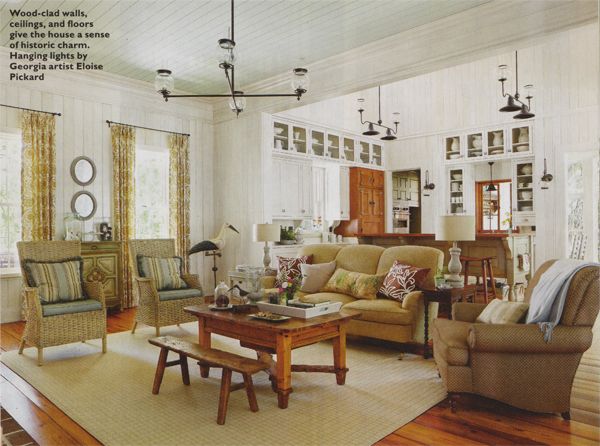 He told me he'd love to try and capture that same kind of light, bright, "woodsy" Southern style- so I snapped a pic of their room, and told him I'd play around with it in Photoshop so he could get a better idea of how they might be able to achieve a similar look.
Move your cursor on and off of the photo below to see Kerry's living room "presto change-o" to my inspiration drawing. (PS- Google Readers will have to click over to our site to view this one!)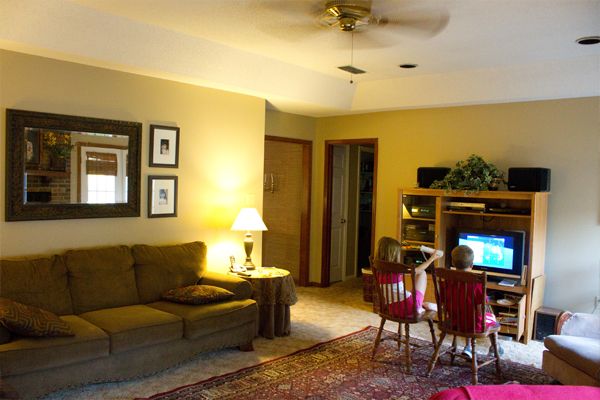 (Note: My drawing is for inspirational purposes only, and the ideas shown in it are just that. Spontaneous, totally flexible, just-for-fun, ideas. And since this is a just-for-fun photo consultation, and not an actual-and-perfectly-to-scale virtual consultation, I have no idea if any of the furniture, ideas or accessories I used in the drawing would actually work in the room. Boom.)
Can't view the interactive photo above? No prob! Here are the still images: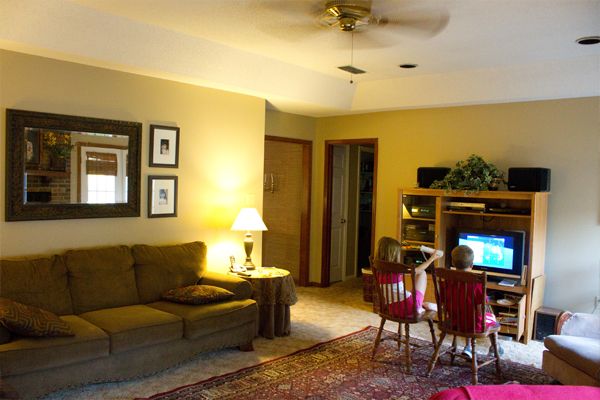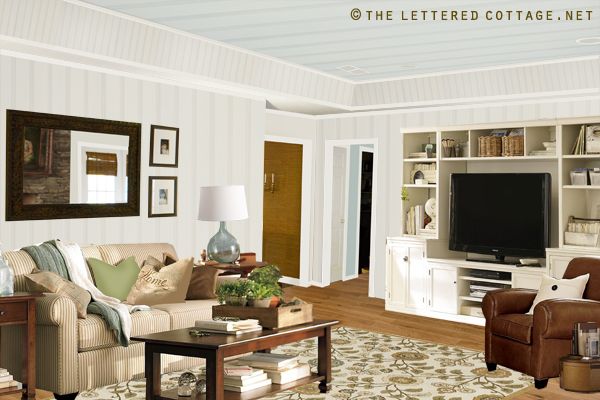 So, Kerry, I'm thinking it would toooootally be possible to re-create the look of the room you love in that issue of Southern Living you've been saving. The first step- cladding your existing surfaces with wood! It may take a while, and I'd definitely just concentrate on one wall at a time if I was you, but I think the look would be spectacular and it would really freshen up that (somewhat darker) side of your house!
Hardwood flooring (that matches the flooring in your dining room) and v-groove wall and ceiling planks painted a creamy white, and a soft, gray-blue like the ones in the SL inspiration photo will instantly change the entire look and feel of the room. After that, it's all about bringing in a variety of warm wood tones and neutral-toned fabrics- think: earth, grass, sand, sky and sea. To keep things poppin'- choose furniture and fabrics that have interesting textures and patterns- think: leather, cable knit & rattan…and stripes, textural solids & stylized florals.
I'd have an electrician pop in a few more recessed lights, and I'd try to find a light fixture more like the one in the Southern Living pic…but you could always just update your existing ceiling fan if that works better for you guys. Maybe something that's oil-rubbed bronze in finish. ?
I popped a huge entertainment center in there because I know you guys are always looking for additional storage, and I chose to use a white one because I figured since it was so big, it would sort of visually "go away" if it was that color. YaknowwhatImean?
Anywho- I hope you have a fantastic birthday today, and that this little surprise will help get you fired up about the look you want to create in your living room! Let us know if you need help cladding those walls and that ceiling, and we'll be there with bells toolbelts on!
PS- We're cladding a ceiling here at TLC in (inexpensive) thin wood planks right now- and we look forward to showing you what it looks like at your birthday celebration this weekend! 😉 (Blog post about that whole project coming soon!)
___________________________________________
Wanna submit a photo for our Pick My Presto series?
Send an email to PickMyPresto [at] aol [dot] com titled, "Living Room". (Replace the words Living Room with whatever type of room you're actually submitting.) In the body of the email, include your name, your blog name (if you have one) your design likes & dislikes, and one photo of the space in question. (No links please.) It should be clear, and measure at least 400 pixels high x 600 pixels wide. (In other words: at least 4″high x 6″ wide) The bigger the better though! Make sure it's a photo you're comfortable with us showing and writing about on our blog. Then, whenever I'm feelin' the urge, I'll randomly select someone's email and have a little fun creating some traditional or cottage style presto change-o inspiration. Oh, and since I love surprises, I probably won't email you to let you know I've "picked your presto" unless I have a specific question for ya about your space.

____________________________________________
Join us on Pinterest, Twitter and Facebook!
____________________________________________
Need design inspiration? Need help with space planning?
Check out my e-book!
Get My Free E-book: 15 Common Decorating Mistakes And How You Can Avoid Them
Enter your email to download my free e-book instantly! 🙂