Remember that $40, oh-so-cute, but badly-water-damaged dresser we got at a flea market a while back?
If so, then you probably also remember that we initially took the top part of it off, painted it white, sanded back the drawer fronts for a super-distressed effect and added cute little blue-painted knobs and pulls…
Welllllllll…I saw a really cool $998 dresser on Anthropologie.com the other day and was immediately inspired to give our little flea market find another facelift.
I started by sanding the drawer fronts completely down…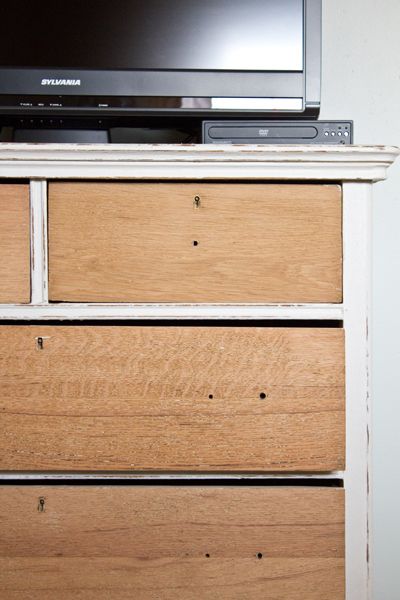 But because they were a bit too "orangey" for our room, I picked up some Monterey Gray-colored stain (Olympic) from Lowes…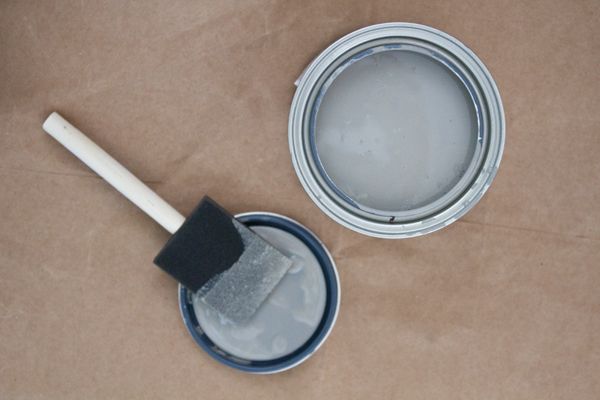 …and mixed a half of a foam brush full of it with a little bit of water in a Frog painters tape container….
Then I brushed the stain/water mix onto each drawer front in the direction of the grain…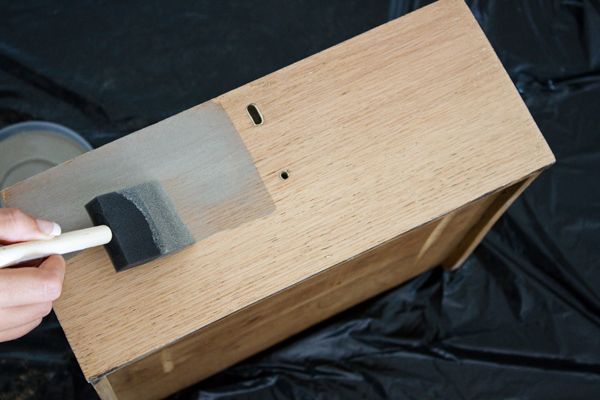 …and let it sit for about 20 seconds. Then I wiped it off with a paper towel (also with the grain)…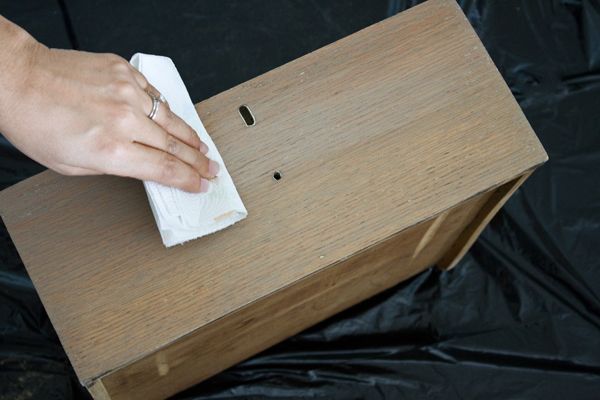 Once the stain was completely dry, I used the largest drill bit I had to route out the drawer pull holes a little more…
(You can really see how much better the gray-stained drawer fronts match the bedroom floor in this shot!)
The reason I needed them to be bigger is because I used rope (from Lowes) to create new drawer pulls on the two big drawers…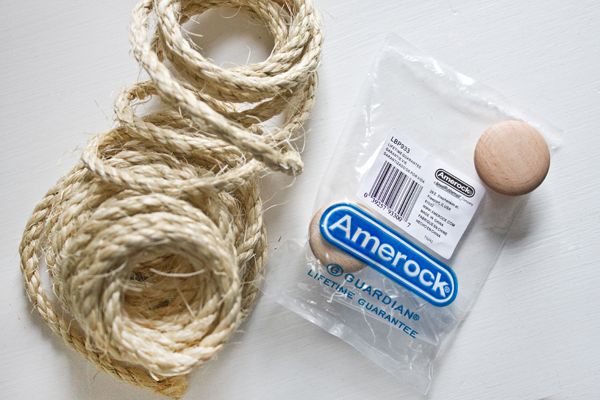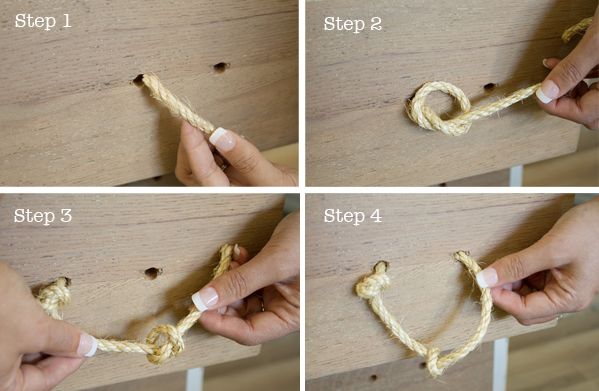 I used plain wood knobs (Lowes), also stained Monterey Gray, on the two smaller drawers up top.
After that, I used Photoshop and a font called Gunplay to print out some numbers for us to choose from…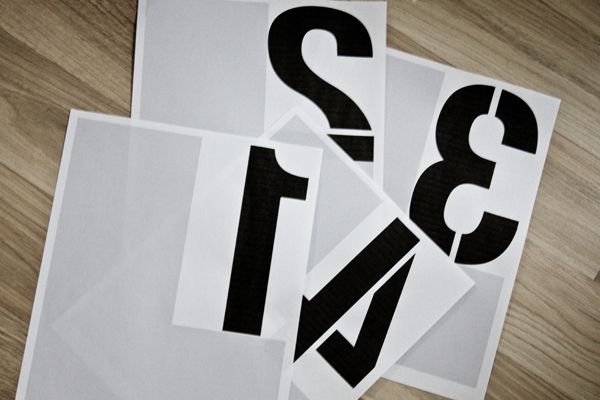 We tried out a few different combinations, and finally settled on our wedding date. Kev used a pencil and the "rub-lead-on-one-side, then rub-lead-onto-the other-side" method to transfer the numbers onto the left side of three of the drawer fronts. Next, I mixed up a little bit of left-over Rice Grain-colored sample paint (Sherwin Williams) with a little bit of left-over mocha-colored Valspar Translucent Color Glaze to create the color I filled the numbers in with…
Last but not least, I gave all four drawers a quick coating of Deft Clear Wood Sealer (Lowes) and ta da!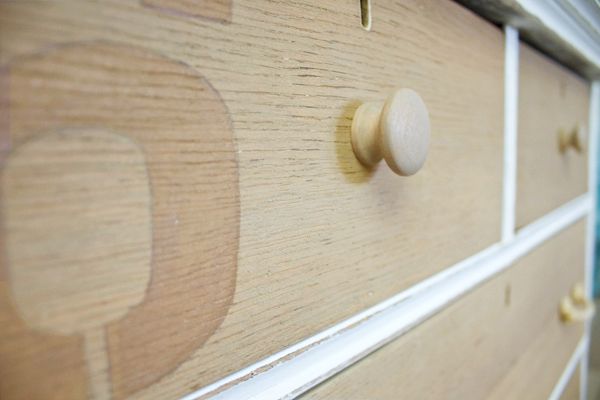 I'm not super confident about arts-n-craftsy kinds of things, so these types of projects tend to really intimidate me. But we're lovin' the way it turned out, and since it sits against the wall that's opposite our bed, it's been fun to wake up to each morning too.
Hi. I'm Layla and I'm mushy.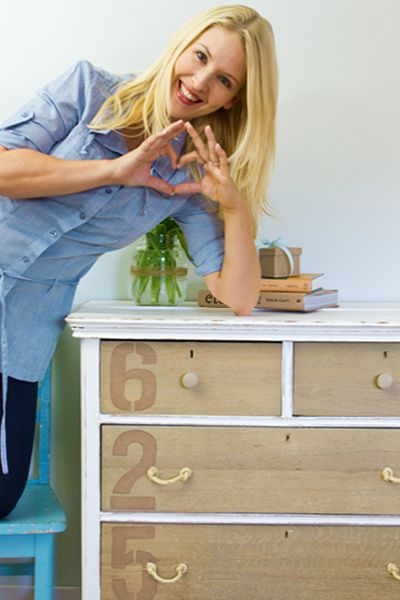 Next up, a wall pocket project on the wall space above the dresser. And by "wall pocket", I mean "niche" (for our TV). But because Kevin gets the willies when I say the word "neesh", I'm gonna try go with "wall pocket" from now on.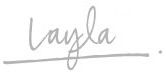 PS-
I can't wait to show you what came inside that little box back there…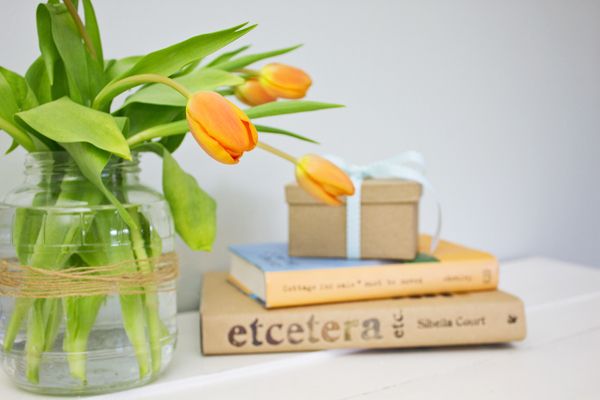 Stay tuned!
——————————————————————————————————–
Join us on Twitter or Facebook!
————————————————————————————-
Need help with your living room layout?
Check out my e-book!