Remember when I e-introduced you to my local friend, Ashley Gilbreath?
And how I told you she had just purchased this old house in Old Cloverdale?
Well, the renovation is well underway and Kevin and I stopped by last week to see how things were looking. It was so fun to talk to Ashley about what she has planned for the place!
That board we're holding up is one of many that was removed from the underside of the roof on the house when they gutted it. They're planning to re-use the planks on the ceiling in the living room and breakfast room to create this kind of look:
Gorgeous, huh? 😀
Here's a tour of the place as of last week:
Ashley explained that because the home is located in a historic district, the architectural review board (ARB) has to approve every single design decision when it comes to the renovating the exterior of the home. One such decision involved the new roof. The old (flat) roof was failing and didn't have any attic space directly below it. In order to run central heat and air duct work (which the house didn't previously have), the new roof needed to be pitched, but the ARB wanted to front of the house to look like it still had a flat roof. Ashley's architect (Jonathan Torode) suggested building a taller parapet (a barrier which is an extension of the wall at the edge of the roof), to hide the new pitched roof behind it. Here's a look at the house from behind: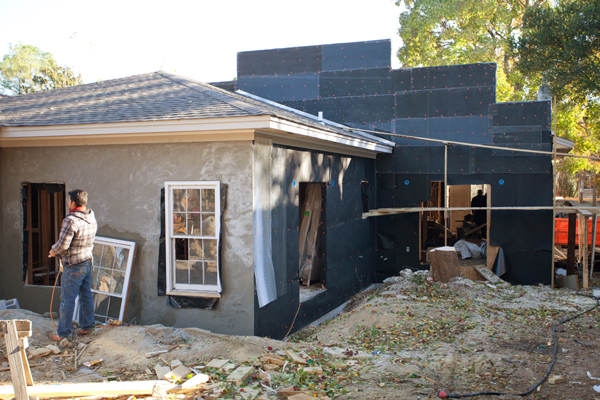 That back parapet matches the one they're putting on the front of the house, just to keep things nice and balanced.
That addition they built will soon be their master bedroom. Here's a look at it now…
…and here's a look at some of the other rooms in the house, too. The (soon-to-be) playroom: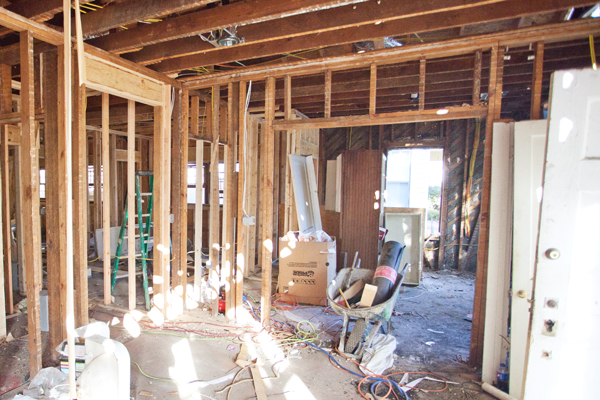 Hallway:
Living room:
Kitchen off of the living room:
(There will be an island where that bathtub is currently sitting.)
Breakfast room off the kitchen:
And last but not least, here's a look at some of the photos on Ashley's Pinterest board for the house:
You can click on that link (or photo) to check out the rest of her board, and you can click here to follow her blog: Parish.
Kevin and I look forward to going back over to the house next week to snap some more pics for another blog post. Rumor has it the house has insulation and walls already- which is good because Ashley and her family have to move in in 18 days! 😀

For more pics between posts, join me over on Twitter, Facebook and/or Instagram!