Sunday night marked the second night of recording five Christmas tunes at our place.
Kathy and I were painting her credenza-turned-sideboard on our front porch as musician-friends shuffled in and out of the house between takes. They're working on a special project for church, and I am so inspired by their talents and dedication.
Tommy helped Kevin man the "board" in our bedroom…
…and that's Tommy's wife, Shelley, playing keyboard at the end of our bed.
Remember Tommy and Shelley from episode 1 over at The Design Network?
Well, after we finished up working on their kitchen, they decided to tackle the room next to it. They call it the "kids living room" because they have a large family room on the back side of the house, and this is where the kids hang out when the worship team gets together back there. Here's a photo of how the room looked before we started working on their kitchen:
Here's a (pulled back) shot of what the room looked like as of last week:
Aren't they doing a great job so far? Here's another (closer) look:
They haven't painted the hallway yet but everything is really starting to come together and I'm so happy things are finally starting to settle down for them over there! You can see the big cut-out window we added to the kitchen on the left side of the photos above, and here's a shot of it from the other way:
Their contractor friend just added the butcher block bar just below it, and Tommy is in the process of sealing it with Waterlox this month. After that, all they need is three barstools and some breakfast! 😀
The wall color they chose for the kids living room is Moonshine by Benjamin Moore, and the floor was sanded and re-stained with a mixture of two different walnut-colored stains. The new rug, side tables and entertainment unit came from Ikea, and they already owned the chairs and sofa.
Shelley and I got together last Friday for a little flea market shopping- in hopes to find some low-cost goodies to decorate the entertainment unit with.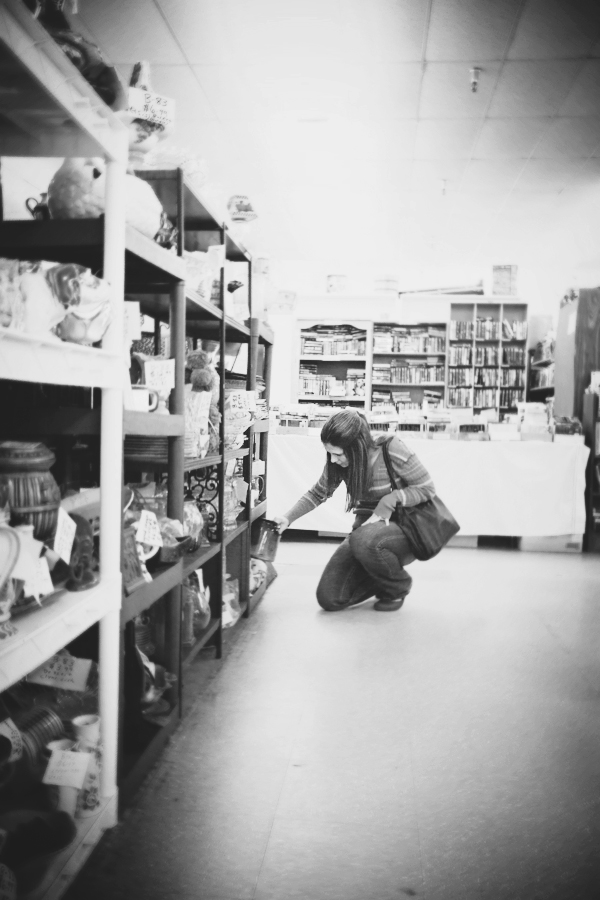 We weaved our way around a couple of buildings full of old stuff that afternoon, and man was it awesome. Not the stuff- the weaving.
I think everyone, at some point each week, needs to do some of that kind weaving, ya know? Whether it's with a friend or a family member- I think we all need to lose a few hours to just talking and listening. To the exchange of hopes and dreams. To the sharing of fears and foremost hurts.
Those times that are set up for the "stuff" never really are about the stuff, are they.
I love that. 🙂
And my favorite part of last Friday's shopping trip? "Losing" two hours to lunch in Shelley's minivan while we waited for a storm to pass. I gained so much in that experience. I'm convinced that time was a Gift and I'm so thankful that our schedules were woven together that day.
On Sunday morning, I zipped over to their house before the 11 o'clock service. Tommy, Shelley and the kids were already at church, and I was excited about the opportunity Shelley gave me to play around with all their "new" stuff so they could be surprised when they got home that day. Oh, and speaking of that, here are some of the things Shelley and I picked up while we were out and about on Friday:
She also picked up a couple of pillows at Target to mix in with their brown ones:
Here are some photos of how I ended up arranging things in the entertainment unit before I dashed over to Centerpoint that day:
I mixed the stuff she got at the flea markets with a few things from our house, and a few things from around their house. It was all about making sure I used things that would really pop off that super dark background. Lots of whites and textures and stacking things up to fill in all those black holes!

I thought I'd close today's post with a little snippet of Shelley (and Nick) singing at church recently:
Shelley adds so much Light to my life, and I feel blessed to share her (and her kids living room!) with you today! 😀

For more pics between posts, join me over on Twitter, Facebook and/or Instagram!