Things are gettin' wild over here.
Furniture and belongings are crammed into rooms they don't normally live in. Dust and extensions cords cover almost every surface in the entire house. The only room that's even semi-clean is our master bedroom. Semi, because we're currently using all 225 square feet of it as our bedroom, office and dining room. (Insert mental image of me typing this post on our desktop computer, which is sitting atop our dining room table, which is in nestled into the Southwest corner of our bedroom right now, here.)
It's a madhouse, I tell ya. But I have high hopes that after we're done doin'-what-we-gotta-do, it'll be a gladhouse once again, and all this DIY chaos will be nothin' but a memory.
We're working in what used to be our guest bedroom this week.
Click the play button on the audio player below this sentence to experience our before photo of the room the way we experienced it in real life, the first time we walked through the house…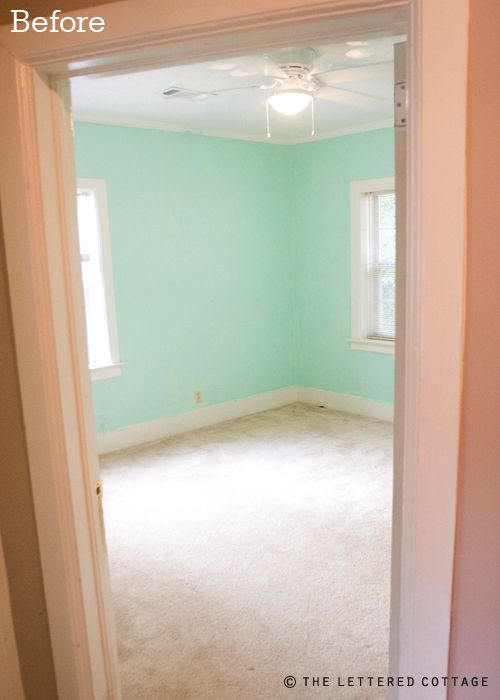 (Freaky fact: We closed on the house on Halloween of 2007)
Over the past few years, we've done our best to de-spook-ify the room.
First, we ripped out the dog pee-saturated carpet. Then, one day, we felt extra adventurous, and decided to rip down a wall's worth of sheetrock…
(We knew the wood was under there because we saw it in the closet.)
After that, we added an assortment of Pottery Barn bedding I bought on eBay…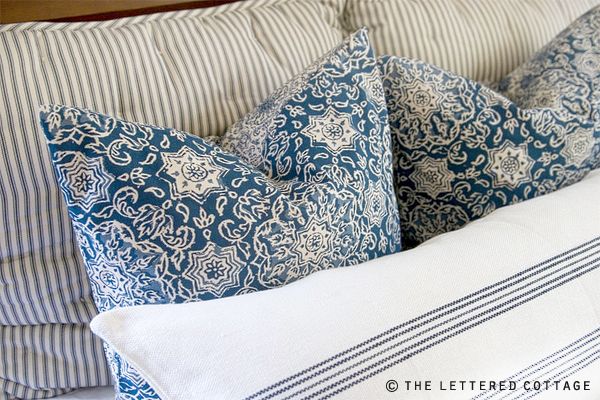 ("Kristine" throw pillows, and Blue and White ticking striped quilt and shams…can't remember the name of the pillow in front.)
…and sprinkled a variety of other inexpensive items around the room too. We made wall art using Walmart frames, our own photography, and some of our favorite quotes…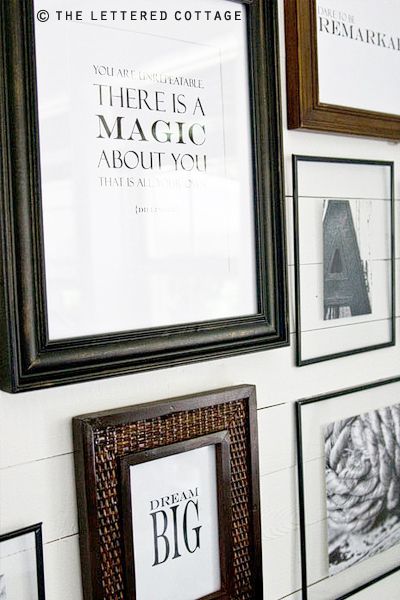 Around that same time, we traded our cherry wood queen-size bed for my in-laws 41-year-old, full-size bed, and threw down a $39 ERSLEV cotton floor rug from Ikea…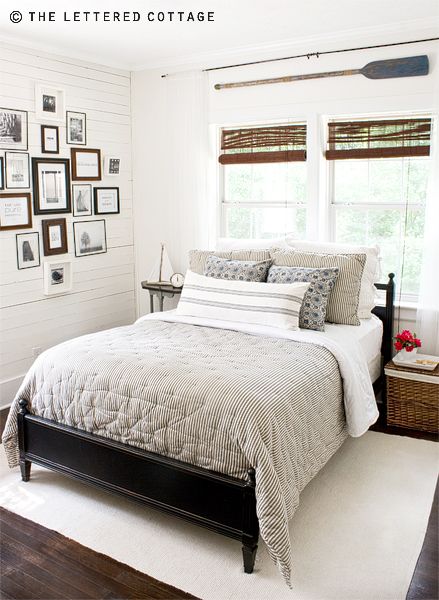 (That rug fits in the washing machine and bleaches squeaky clean every time!)
But starting this year, we need the room to function as our home office/photography studio.
So we took out all the furniture the other day and assessed the situation…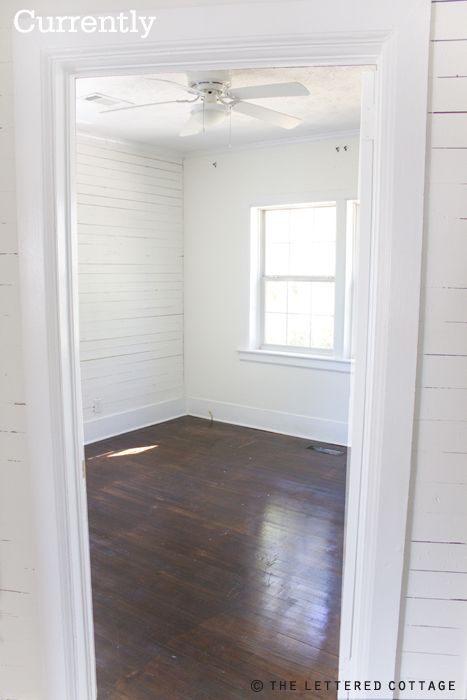 We decided to keep these two walls pretty clear of furniture so that we can shoot different set-ups on them when we need to…
We shot our Flea Market Style magazine photos on this wall, and it really worked out great…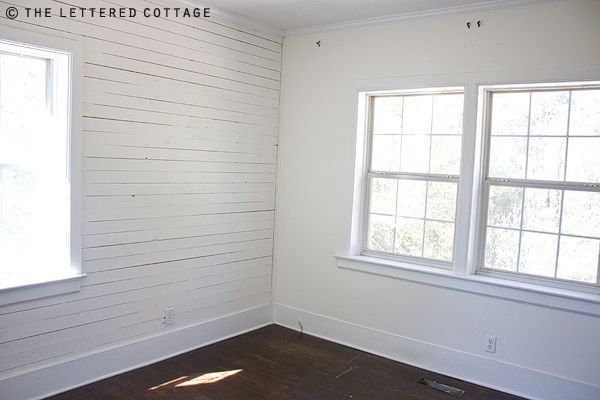 Over on the other side of the room, we're gonna build some kind of desk for our computers…
Something sorta like this…
…but probably not L-shaped. Of course we'll utilize that rest of that tall wall in front of the desk too. I'm thinkin' shelves, and a chalkboard for sure, as well as some kind of insanely over-sized, leaning, wooden bead game.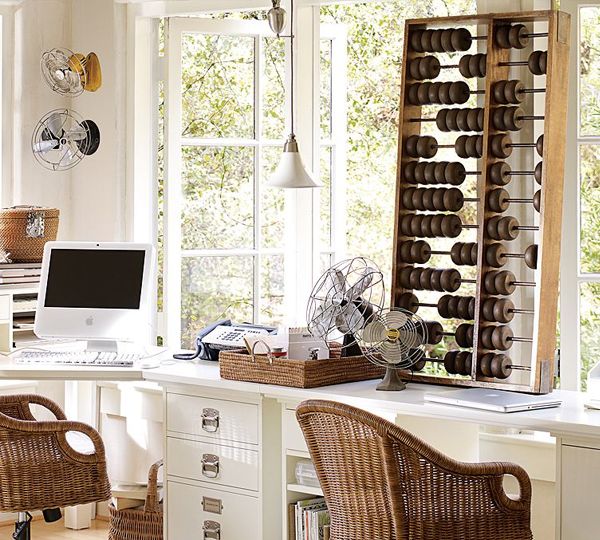 I'm kidding.



This is kind of what I have in mind for the wall, organization-wise…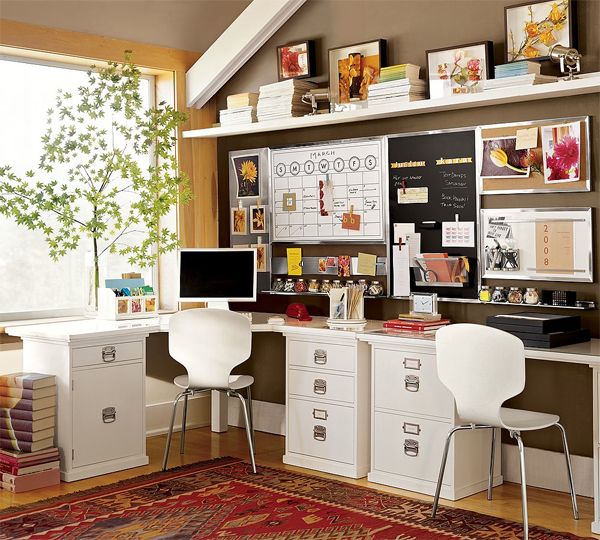 First up though, the floor. We've been dyin' to get rid of the super uneven coat of stain and deep scratches for quite a while now…
Stay tuned for video footage of our progress, and (hopefully) some updated images of our newly-refinished office floor!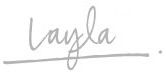 ——————————————————————————————————–
Join us on Twitter or Facebook!
————————————————————————————-
Need help arranging your furniture?
Check out my e-book!
Get My Free E-book: 15 Common Decorating Mistakes And How You Can Avoid Them
Enter your email to download my free e-book instantly! 🙂