A while back, Heather Bullard and Ki Nassauer invited us to team up with them on a yard stick-themed/how-to article for the 2011 Spring/Summer issue of Flea Market Style magazine. We were shocked/nervous about the opportunity they had presented us with- but several emails, phone calls, and yardsticks later, we managed to git 'r' dun, and have a buncha fun to boot.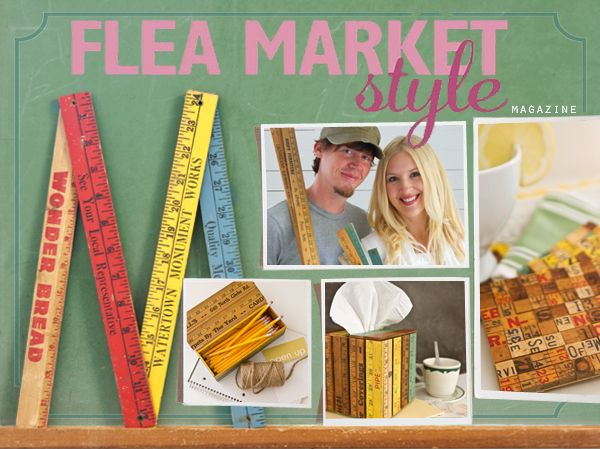 We were pumped to find a copy of the newly-released magazine at Books-A-Million this past weekend, and we tried like the dickens to conceal our excitement as we ran/walked up to the counter to make our purchase. (Insert a visual of a giddy-yet-completely silent, Dumb and Dumber-esque "We're really doin' it Harry!" moment between Kevin and I, here.)
When we got out to our car, (where, once the doors were shut, we could celebrate with actual words- and not just hyperactive hand gestures and Joker-like facial expressions) we found "our" article, and began reminiscing about shooting the photos in our guest bedroom, several months prior. (Insert a visual of us moving every bit of furniture out of the room and into our hallway, reading room and living room for a few days so we could shoot lots and lots of ruler-themed project photos, here.) Crazy, good/nerve-wracking times. What a trip!

Because we weren't exactly sure what we were doing at the time wanted to give them lots of options to choose from, we sent them approximately 12,997 photos to look at. Here's one that didn't make it into the mag…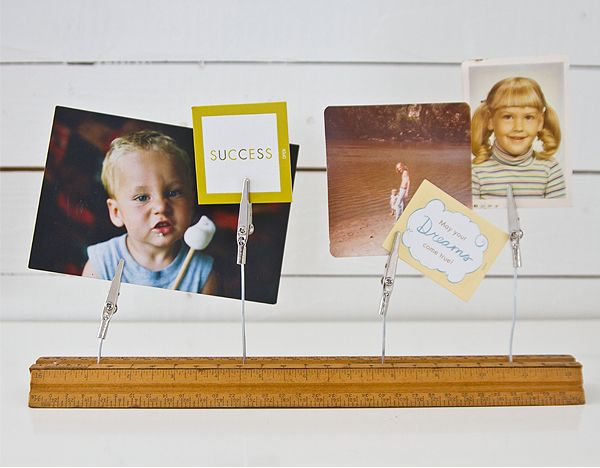 (Pictured left to right- our nephew Gavin, a window card from Live-Inspired.com, me and my (rocker) Dad circa 1977, another Live-Inspired.com window card, and my Kindergarten photo)
They used an angled version of it instead. (Good thing we sent them 218 angled versions of it to choose from.) I really liked that particular ruler project too. Such a cute idea! It also created an opportunity to sneak in a photo of my little "marshmallow man". (That's one of my all-time favorite family photos!)
Here's another photo that didn't make it into the mag…
Gee, I wonder why? Ha ha.


Anywho, if you're a flea market junkie (flunkie?) like us – you should definitely give the current issue a looksie. It's chock full of pretty pictures, sweet stories, and inspiring ideas. Check out the cover…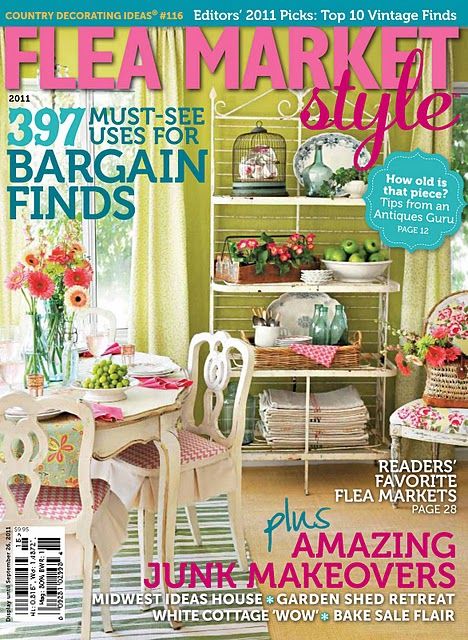 Luh. Shuss. NESS!
And before I sign off, Kev and I have been thinking about something that we wanted to run by you real quick. What do you think about some kind of live DIY-related chat? Kev said he could set it up here on our blog pretty easily, and then maybe once a week we could pick a popular renovation or decoration-related topic to chat about with whomever wants to join in. Kevin and I, personally, are always running into questions about various different DIY projects, and it sure would be cool to chat about 'em with folks who have been there, done that- ya know what I mean? Maybe it'll be a half hour long thing…maybe an hour? We're not sure about all the specifics, but we thought we'd run it by ya to see if it's something we should seriously think about organizing. Let us know what you think, and if enough folks are into it, maybe we'll go ahead and create "The Lettered Chatroom" sometime soon!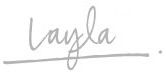 ——————————————————————————————————–
Join us on Twitter or Facebook!
————————————————————————————-
Need help arranging your furniture?
Check out my e-book!
Get My Free E-book: 15 Common Decorating Mistakes And How You Can Avoid Them
Enter your email to download my free e-book instantly! 🙂