Hey there- and welcome to another installment of Pick My Presto!
I randomly selected another email from my PMP inbox this weekend, and had some fun photoshoppin' a picture of a kitchen sent in by a sweet reader named Cindy. Here's the photo she sent me…
Her email read:
Hi Layla,
My kitchen is a new, builder-grade kitchen. It looks fine, and functions well, but I'm dreaming of painted cabinetry, light marble countertops, a beautiful vent hood & range, and windows or shelves instead of upper cabinets. You know, something like you'd do at The Lettered Cottage! Please "pick my presto" so I can convince my husband that we can make this kitchen a lot more "us". It's hard to justify changing things out unless we have a better visual of the possibilities.
Fingers crossed,
Cindy in Austin
So this weekend, I put pen to paper mouse to pad, and used Photoshop CS5 to create some inspiration photos for her. Move your cursor on and off of the picture below to see the first one in presto change-o action!
(Google Readers will have to click over to our site to see it change from before to after)
(Note: My drawing is for inspirational purposes only, and the ideas shown in it are just that. Spontaneous, totally flexible, just-for-fun, ideas. And since this is a just-for-fun photo consultation, and not an actual-and-perfectly-to-scale virtual consultation, I have no idea if any of the furniture, finishes, ideas or accessories I used would actually work in the room. Boom.)
Having trouble viewing the interactive photo above? Here's a still image: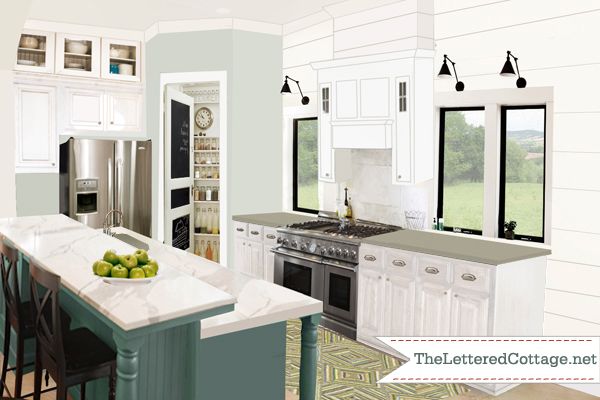 (Yes, the pantry door is swinging the wrong way, but you get the idea- ha!)
I grabbed a bunch of Cindy's wish list elements from a bunch of photos I found on Google Images…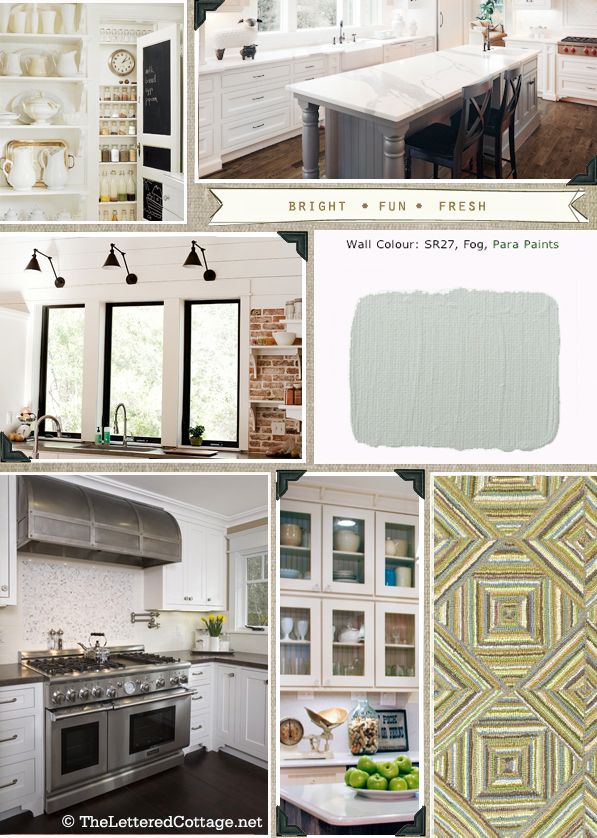 (Pantry Door ; Kitchen Island ; Library Lights & Windows ; Paint Color ; Range ;  Upper Cabinets ; Hooked Rug)
…and put 'em all together to create the inspiration photo above.
I also used the gorgeous range hood cover in this photo…
…and I was inspired by the concrete countertops in this one…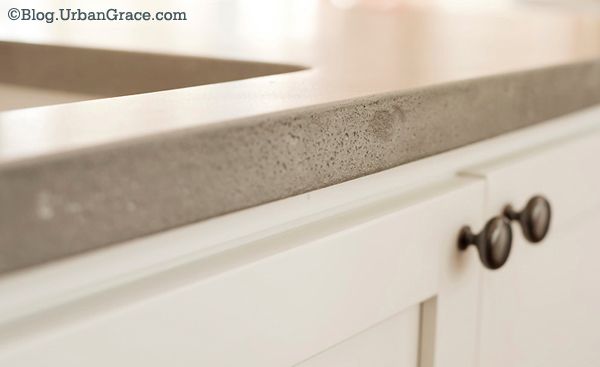 And because once I bust out "the 'Shop", I just can't seem to stop- I put together a few more options for Cindy to see, too. The picture below shows what dark wood base cabinets against the white, planked wall would look like…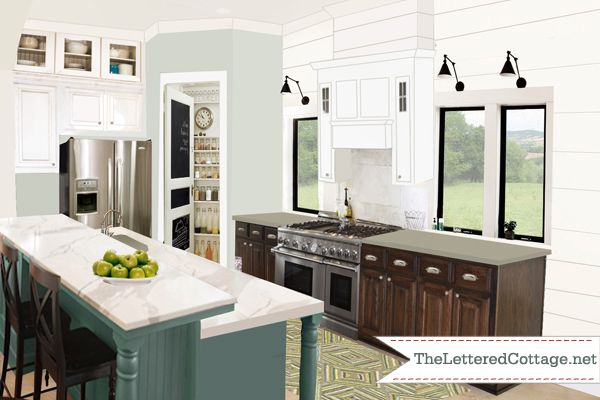 And while we're on the subject of beautiful dark wood cabinets, here's another great inspiration photo that features dark wood base cabinets and a tall, white range hood cover flanked by windows…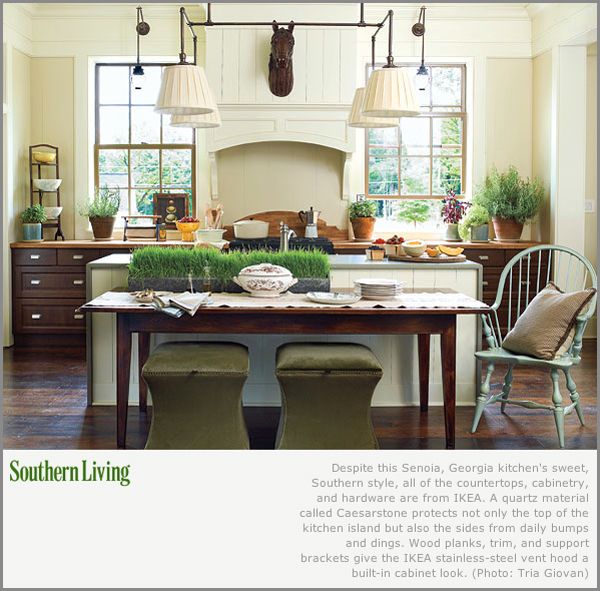 (Photo by Tria Giovan for Southern Living)
Here's some more dark wood lower/white wood upper lusciousness…
(Just wanted to show Cindy she doesn't have to paint those babies for it to feel light and bright in there!)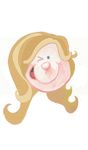 This next picture shows what all white cabinets and a gray island would look like…
And this one shows what a dark wood island, white-painted wall cabinets, and a few medium wood tones sprinkled around the room would look like…
(I swiped the pantry door from a post Lauren wrote about fabulous Brooke Giannetti's Santa Monica kitchen!)
Last but not least, here's a inspiration pic that shows the cabs outfitted with antique brass hardware and wall sconces…
Sort of like the sconces Edie used above her kitchen sink, but her's are actually antique nickel (and would be lovely, too!)…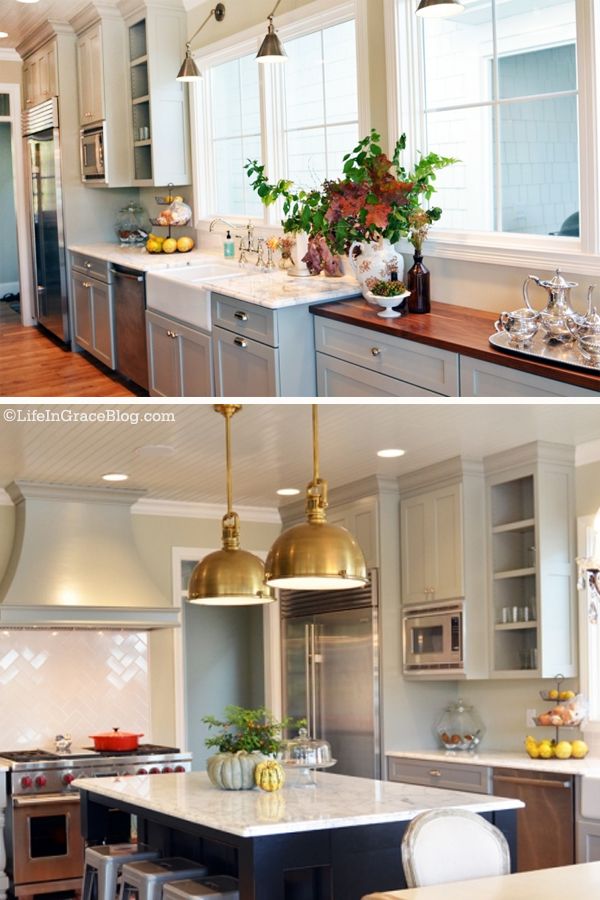 She does have antique brass pendants over her island though! Aren't they incredible?!
And speaking of brass beauties over islands, here's another light-filled, warm wood/antique brass sportin' kitchen that features marble counter, white-painted cabinets and a big, clean-lined, range hood cover…
Such a pretty room!
Anywho, I had a blast putting those photo drawings together (I'm a fool for Photoshop!), and Cindy, if you're reading: I hope you found an inspiring element or two that you can use! And, don't forget, shelves and high windows on either side of your range would look fabulous too!
Either way, we'd love to see what you guys end up doing with the space, so please keep in touch!

Would you like to submit a photo for our Pick My Presto series?
Send an email to PickMyPresto [at] aol [dot] com titled, "Living Room". (Replace the words Living Room with whatever type of room you're actually submitting.) In the body of the email, include your name, your blog name (if you have one) your design likes & dislikes, and one photo of the space in question. (No links please.) It should be clear, and measure at least 400 pixels high x 600 pixels wide. (In other words: at least 4″high x 6″ wide) The bigger the better though! Make sure it's a photo you're comfortable with me showing and writing about on our blog. Then, whenever I'm feelin' the urge, I'll randomly select someone's email and creating some presto change-o style inspiration. Oh, and since I love surprises, I probably won't email you to let you know I've "picked your presto" unless I have a specific question for ya about your space.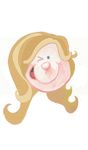 PS- Hubby plug alert! ShootFlyShoot.com is up and running, so if you're looking for help learning how to use your DSLR, click on the banner below!