"I don't think of decorating as a science or a discipline. People always say start with the rug, but that is often the last thing I end up selecting. I begin with whatever makes my heart sing."
-Deborah Buck

I'm still thinking about our estate sale adventure this past weekend. What a trip that was! It brought back memories of one of my all-time favorite blog posts. It was written by Darby at "A Fly Through My Window" back in 2009, and I enjoyed reading it so much.
It's about an estate sale/auction she went to with her mother, and her words and photos transported me right through the screen. The post is called Viola "May" Johnson, and if you have time, you just *have* to read it. (The underlined links and photo above will take you straight over to Darby's post.)
And while we're on the subject of secondhand stuff, I thought it would be fun to start a new blog category called "My Favorite Finds" to share posts about the kinds of things that always seem to draw me when I'm out and about at the flea market (or now estate sales!), or clicking around Etsy and eBay. In each post (maybe I'll do one a month?), I could start the conversation by picking three of my favorites, and blog about fun ways to use them, where I find them, how much they usually sell for, or maybe just share a fun story about one of them. I love learning about vintage/antique things too, so I'd love to do some research and include some of that kind of info in each post as well. And if a particular item is one of your favorites too, I'd love to hear your ideas and any stories you feel like sharing in the comment section, too. Sound like fun? 😀 Let's try it!
1: Stoneware Crocks & Jugs
I have a small collection of stoneware crocks (and one jug) that I got from my Grandma, and man have I enjoyed decorating with them.
You can put them to work in so many places and in so many ways! As you can see, most of mine are fairly small, but I'm always swooning over the large ones whenever I come across them. The price usually prevents me from buying them, and I also can't ever decide what I'd use one for. I've seen them topped with a round of wood and used as a side table, and it looks like the one in the photo below is being used as a wastepaper basket: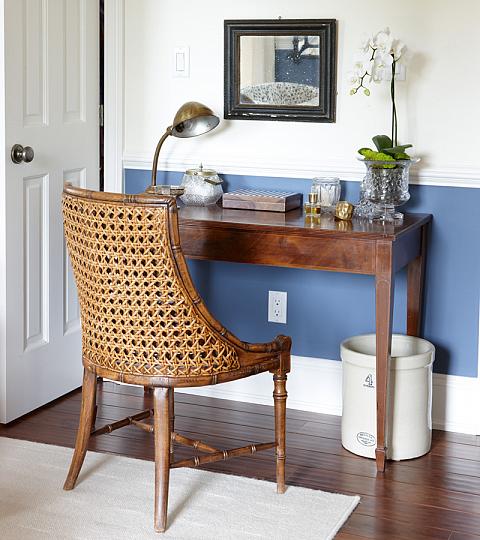 I'm not sure how practical it would be when it comes time to empty it (because they're usually quite heavy and lining it with a plastic bag would kind of defeat the (pretty) purpose) but I do love the way it looks there. Maybe a plastic bag could be rolled a little further down inside of it so that it's out of view?
This next photo shows one being used to hold a large houseplant:
(Joseph Bergin Architects on Houzz)
I'm not sure what the one on the right is doing, but I love how the crock on the left looks paired with a big fresh pop of greenery. I guess the trick would be using a pot & saucer or finding a plant that doesn't need much drainage. (Suggestions in the comment section, Mom?)
It might be fun to use one to hold rolls of wrapping paper, and here's an extra-large one that's being used as an umbrella holder:
(Joan Heaton Architects on Houzz)
…and I guess, in that case, it could also be used as a doorstop if they wanted to make sure that back door stayed open. The nice thing about that particular crock is that it has "ears" you can hold on to when lifting it. Apparently if the ears don't have holes in them (like the one above) they're called "closed ears", and if they do have holes in them they're called "open ears" (like the ones in the photo below).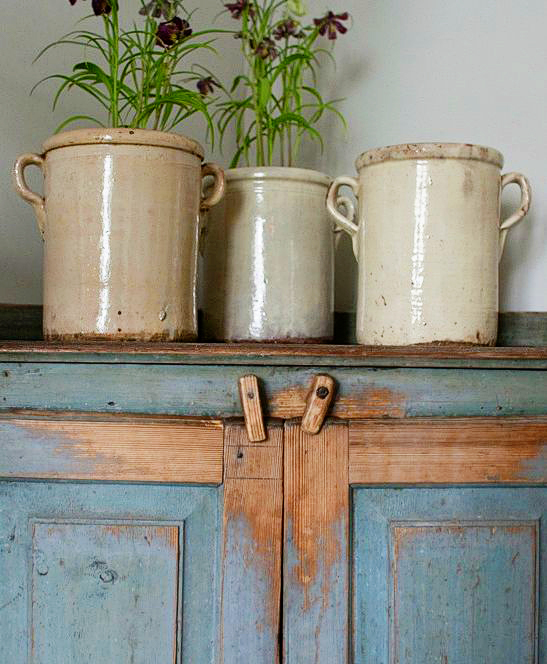 Who knew?
As for the cobalt blue designs on the front of the reeeeally old crocks- apparently ones from the 18th century were typically embellished with stylized loops, and images from nature, like flowers, animals, fish, birds and butterflies…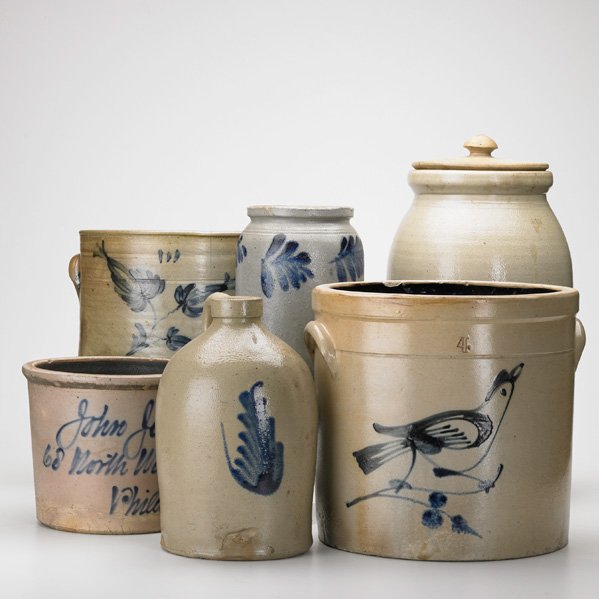 …and then over time, the designs became more elaborate, and included domestic items such as chickens, or political symbols, like the American Eagle. While researching, I also read that most old crocks used to come with a lid and most stoneware jugs used to come with a cork. The article said it's not unheard of to find a lidded crock or a corked jug these days, but that they're increasingly harder to come by. That was really exciting for me to read because I have a medium-sized crock with a lid and a jug with a cork in my collection! And speaking of the stoneware jugs- I love how Kathleen from Faded Charm grouped these three together as a centerpiece on her table:
I love the look of the "tough" crocks paired with the delicate tulips, but I think what's extra-neat is that when the flowers die kick the crock, the vignette would be just as pretty without flowers, too! 🙂
And let's not leave out Red Wing stoneware:
For those unfamiliar, Red Wing is a city in southeast Minnesota, and the Red Wing Stoneware and Pottery legacy goes back to 1877.
(PickedHome on Etsy)
I was born and raised in southern MN, so for sentimental reasons, I am especially drawn to pieces from that place!
2. Decorative Wall Shelves 
(Sarah Richardson Design)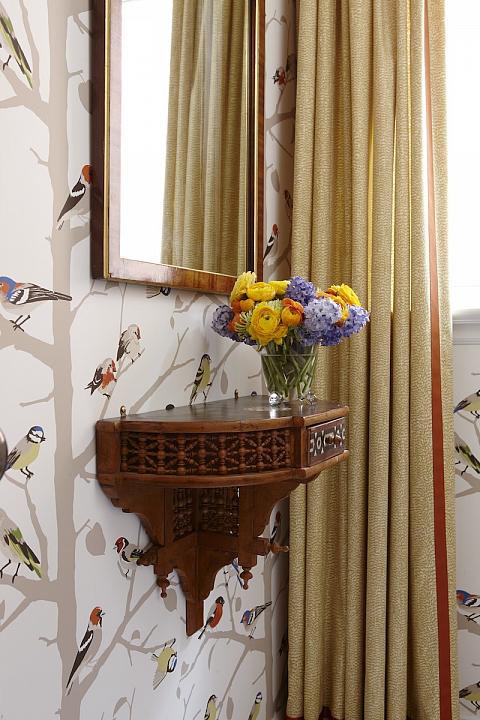 These things probably aren't considered very "trendy" anymore, but I'm a cottage girl through-and-through, so they are still very much in keeping with my style, and I see LOTS of them (usually priced between $10-$30) at flea markets, on Etsy, and in thrift shops. I got this bent wood one on eBay a few years back for $16: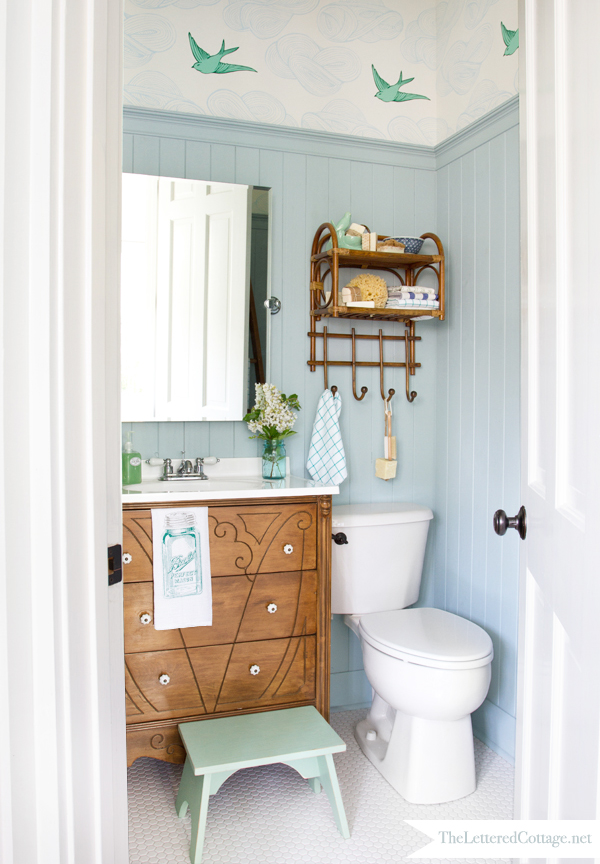 They can be really handy (and look really pretty!) above a desk, too:
This next one isn't hanging on a wall, but how fun to think outside the box and use it on a tabletop, huh?
I won the one below on Etsy this weekend (I use keywords like "decorative wall shelf, vintage shelf, wall shelf, rattan shelf, and antique wall shelf" when I'm searching), and I'm so excited to receive it. The spool-style supports in between each shelf just make my heart sing!
I *think* I'm going to paint it a fun color, and use it to display my perpetual calendars on. Which brings me to my next track-stopper:
3. Perpetual Calendars
Karen Russell's red metal one in the photo below was responsible for starting my love affair with the things: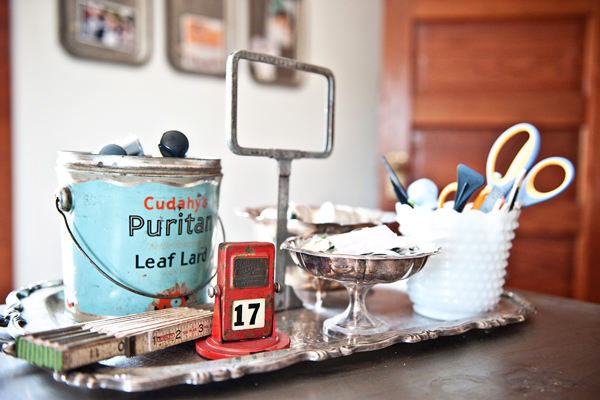 There are so many different kinds floating around out there…
(All Things Stylish on Tumblr)
I've been collecting state-themed ones, and I'm planning to put them on the wall shelf I got on Etsy…

I don't usually see many perpetual calendars in flea markets or secondhand shops, but there are always lots of listings for them on eBay and Etsy. I search for "flip calendar, perpetual calendar, vintage calendar" and they're usually priced between $10-$25, depending on the condition.
Anywho, those are just three of my favorite "little things". They don't always come home with me, and I don't always *have* to have them- but for whatever reason, they sure do make me smile. 🙂 I've started a Pinterest board called "I Brake For" to keep more photos like these organized. If you'd like to follow along, just click the banner below:
How about you? Are you a stoneware crock, decorative wall shelf, or vintage perpetual calendar kinda girl, too?