"I've always admired women who had a vision and stuck to it. Because ultimately, the way you live has to be a reflection of you."
—Charlotte Moss

Remember this photo from my last post?
Well, today you just *have* to see the rest of Joanna Madden's house! She has such a knack for layering and arranging! Look how she layered tones here in her dining room:
From the bottom of the photo all the way to the top of the photo: dark wood (floor), white (rug), dark wood (bench), white (table base), dark wood (tabletop), white (hutch), dark wood (tool tote). Stunning! Breaks like that make my eyeballs happy. 🙂 And check out how she layered this collection of old mirrors on top of the cabinet in the corner:
I love the way the tones, textures and styles all play so beautifully together!
She keeps her vintage transferware collection in this cabinet across from the mirrors:
And speaking of collections, she displayed this all-white collection of mirrors on two thin black rails in another room in the house:
I'm not sure how far the grouping continues down that wall, but what a neat way to open up the room. I love that the mirror frames match the wall color, too. If they were all different colors, that wall would have a totally different (louder) feel. Because they're all white, they sort of recede into it, and the collection is less about the frames, and more about the reflection. So cool!
Her floral painting collection, on the other hand, WOW! Isn't all that colorful "activity" breathtaking?
And notice how she let the artwork be the focus by not using frames this time: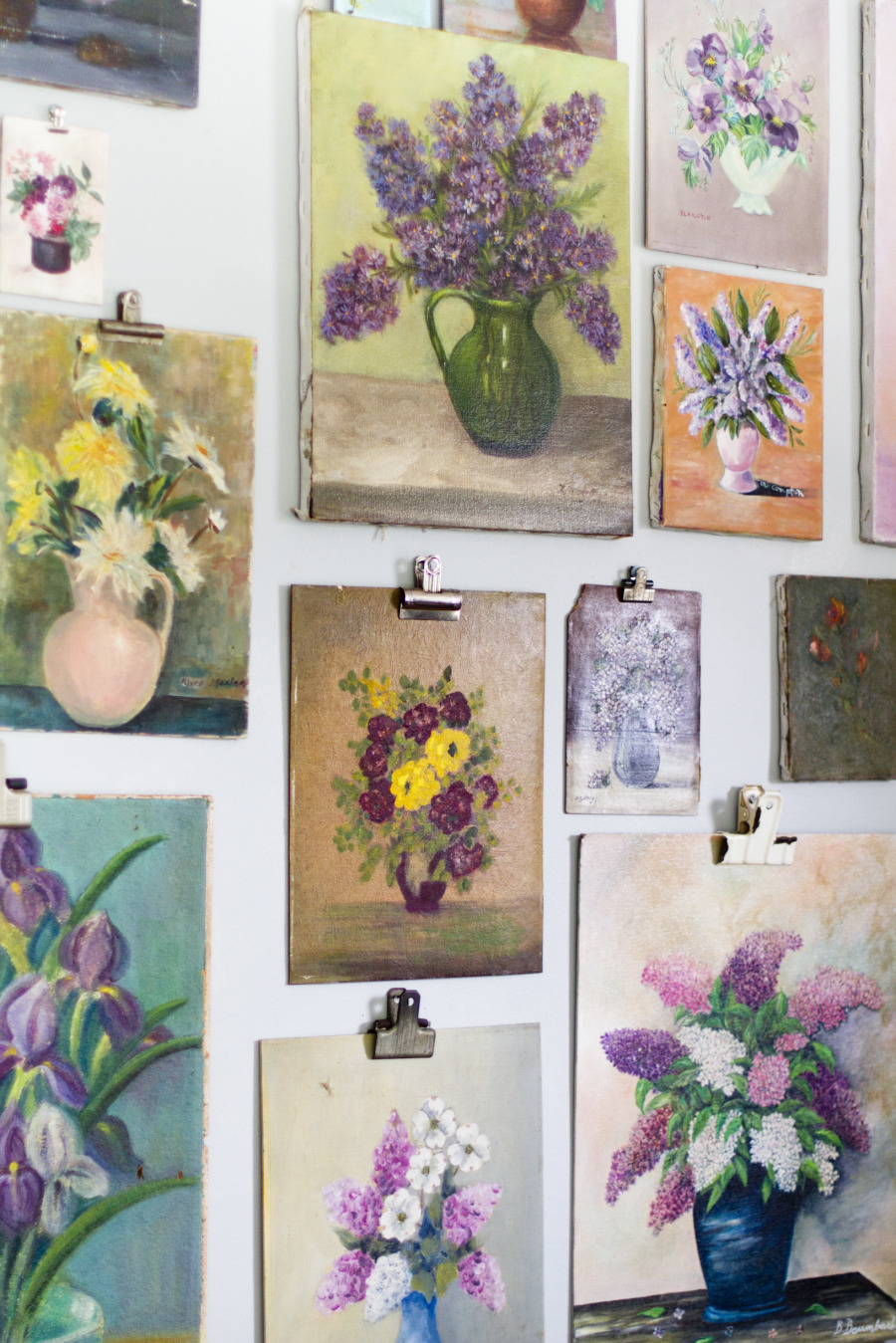 Simple clips were the key to creating a cohesive collection that let the flowers do all the talking in here. This room is Joanna's studio, and I imagine those paintings really rev up her creativity whenever she walks through the door! She's a jewelry maker, and her pieces are just as pretty as can be:
She grouped all of her white, McCoy pottery together on shelves in this corner of the living room:
I love the pops of silver and "natural" mixed in there, too:
There's a nice grouping of textures happening as well: papery, peel-y, smooth, glossy. Repeating those textures and sticking to three or four tones/colors (white, silver, and natural in this case) really helps big groupings like that feel calm and intentional.
She stuck with a natural/white/black/silver theme in the kitchen too:
I love the "trophy topiary" there by the sink. What a fun way to add color and height in that spot!
(All photos by Rikki Snyder)
Want to see more photos of Joanna's place? There's a whole gallery full over at Style Me Pretty: Living! Just click on the banner below to be redirected:
Happy Wednesday!

Get My Free E-book: 15 Common Decorating Mistakes And How You Can Avoid Them
Enter your email to download my free e-book instantly! 🙂