Well, my appointment with the orthopaedic surgeon went well, and my rheumatism flare-up seems to slowly be un-flaring (thanks to a cortisone shot in the tukus- yowza!).
Kev's been working on our master bathroom while I've been confined to the couch, and although it's not a major makeover (more like a "paint bucket special"- ha!), the work he's done has made such a difference in there!
We've made lots of changes to our master bedroom over the past couple of years…
…but the master bathroom was another story…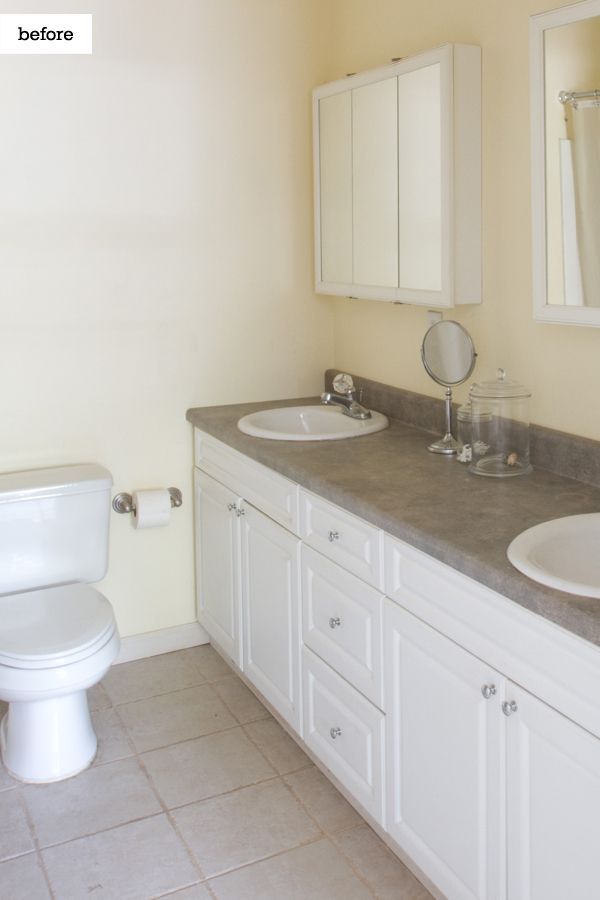 Badly stained unsealed grout, unpainted baseboards (that weren't even attached to the walls), and a bad paint job were just a few of the things that needed tackling in there. (We had also only been using a shower curtain liner and a teeny tiny little bath mat in there for the past 5 years- shhh!)
Here's what Kev whipped up, while I was stuck down for the count…(check out the "before and after" grout!)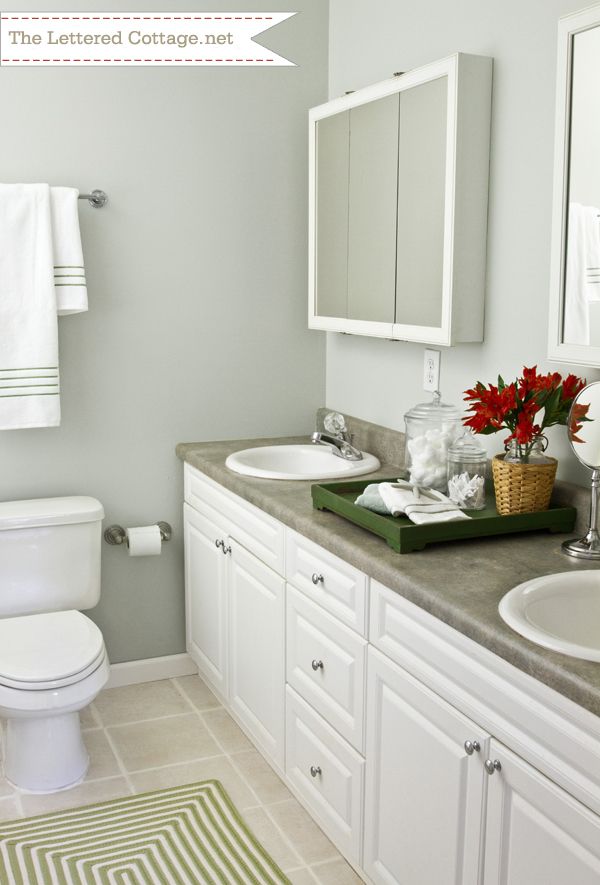 We wanted to wrap up this re-do fairly quickly, and our main goal was to inexpensively refresh the space. We drew color inspiration from the Chip It! card I blogged a few days ago…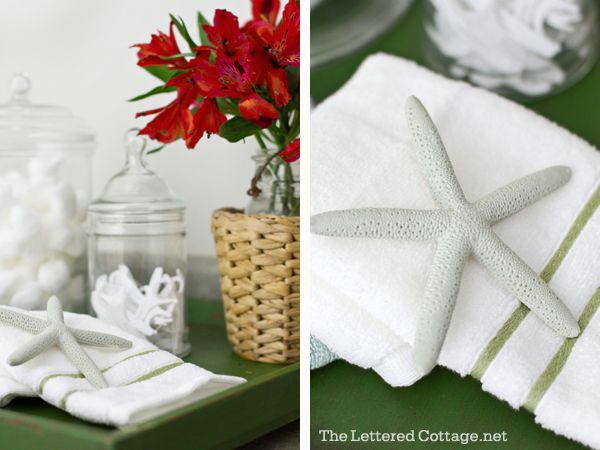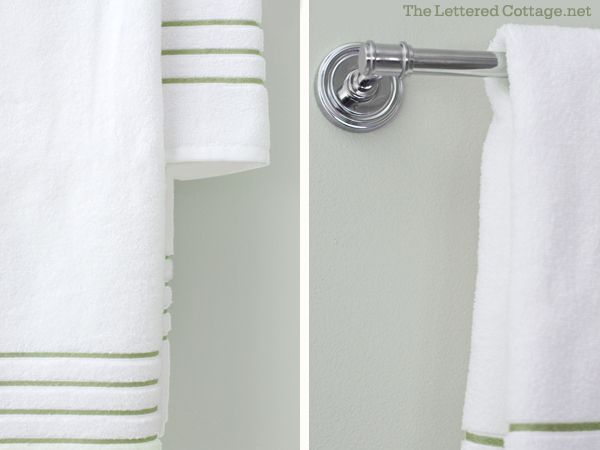 Kev started by thoroughly scrubbing all the grout lines on the floor with a narrow, stiff brush and a big ol' jug of grout cleaner/resealer.
Then he used some antique white-colored Grout Renew, an old toothbrush, and some paper towels to make the lines look brand new…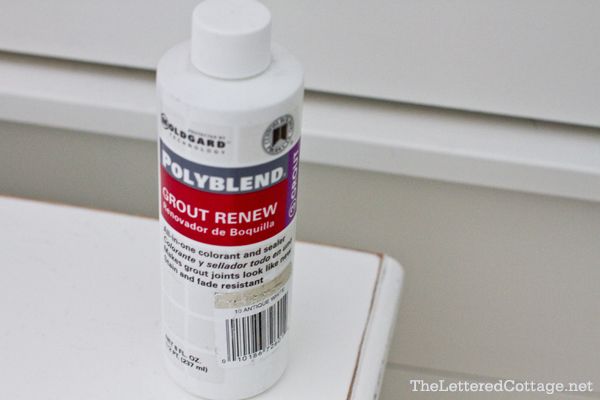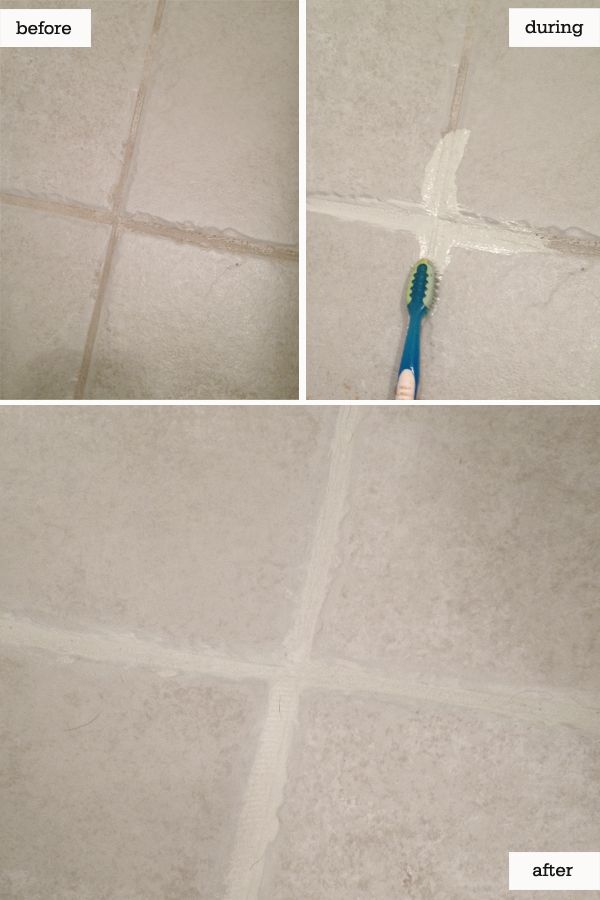 Crazy difference, huh? Every time I hobble in there now I think, "why didn't we do this five years ago!?" I love that it sealed the grout, too. Hopefully it'll stay cleaner-looking a little longer from now on.
Here's a resource list in case anyone out there wants to click on through to the other side:
Conservative Gray -Sherwin Williams
Moonlight White – Benjamin Moore (mixed at Sherwin Williams)
rug – TJ Maxx
trash can – TJ Maxx
green tray – Pottery Barn (discontinued)
seagrass plant pot– Ikea
apothecary jars – ? (we've had them forever!)
towel bar- Target
towels- Target
shower curtain – Target
And speaking of that shower curtain, I forgot to tell Kev to snap a full-length picture of it, but he did take a close-up of my favorite part…the rouched, bottom edge: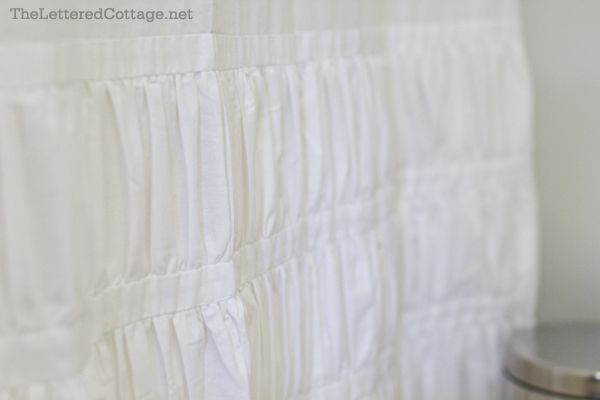 I dig rouching….and that our shower actually has a curtain now- ha!