"Time is round, and it rolls quickly."
― Nikos Kazantzakis
_________________________________
I'm sitting here watching The Home Edit (have you seen it?) and developing a pretty intense labeling and acrylic container obsession. Ha! On this particular episode, the hosts are helping Reese Witherspoon organize her "movie clothes" closet and I was tickled to see she used so much blue and white in her new/historic home! From the looks of it, it was quite the fixer upper and it looks like she really had fun putting her personal stamp on it. Here's a before photo from the listing and an after screenshot from the show…
Looks like the window got a bit of an upgrade, but the chair rail molding and staircase spindles & banister look the same. I love that she didn't just rip everything out and start from scratch. Hope she allows someone to come photograph everything for a magazine!
I'm in renovation heaven over here at our place too. I showed you this photo the other day…
…and I'm stoked to share this one with you now too: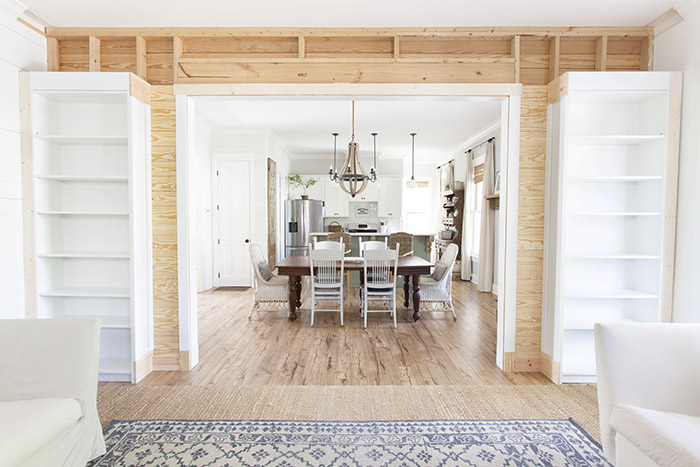 We'll be finished caulking, priming, and painting tomorrow, so I look forward to sharing the next step soon. Here's a peek at the top of each bookcase so you can see how we made them taller:
I thought I'd include a photo of the tongue-and-groove clear pine planks we used too: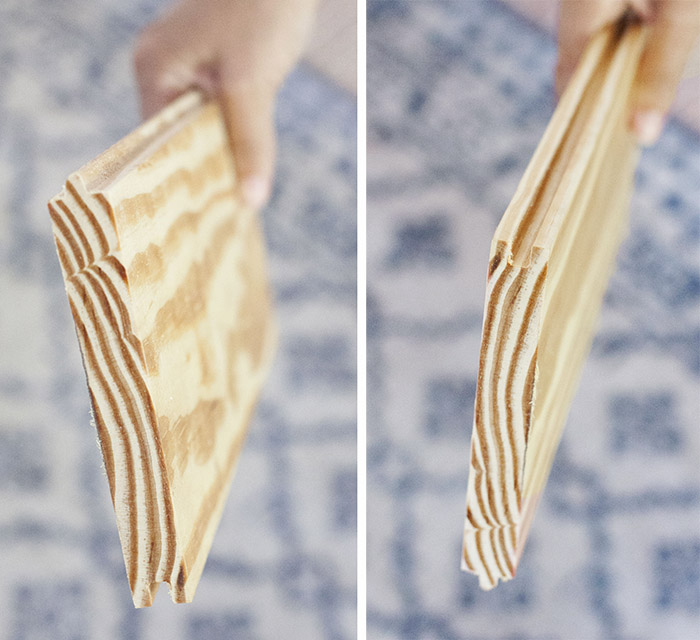 It's the same stuff we used on the walls in other parts of the room, so this wall ties together with the others now. There will be four cubbies up above these bookcases and Kevin had the great idea to have them wired with electricity while the wall is still open, so I'm having someone come over to take a look next week.
Would you believe we've been in this (14-year-old) house for 8 years? Yep. We bought it in October of 2012. It's come a long way, but there's still plenty of work left to do. We've never fixed up either of our bathrooms upstairs and they could both reeeeally use various kinds of cosmetic and repair work at this point. Built-in bookcases are so much more fun though, ya know? 😉 And these "book"cases are actually going to have doors and hide a lot of stuff that currently lives inside a walk-in closet just around the corner which will become a home office space for Kevin, so crossing this off our to-do list is sort of like adding a brand new room onto our house at the same time, too! 😀
Time rolls quickly…be back soon!
Layla